Comment from Betsy Houghton 1999 Mar 13
Send comments about this site to lahosken+w@gmail.com.
Betsy Houghton sent in this comment.
My
(Larry's) replies appear like this.
Betsy Houghton
1999 Mar 13
Loudon, TN
This picture was carefully framed at the cul de sac on Dan and Jean's road to show the rural TN landscape and not reveal those wires overhead.
I am another Hosken cousin who has enjoyed your postings.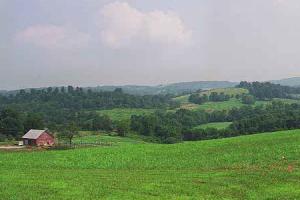 Cousin Betsy's obviously a better photographer than I am.