Comment from Scott Smith 2001 May 02
Send comments about this site to lahosken+w@gmail.com.
Scott Smith sent in this comment.
My
(Larry's) replies appear like this.
Scott Smith
2001 May 02
just reading your review of that show in 89
mcm and the monster and dead milkmen and saw this flyer online later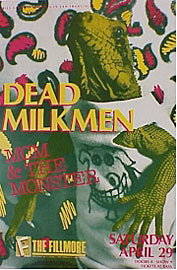 thought it might bring back fond memories ;-)
smitty
I hope this isn't the same guy who I elbowed in the ribs at that concert.
He probably got the flyer picture from this place that's selling flyers. You could get your very own high-resolution print.