On Wednesday, December 5, 2001, my ears pricked up. I was sitting in a taqueria, and a couple of young ladies next to me at the counter were having a conversation that got my attention.
"So, are you excited about your trip?"
"Yes! I'm excited to be free of my job, and..."
Portland's Chinatown Gate is bigger than San Francisco's.
I was excited about my trip: this taqueria was in Portland, Oregon (at the corner of 10th and Morrisson SW). And I was excited to be free of my job. I'd been working too hard for months, working too hard trying to help save the company. I hadn't saved the company. I was suddenly work-free. A week ago, I'd been nervously watching my computer for bug reports; nervously watching a computer program that close to shipping. Now I wasn't nervous about anything. I'd sniffed around the web for cheap plane tickets for some short trips.
I was enjoying Portland. Its sky was gray, like the skies of my youth. I'd got directions to the local maritime museum, which would be open in a couple of days. I'd located the statue of Portlandia and taken a picture of her for my parents. While wandering around, I'd stumbled in to Powell's Technical Books, which had lots of books about math, computers, forensic science, and old drill presses. Nice, if you're in to that sort of thing, which I am.
My eavesdropping-enthusiasm didn't last. It was swamped under the usual post-burrito digestive daze. By then, I was back in my hotel room at the Mark Spencer (convenient, with kitchens, not great exterior soundproofing, I overall recommend it), finally getting a chance to see "Buffy the Vampire Slayer" on TV. I didn't have a TV at home, and had always wanted to see that show. The character Tara had been clawed by some hairy eldritch humanoid, but seemed to be bearing up well.
I thought about vampires, thought about the extrememly pale lady who had served me lunch at Pasta Veloce. Pasta Veloce had turned out to be an remarkably bland pasta restaurant in a nation of bland pasta restaurants. Maybe the place was run by vampires. Perhaps they had no memory of how to use spices, since they only thirsted for the blood of the living. I thought it would be safest not to go back to Pasta Veloce. I might brave a vampire attack, but not if the reward is bland pasta.
Through the "Lively" Hawthorne District in search of the American Advertising Museum
On Thursday morning, I had a plan:
Eat breakfast in the Hawthorne District, which the Lonely Planet USA travel guide had described as "lively".
See the American Advertising Museum, which the Lonely Planet USA travel guide said was at 5035 24th Avenue.
...but Father Time laughs at our plans. Or at least those plans one makes while following a two-year old guidebook.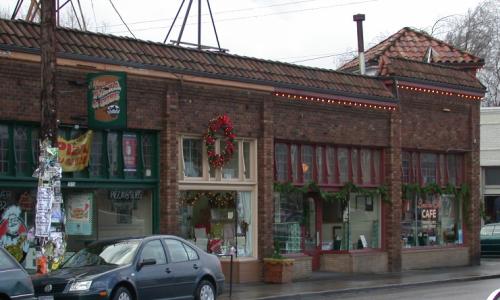 Portland's "lively" Hawthorne District.
I walked East across the Wilamette River on the Morrisson bridge, not quite getting lost in the tangle of roads on the other side. Emerging out onto city streets, I saw my first "I am Ugly Litter" enhanced sign. That was just a perfect thing to see on the way to an American Advertising Museum.
For a while I walked near a guy who was dollying around a cannister marked "flammable." The guy was smoking. I say I walked near him, but really I was trying to walk far from him.
As I approached the "lively" Hawthorne neighborhood, a lady emerged from her vehicle in a mini-mart parking lot. She ran toward me, calling out, "Excuuuuse me!" Was this the liveliness? As she got closer to me, she asked, "Do you know how to get to Cafe Utopia?" I admitted my ignorance. I mean, I could have said that the potential for Utopia exists within any cafe, that it's a matter of steering the philosophy and governance of the cafe's populace towards enlightenment and Correct Thought, but I don't think that would have been helpful under the circumstances. Wow, was the Hawthorne District itself going to be even livelier than this?
Maybe the Hawthorne District tended towards being "lively," but on that drizzly winter Thursday morning, there were few people out and about. I eventually made my way to the Hawthorne Street Cafe, which served up some fair pancakes. They were fair, not lively.
I heard a conversation at another table:
"Tabasco on your pancakes?"
"Yeah, I'm the one that invented blackened French toast."
I thought about the pancakes at Mickies Dairy Bar of Madision, Wisconsin; the best pancakes I'd ever had. I realized that I could no longer remember those pancakes. All that I could remember is remembering that they were the best that I'd ever had. What if I'd had other pancakes since then, better pancakes? How could I know that those from Mickies were better? I thought about the ginger pancakes at Berkeley's La Note. I thought about the curd-covered pancakes at Mystic's Kitchen Little. Those were some excellent pancakes. Maybe I should go back to Madison, back to Mickies, confirm that their pancakes were really that good.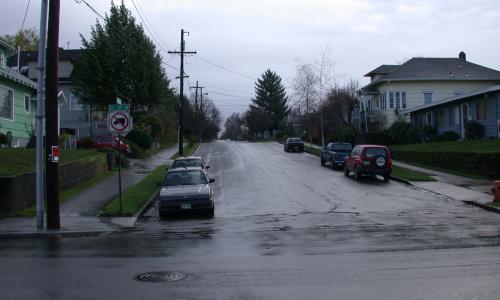 Rain-drenched residential streets. Actually, I didn't take this picture while it was raining. For this trip, I was borrowing my dad's digital camera. If the rain had broken that camera, it would have cost more than my whole vacation. So either RAM prices need to come (even further) down, or else I need to start taking some pricier vacations.
With these thoughts of flapjacks past, I buoyed my spirits through the lackluster pancakes of the Hawthorne Street Cafe. As I emerged, I was glad that I wasn't in Madison, Wisconsin. It was probably snowing there. Here in Portland, Oregon, it was only drizzling. I wandered up and down Hawthorne Street, marveling at the lack of liveliness. As I made my way to 24th Avenue, in search of the American Advertising Museum, the drizzle metamorphosed into rain. I wriggled into my waterproof anorak and put on a hat.
I arrived at 24th Avenue and turned South. Address numbers were in the 2000s, and I was looking for 5035. Based upon the scale of downtown, I had figured out that Portland was a pretty small city. I figured that I'd see the museum in about 3 blocks. Portland's outskirts are not so compact as her center; I had, in fact, signed up for a walk about 30 blocks long.
I was fond of walking in general, so this was not a big emergency. The rain was sure pouring down, though. I wondered how cold a place could get before rain turned to snow. Probably down around freezing. It seemed to me that Portland must be about that temperature. I walked down residential streets. There were lawns, and houses set back from the street. It reminded me of Seattle, with perhaps more lawn, less shrubbery, more rain, colder rain. I found myself wishing I was back in Madison. Snow would be better than this. <
When the rain clears up and you find yourself looking at a pretty silo and covered conveyor belt, the world seems like a much better place.
I emerged from the residential district into something more interesting: a warehouse/industrial area by a railyard. There were slablike buildings with crazy staircases skittering over their surfaces. There was a concrete company's silo with a nice covered conveyor belt. There were mysterious tanks. There were many things that satisfied my sense of aesthetics. And it stopped raining. Things were looking good.
The railyard itself was interesting. There were bridges passing over it, so I detoured over. I looked out at lines of tracks. As in Seattle, there were many lumber cars. Unlike Seattle, there were no airplane fuselages. Some tanker cars marked "corn syrup only" caught my eye. I wondered why they were for corn syrup only. Were their seals not tight? Perhaps they could only transport viscous fluids? But then why not "corn syrup and ink only"? Perhaps corn syrup picks up flavors? Might corn syrup pick up the flavor of ink residue left behind in a tanker car?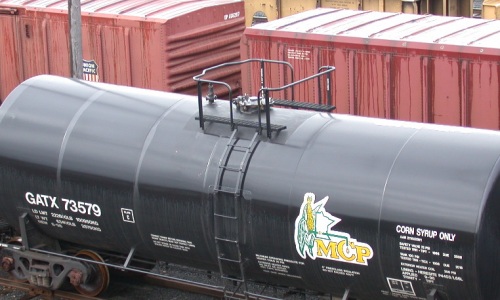 This tanker car is for corn syrup only. Don't you go putting any molasses into that tanker car, nosirree.
A few days later, I would take a train ride from Oakland to Sacramento. I would see some Corn Syrup Only tanker cars on a siding next to a factory. The factory had some huge tanks. I imagined a secret network of corn syrup distributors, moving all cargo by rail. I imagine a shadowy figure saying, "We can't carry the stuff by truck anymore, not after the disaster on the Interstate back in 1912."
Hey, give me a break. There wasn't a whole lot going on.
I made my way past barbed-wire-covered warehouses, a fragrant microbrewery. I walked past a factory whose parking lot was being used as a testing ground for a philosophical experiment: how many pieces can you take away from a car, yet still call it a "car"? There were no sidewalks. Puddly potholes joined together to draw maps of the world across 24th Avenue. I was getting close. I couldn't imagine who had decided that this was a good neighborhood for an American Advertising Museum. Where would the tourists buy their sticky buns? Where would they sit as they unfolded their maps?
Depending on how much you know about the American Advertising Museum, you may suspect that the proprietors had asked themselves the same question, and had decided to move. When I reached 5035 SE 24th Avenue, there was no American Advertising Museum there. There was a warehouse for lease. On the door, an advertising agency had a sign up announcing that they had moved to Beaverton.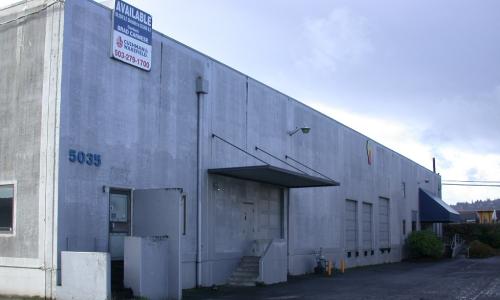 Former site of the American Advertising Museum
I stood in the abandoned parking lot and rested for a bit. I'd walked miles through rain to visit a museum that had moved. Some would say that I should have called ahead. They would be right. I'd been walking away from the American Advertising Museum for most of the morning.
If I can't see that museum, I'll just go see some others
I decided to walk back by a different route. As long as I was off in the boonies, I might as well see what there was to see. But when it started raining again, I decided to heck with it and made a beeline for the Oregon Museum of Science and Industry (OMSI).
At the the OMSI, there was a tour of a "Blueback" submarine. I was too tired to take notes. I was just glad to have a watertight hull between me and the rain. After the tour, I wandered around in the museum. I learned that the tooth is attached to the jawbone by ligaments. I saw an air-hockey table which had been turned into a "bumper continents" game. A sign commanded me to "Rotate the transparent woman". There was a cafeteria which served me an inoffensive veggie burger.
By then, the rain had let up a bit, so I set out towards downtown Portland once more. And then it started pouring again, so I decided this would be an excellent time to visit the Portland Art Museum.
It wasn't exactly easy to get into the Portland Art Museum. There was a short line, but it moved slowly. I figured that the people up ahead of me must be trying to cut deals or something. Eventually, I reached the head of the line. I didn't try to cut deals. But the guy behind the counter had to press a lot of buttons at his computer terminal before he could sell me a regular adult ticket. There were 15 keystrokes after I started paying attention. I wondered who had come up with the UI.
Though the line took a while, the museum itself took almost no time itself. The "Prints and Photos" section had 10 prints on display.
In the American Art section, there was a good painting by William Trent Richards, called "Marine". It was basically a rectangle bisected horizontally. The top half was all clouds, the bottom half was all sea. If you looked really closely at the line of intersection, partway along it you could see a little smudge. With concentration, you could determine that the smudge was a boat.
In the European section, I did not look long at the Jacob Cornelisz Von Oostsanen painting, "The Circumcision of Christ." I looked at a couple of paintings by Fragonard: "Young Girl with Marmot" and "Little Boy with Box of Curiosities". The marmot was almost entirely obscured by the little girl; the curiosities were invisible inside their box. I decided that Fragonard was a tease when it came to titling.
There was one painting in the European section which I found more enjoyable than annoying. It was by Cezanne, and called "Paris: Quai de Bercy--La Halle Aux Vins". It was a mess of gray streets; brown trees; barrels in red, white, blue, and gray; and a gray warehouse. It was a lot of gray, with muddy elements. The interpretive text said, "This early Paris cityscape is an unusual choice of subject for Cezanne." Too bad, it was interesting. There weren't any covered conveyor belts, but perhaps they hadn't been invented yet. Perhaps if he had done more paintings like this one, I'd want to pay attention to this Cezanne fellow.
Probably my favorite part of the museum was the Center for Northwest Art, where they showed works by artists from their corner of the country. From a touristy point of view, this was most enjoyable, but I didn't emerge from it with any amusing observations.
The rain had let up by the time I exited.
For dinner, I went to an Indian Restaurant on Morrison somewhere between 10th and 12th. The guy who served me how hot I wanted the food. I wanted it very hot. And it was very hot. I couldn't really taste the food, it was so hot. Normally, I don't choose pure heat over flavor. But, believe me, after getting rained on all day, this was exactly what I needed.
Friday