Around: Milpitas 1-2-3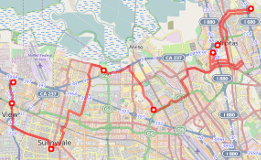 It felt strange to be so near the Googleplex but not visiting. Yet there I was. My next set of destination choices was: Computer History Museum (great, but closed yesterday and today), Rengstorff Park, Stevens Creek Trail▼. Stevens Creek Trail was a two-neighborhood spot, and the next neighborhood's choice was: Stevens Creek Trail or Mountain View Center for the Performing Arts (not showing anything until April). So: Stevens Creek Trail was my next destination.
Except, really: it was a trail. It wasn't an off-in-the-hills trail like Sweeney Ridge. This was a trail that went through the city. So really I should figure out my next-next destination and use Stevens Creek Trail to get partway there.
Las Palmas Park
My next-next set of choices was: The King's Academy Theater▼ (school theater not showing anything this morning), Dishdash (restaurant not open in the morning), or Las Palmas Park. So: to Las Palmas Park, starting out by way of Stevens Creek.
Choice made, it was time to start walking again: Along the Stevens Creek Trail, walking between trees and on overpasses over major roads. On El Camino Real, I turned off the trail and back onto city streets. Heading east towards Sunnyvale, this was the furthest I'd made it from San Francisco on El Camino Real before. A brick sign welcomed me to Sunnyvale; behind it, a See's candy store stood closed in the new day's light: once again, I was too early. El Camino was its best businessy self, and then I was onto a side street through residences and then at Las Palmas Park.
I bet if there hadn't been a drought on, it would have been more exciting. There were ornamental ponds with Easter Island heads—but with no water in the ponds, things didnt' look so impressive. There was a cool fountain where kids could splash in the water, but again no water. Drought was bleak, and this place made sure I remembered that.
Baylands Park
My next choice of destinations was: 3 Potrillos Taqueria (probably closed this early), Baylands Park, King's Academy Theater (probably closed this early), Klub K9 Pet Center▼ (I had no pet). Baylands Park would give me a chance to get close to the bay.
And so I made my way out the other side of all-too-dry Las Palmas Park, back onto El Camino Real for a few blocks of bliss until it was time to say good-bye to El Camino, time to turn north towards the East Bay. Along Sunnyvale Ave, now busy with rush hour traffic. A quick jog over to Murphy Street, past Dishdash, back to Sunnyvale Ave to see Martin Murphy Historical Park with its excellent Hendy Stamp Mill, over to Fair Oaks Ave, past a shrine to a traffic death in front of Fair Oaks Park, and on to Taqueria 3 Potrillos, which was, mirabile dictu open for breakfast.
I took a quick wonderful break for a breakfast nopales burrito.
Back on the Fair Oaks, came to the intersection with Tasman Drive, had some fond memories of New Zealand's Abel Tasman park. Here were signs about Abel Tasman the explorer, after whom the street was named. Here were compass rose decorations sunken into the sidewalk, filled in with dirt and grime—through the filth, you could just see that at some point they'd been something in honor of Tasman. Now they were…a reminder of the folly of building something in the city without budgeting to maintain it. Or maybe rain was supposed to periodically wash away the dirt? Maybe these were now a monument to the drought.
Closer to the bay, I entered a business park, walked past offices of companies I'd heard of and other places I hadn't. NetApp, Molecular Devices, Aruba Networks. And then I was out of businesses and at the baylands: wetlands, undeveloped marsh, a hill that looked like landfill, athletic fields, and finally: Baylands Park.
Baylands Park had a neat set of features embedded in marsh. The features didn't seem to go together, but I could see them going together to make up someone's favorite park. There was circus aerial equipment, a path on terrain built up in waves, a plaza featuring posts that cast complex shadows, a bit of pavement laid out in a checkerboard pattern of soft rubber and cement-with-starfish-imprint squares, and marsh. It didn't seem big, I thought I'd just need two minutes to see it all, but I wandered from feature to feature, trying to make sense of it all.
Intel Museum
The next set of destination choices: In-n-Out Burger on Mission College Blvd (not so appealing to this vegetarian), Gold Striker Ride at Great America Amusement Park (not open this early in the year), Intel Museum, or Klub K9 Pet Center (I still had no pet). I asked Google Maps to plot me a path to the Intel Museum. That was good news: there was a bike path route, which I wouldn't have found; Santa Clara was terra incognita to me.
I filled up my water bottle at the Globaltap near where the bike path started, walked by the baylands until it was time to turn onto the bike path by San Tomas Aquino Creek. I walked between Levi's Stadium (where the 49ers football team went from San Francisco) and Great America (which shared a parking lot with the stadium). Crossed Tasman Drive, which was apparently a main drag around here. And soon was at the Intel Museum.
The museum had old chips and interactive displays where you could get a feel for designing new chips. There were a lot of kids running around; I let them monopolize the interactive displays. Mostly I looked at old chips; saw how far magnetic core memory had shrunk by the time Intel obsolesced it; added The Intel Trinity to my to-read list.
Zumiez Milpitas Square Shopping Center
My next set of destination choices was: Elemental Wellness (a medical cannabis seller), Zumiez▼ (a surf-themed clothing store), or Moitozo Park (looked pretty bleak in pictures). I couldn't legally buy weed; wasn't in the mood for another bleak park. I could go to Zumiez, maybe buy a strap to keep my glasses on my face on boat trips.
I set out along the Montague Expressway, which (as you might guess from the "Expressway" in its name) was busy unpleasant for strolling. When I had a chance to get off the road into the Rivermark shopping center, I took it. There was a New Balance shoe store here—Why hadn't I asked that guy in San Mateo for his contact information in case of new developments?
When I re-emerging onto the expressway beyond Rivermark and kept walking, the sidewalk soon faded away. I gave up on walking that way and followed a canal-side bike path to emerge onto a street full of luxury apartment home buildings and even more luxury apartment home buildings under construction. Checking my map to re-navigate to Zumiez, I noticed I was close to Moitozo Park. So I went there; it was mostly a big lawn. Maybe it was a favorite Foursquare destination because it wasn't yet another huge luxury apartment home building, like everything surrounding it.
I made my way to Tasman Drive, which was still a main drag. I was back in Silicon Valley, walking past office buildings for high-tech companies. I walked past many many Cisco buildings. I reached a monument welcoming me to Milpitas and kept walking. Here, Tasman Drive became the Great Mall Parkway. I was approaching the Great Mall. I looked at my phone's map: Zumiez was in the Great Mall. Finally, I had an excuse to visit The Great Mall. With this inspiration, I walked past the jail. I crossed Abel Street, and wondered if it had once crossed Tasman before some hypothetical renaming. I walked past a shrine to a traffic death, past the Great Mall transit center, and then through the Great Mall parking lot and then within the Great Mall itself. I walked amongst shops, wriggled through crowds of slow-moving shoppers. And then popped out of the mall; Google Maps said Zumiez wasn't actually in the mall; Google Maps said Zumiez was at…an empty spot in the edge of the parking lot.
No problem, I could head back into the mall and look up Zumiez in a directory. But first, I could try looking it up in Foursquare. Maybe its map would be more accurate. I pulled up Foursquare, brought up its entry for Zumiez…and instead of something highly-rated, I saw that there weren't enough reviews to provide a rating. Waitaminnit— had I messed up when figuring out what my destination choices were? In theory, I should see only highly-rated popular places. If Zumiez didn't have many reviews, that meant it wasn't popular. I fiddled with Maps and Foursquare some more and figured out that Zumiez was a chain. Aha: No doubt some other Zumiez was a popular place; I'd asked Google Maps to navigate me to Zumiez, not realizing there was more than one. So… I was close to a Zumiez, but not the right Zumiez.
Should I go there anyway? Should I choose another destination? I dithered a bit, and finally decided to head to another destination: Milpitas Square Shopping Center.
(And now that I research this write-up, I see that the Zumiez in the Great Mall is indeed popular on Foursquare, so I probably should have just gone there. I'm not sure why it looked un-popular when I looked it up while "on site". Mistakes were made.)
So I backtracked: back into the mall and out the other side; out throught the parking lot, past the transit center, back onto the Parkway, past the jail, past the shrine, back out to the monument welcoming me to Milpitas. I turned north, walking through part of the Cisco campus until I emerged on the other side at a shopping center. It was small, but it had a Ranch99 Market, which qualified it as quite civilized by my standards. But rather than going for groceries, I went into a Quickly and got a boba tea. Sitting was lovely. Ice was lovely.
Golfland
My next set of destination choices was: MoGo BBQ Food Truck (Where was it? I didn't know. Later, at home I was able to find its Twitter feed and see where it was that evening: a couple of miles south of Baylands Park, where I'd been hours before; nowhere near where I was now), Golfland▼ (a miniature golf place, or the Milpitas High School Theater (not showing anything this evening). I was headed to Golfland!
Google Maps told me to backtrack again. Back through Cisco's campus. Back to Tasman Drive. Once again walking past the monument welcoming me to Milpitas. I was pretty tired of that monument by now. Past the jail. Turned up on Abel Street, walking alongside the creek-ditch the trickled past the jail. At least I wasn't backtracking anymore.
I cut over to Main Street, which had the civic center and more interesting architecture, such as the town library. But that only lasted about a block and then I was back in the suburban sprawl. I walked past strip malls and single-story dwellings.
Golfland seemed familiar, but I couldn't be sure whether I'd been to this one or to some other Golfland. I didn't want to play a whole game of mini-golf. It was getting late, time to think about lodging; also, playing mini-golf by myself sounded like the opposite of fun. Instead, I played a few rounds of Ice-Ball (some Skee-ball clone). I didn't do well, getting a few tickets per game. What was I going to do with these tickets? I didn't want any of the prizes behind the counter. I gave my tickets to a little kid, who seemed pretty darned happy to get them. He was probably still young enough to think some of those prizes were pretty cool.
I asked Google Maps to find me a place to stay. After all this time walking south along the bay, I was ready to head north along the other side of the bay! But that would have to wait until tomorrow: there weren't any places to stay close by northward. Instead, I'd have to backtrack again. There was a cheap place with bad reviews. I looked over the reviews. Many bad hotel reviews may be paraphrased as "I didn't like this place because I asked for something unreasonable and they said 'no.'" I'll use a hotel despite such reviews. But this place's bad reviews mentioned cockroaches, so I went elsewhere. Instead I went to the local Days Inn, backtracking to a spot pretty close to the Milpitas Square.
I must have been pretty tired: for dinner that evening I got a couple of veggie burgers at Burger King. That seems like the kind of decision I'd make when I was trying pretty hard not to walk very far.
Back in the hotel room, I tried to check my email, but my Sprint wifi hotspot wasn't working. Silver lining, I no longer found this shocking.
Next: Before BART Got There