Around the start of 2006, I went on a business trip to New York City. Now that I look over the words, I try to pick out a strand of narrative, an arc of story--and it's not there. This essay is disjoint, interrupted by work.
Weds 12/28 2005
I walked into the apartment building late in the evening. I asked the lobby guard for a set of keys and lo there was a set of keys. I was staying in a company apartment. When I was done, I would leave my keys with the lobby guard. Other people would stay in the apartment while I was there. I guess they asked for keys, too.
Up at the apartment door, it took about a minute to figure out the multiple keys, multiple locks, and multiple levels of unlocking the locks.
The idea of a company apartment was a novel thing to me--not knowing when roommates would show up, not knowing who the were. The apartment itself was novel. It was a two-story apartment; it devoted a lot of square footage to a narrow, twisty staircase. This staircase was a hazard. I slipped on it. In a log-book left by previous tenants, I read someone (Warrior Monk Mark Pearson? Maybe.) warn about the danger of walking on the stairs in socks. I made a note never to rent a two-story apartment.
I went to the office. It was pretty late. I didn't see anyone I recognized. They had more sense than to stay late at the office in the week between Christmas and the New Year. I headed back to the apartment.
Fri 12/30
The company office was in a high rise a little south of Times Square. It was the day before the New Year's Eve Times Square ball drop party. During lunch, those of us eating in the secret back conference room looked out the window and watched the ball drop. Now I could say that I'd seen the ball drop, and I wouldn't have to stay up late on Saturday Night.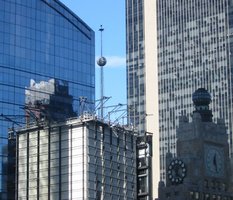 Sat 12/31
I walked to the Met. It was fun as ever to walk around New York. People in New York know how to walk. They don't stop suddenly without "pulling over" out of your way. They look where they're going. They are polite. I meandered on my way to the Met to check out different avenues. I could tell when I was getting closer to a popular tourist area because the out-of-towners didn't know how to walk. It was great to look at the New York buildings.
The Met was great, of course, and not just because of the works of Charles Sheeler.
I swung by the Times Square Sanrio (Hello Kitty) store, hoping to find a replacement for my pencil box. It was a good Sanrio Store, but I couldn't help comparing it to the long-gone flagship store in San Francisco's Union Square area. I found nothing. I went back to the apartment.
Someone was there! It seemed like someone else had been in the apartment for a day or two, but it had been tough to tell. There was a cleaning lady, there were strange thumps in the night. But here was a real person, here in the living room, not a mysterious sound effect. I thought she said her name was "Laurie". She was on her way back to San Francisco from Cairo, where she'd spent Christmas. She had good things to say about Cairo: a huge museum full of artifacts, the light show. She wasn't so happy about her foot, currently elevated on the sofa and covered with a heating pad. She'd hurt it in San Francisco, and it had hobbled her through Cairo. Now she was here in a great walking city, and she didn't want to walk around. I remembered Hiroshima, and sympathized.
But "Laurie" wasn't really slowing down much. She had friends in New York, and she was going with them to her favorite bar to ring in the New Year later. I wished her good luck with that. I went to bed.
Sun 1/1 2006
While New York slept off its revels, I went to the MoMA. There was a painting by Charles Sheeler there, which I'd overlooked before:
There was a fun exhibit on design for safety: some pieces were examples of real-world objects designed with risk/safety in mind; others were tongue-in-cheek works by designers poking fun at the paranoid lives of people with something left to lose.
There was an exhibit by Pixar, with character studies, storyboard art, and stranger things from their movies. It wasn't clear why I needed to come to New York to see art by people working at a company in Emeryville, California, just across the bay from San Francisco. But I was glad I went. There was storyboard art, a strobe-light-enabled 3-D Zoe-trope, and hordes of happy children. Also, I was on the lookout for ephemera: during some holiday-season visiting, Michelle Clair had mentioned that she'd done some "formatting" for some Pixar exhibit items for sale in the MoMA store: bookmarks featuring strips of film from the movies; and a big book (box?) of postcards. Unfortunately, the postcards hadn't made it to the store, as it turned out. But I contented myself with some Susan Kare greeting cards, which a vaguely planned to use in some office decoration capacity.
Enough MoMA. I caught the 7 subway line out into Queens. I'd read people talking about how this line moved through different neighborhoods. Ruth Reichl had described the scent of spices drifting into the train. That didn't happen. OK, it happened at one stop. But the train ride itself was not so interesting, perhaps because it was a gray Sunday afternoon.
I walked back along the line through Spanish, Chinese, and Irish neighborhoods. I meandered along in the same general direction as Roosevelt street. I felt at home in Queens, though it was not much like San Francisco. Houses had purposeless front yards, patches of dirt surrounded by brick and iron fences; they had little stairs; they had few stories; I wanted to move into one, convince my family and friends to move here. I'm not sure why I felt at home; as I walked these streets, people didn't smile at me. They hurried along with hunched shoulders. Were they thinking it might rain soon? They may have thought that.
The road went over some train tracks.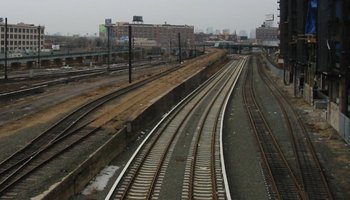 I visited P.S.1, which had some contemporary art. Do you want to hear my opinion of contemporary art? Too bad for you, here it is anyhow. Jon Kessler used clockwork turntables, digital video cameras, and photos clipped out of magazines to set up... mobile dioramas and mini-movies that touched on themes of war and danger. It seemed like something on the verge of being great, something held back by the cheesiness of the magazine photos. I wanted to see what this guy could come up with if he teamed up with some artist who liked daubing paint on canvas. Stephen Shore's "American Surfaces" is a series of well-composed photos of banal subjects from a 1972 USA road trip.
Across the street from P.S.1 was 5ptz, a sprawling graffiti-covered building.
Nearby, there was an abandoned sewing machine.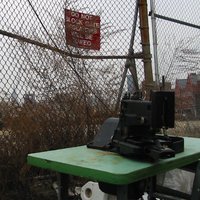 Eventually, I hopped on a train back to Manhattan, and back to the apartment, where "Laurie" sat on the sofa with her her foot propped up. We watched a spelling bee on TV. The spelling bee was OK, but I was still pretty glad I didn't have an injured foot.
Still, "Laurie" wasn't just wasting time. She went out with friends that night. And 'Shreck called me up: he was back in town from Chicago. Did I want to go out for dinner? Yes, I did. He picked me up in his rental car. 'Shreck was still getting settled after his road trip to Alaska. He'd rented a car to get back to New York and to haul some furniture to his new apartment. And he was ready to make a big grocery to a Thai market in Queens--did I went to come along and get a big tasty dinner at the Jackson Diner? And that's what we did.
Tues 1/3
There was a set of keys and a note on the apartment ironing board. It was a set of keys to the apartment; the note exhorted me to return the keys to the office; the note was signed "Mari". Oh, "Laurie" was actually named "Mari". I just hadn't heard her name correctly when we first met. Not for the first time, I tried to figure out some way that I could practically withdraw from all personal contact except that conducted in written form. Reading was easier than listening. Unfortunately, talking was easier than writing, and most people knew that. I returned that plan to the back burner.
I worked. After work, I went to the Strand.
When I'd first shown up in the corporate apartment, I'd been glad to see some books in the living room. However, closer investigation revealed that these books... were not all so great. Most of them looked like books you'd pick up in an airport magazine stand upon desperately realizing that you had nothing to read for your long airplane flight.
So I went to the Strand, the humongous bookstore. I'd heard about this place from friends; I'd read about it; the stories were all true. So many art books. The huge section of review copies. I picked up a small armload of books, more than I could read, some books I didn't necessarily want to read myself, but I thought my co-workers might like.
Weds 1/4
I met up with my cousin Eric for lunch at Utsav. Each of us had had kind of a crappy year, so we didn't really talk about how we'd been doing. We talked about enterprise-class content management systems, a nice safe topic.
After work, I caught the train to the Morgan Ave stop in Brooklyn I emerged out into what my untrained eye saw as a warehouse district. Really, it was a warehouse district that was tiptoeing towards loftdom. Upon closer inspection, this building housed a health food store; outside, a spray painted patch of ground was labeled "Cellular Phone Booth" and there was a phone number there. Another building, a low building lit up inside, contained a bunch of old Puerto Rican guys sitting around and talking; 'Shreck later told me that they liked to play dominos. I followed a skateboarding couple until I got to 'Shreck's place.
'Shreck, Faulkner the dog, and I headed over the to the King's County bar so that 'Shreck could meet up with Ted, his landlord, and hand over the rent. Ah, the joys of employment--one can seek out one's landlord instead of avoiding him. There was art on the walls; there was art tattooed on the arms of Chops the bartender. Carlo, another local, was in a good mood, and bought drinks for 'Shreck and me.
Carlo talked about his dad, Peter Vogel. Dad was living in New Mexico and had bought a box of equipment at an estate sale. At the bottom of the box, he found a document. This document looked like something written by a Manhattan Project scientist, a guesstimated time-line of effects occurring in the first few seconds after the explosion of a hypothetical atomic bomb. The last stage on this time-line read "Ball of fire mushroom out at 18,000 ft in typical Port Chicago fashion" There had been a large explosion in Port Chicago. Dad wondered: why had the scientist used Port Chicago for comparison? Had the Port Chicago explosion been a test of an early atomic bomb? Dad had a web site for his Port Chicago theories. I thought about the logistics of Trinity. I thought dad's theory was kind of sketchy, sketchy but interesting.
'Shreck, Faulkner, and I hopped into the rental car and headed over to Grimaldi's, a place argued to have the best pizza in all of Manhattan. There was a crowd outside--but it wasn't a line waiting to get in. This was a film crew, shooting a movie. If you're going to shoot a movie set in a pizzeria, why use a good one? Why take away an opportunity for good pizza? Why not film at some crappy place that no-one will miss for a few days? Anyhow, we had no pizza that night.
Instead, we went to the hipster enclave around Bedford and 6th Ave. 'Shreck and I had dinner at Planet Thailand, a huge restaurant. As the neighborhood's fortunes had waxed large, so had Planet Thailand's; it kept growing. Perhaps one day it really would be as large as the planet; or at least as large as Thailand.
We stopped in at Spoonbill and Sugartown books, where I tried to not feel too self-conscious about buying the latest issue of Giant Robot magazine while wearing a Giant Robot sweatshirt.
We drove back to 'Shreck's neighborhood. 'Shreck and Faulkner the dog walked me back to the trainstation. That same skateboarding couple was up ahead of us. Somehow they gave the place a neighborhood feel, like they were the locals you could count on seeing around.
Frid 1/6
This was Greg Rae's last day at work. He was getting ready to wander the earth, like Caine. Or to sit on his couch. Or to burninate puzzle hunts full-time. Or do all three. I wished him good luck.
After work, back at the apartment, the internet router wasn't working. Or rather, it was working fine, but it wasn't connected up to the cable modem. Ah, the apartment-managing service had come by to switch the low-reliability cable internet out for DSL service. I spent a happy half-hour ferrying cables and power strips across the living room, glad for a simple domestic chore.
Sat 1/7
It will not surprise you to learn that I visited the library. I wandered around, looked at some stacks of books, and took a few minutes to sit in the big reading room and flip through my guidebook.
I checked out the exhibits at the International Center of Photography. There was an exhibit about that photo of Che. It had gone into graffiti, t-shirts, politics, comedy. Another exhibit, "Bodies at Risk" had photos of disabled war vets, EPA sites, poor coal miners, an emergency room, ... a lot of journalistic stuff that I was too lazy to take notes about. Before, I'd gone there and just had to take the note "Vik Muniz" and that was enough. This was many works by many artists, all touching... and now it's a few weeks later and I retain nothing.
Still, I was sufficiently inspired by the International Center that I snapped some photos of the nearby skyline which I stitch together here...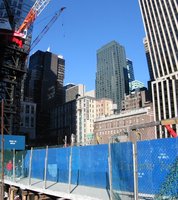 I hopped a train to DUMBO and wandered down to the base of the Brooklyn Bridge. Filming was finished at Grimaldi's, and I was ready to try perhaps New York's best pizza. It was good. It wasn't worth hopping on a train for, though. Maybe Zachary's really is the best pizza in the world.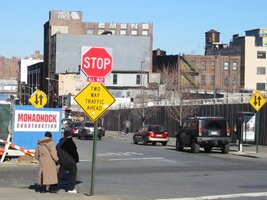 I walked across the Brooklyn Bridge and over to the Seaport Museum, checking out props from the film "Gangs of New York," exhibits about the life of Whitman, and some old boats. There was a radio named MAE West. I wondered how many communications thingies had been named MAE West over the years.
I walked through the narrow canyons of the financial district, past the cemetary next to the WTC site, through Tribeca. I thought to stop at a cafe in Greenwich Village to relax with an espresso; unfortunately, a few thousand people had thought of the same thing before I did. I walked past full cafes.
Back at the apartment, full from a so-so Burritoville burrito, I watched the front door locks start twisting and rattling. Someone was trying to figure out the deadbolt and the surprising second deadbolt. I finally got tired of watching the struggle, walked over and opened the door. Outside was Lauren, a recruiter ih town to help with some specialized recruiting effort. She disappeared upstairs; I never saw her again.
Sun 1/8
I hopped the NJT commuter line out to Hamilton, New Jersey. There I stumbled out to a parking lot that was under construction. My cousin Eric soon swooped up in his car, and we were off. He pointed out that the train station's parking lot was under construction. It had been expanding for as long as he'd lived around there. Apparently, when the station was recently built, the planners figured out how to serve the area's present population. But the experiment had affected the results, or rather had effected some new results, or rather had inspired more people to move to the area, fill up the parking lot, fill up the trains. It was a muddle; it was a good thing I was traveling on a Sunday.
Soon we were at La Casa Hosken, and there was Yana and little Daniel. I said hi to Yana's mom, and she said Hi back. Yana was studying. She was taking classes at Hunter College. During the recent transit strike, those classes had gone on hold--right before finals. So now she was re-studying for her re-scheduled finals. Eric and I scooped up Daniel and headed out to the Princeton University campus. There, Daniel sought out many stairways and squirrels. Along the way, I spotted a Che graffito.
Back at the house, I admired the paint job on the kitchen wall. I asked Daniel to make a face like one of the masks hanging on the wall. He seemed to interpret this as a request to cover up his neck; the mask had no neck.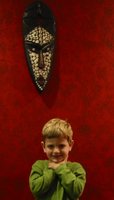 Eric, Yana, and I went out for dinner at a Malaysian place called Penang. We talked about Princeton, the size of the campus, the size of the buildings. It didn't seem possible for the small student population to fill up all of that space. I wondered if it had been planned by Texans.
The train back to Manhattan sped through the night. I couldn't see the marshes, couldn't see the rivers; the train was my world. How much of New Jersey have I seen? Not much.
Tuesday 1/10
There was a rattling at the door, a half-way familiar voice. I looked up, and it was Rob from Santa Monica, plus his wife might have been named Beth and/or Bev. I didn't quite hear. Now I am become deaf, destroyer of words. I'd met Rob back at the company HQ. What brought him to New York? Not any work purpose. He and Beth liked to travel. So they'd pay airfare, stay at company apartments, and work in various fun places. That's what they were doing here, working by day, hanging out with friends and relatives by night. That sounded like the right way to live.
Tuesday 1/11
After work, I went back to Home on 8th for dinner. They had the tastiest Asian food I'd had on this trip, and what's the point of seeking out new places if you don't allow yourself to re-visit the good ones?
Tues 1/12
For lunch, Eric and I met at the site of a restaurant recommended by my tourist guide. Of course, that restaurant was long gone, replaced by a sketchy-looking tapas place. We forewent the tapas, and headed back to Utsav.
Eric had an innovative plan to increase taxes without inciting taxpayer revolt: give each taxpayer a flag proportional in size to how much tax they'd paid that year. After all, what did most rich bozos spend their money on: things to impress their fellow rich bozos. Instead, they could give that money to the government for exquisitely huge flags. They could grumble at each other about the difficulty of maintaining their flags, of finding suitable hirelings to raise and lower the flag each day. I could find no flaw in this plan.
Fri 1/15
It was my last day in the New York office. I took some photos of the surrounding skyscrapers while I had the opportunity. I packed up my papers and my Annie Oakley doll. I wished 'Shreck good luck and headed out the door.
Sat 1/16
I chose my breakfast restaurant because it looked good on the outside; it turned out to be the hotel restaurant for the Maritime Hotel. After that, I went to the Chelsea Market, which had been talked up as a gourmet shopping center. It had a good-looking produce market and a good bakery. It also had about three pastry bakeries and a brownie shop. In terms of non-pastry gourmet food, there wasn't much going on.
I checked out the huge office building across the street. The company was moving some offices there soon. I was confused by the Seagull of Justice wall art.

I walked around for the rest of the day and got rained on. Greenwich Village had space in its cafes now, but I wasn't in a mood to sit and idle. The financial district was still full of tall buildings. I made my way over to the East Side, and caught a glimpse of a great covered conveyor belt.
Mott Street was plenty crowded--it was just a couple of weeks before Chinese New Year, and everyone was out buying decorations and food. I made my way up through Little Italy.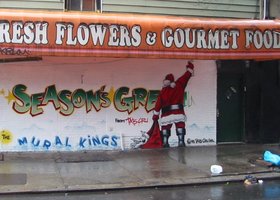 I headed up to the Port Authority bus station to find out about airport buses for my flight home the next day. It was around this time that it started pouring. The airport bus waiting area was outside. I promised myself that if it was raining the next morning, I'd spring for a taxi to the airport. I hurried back to the apartment to dry out.
Staying in the apartment had been strange. It was not my space, and I was never really sure when people would show up. Now I read "When the Cat's Away," the Aaron Cometbus story about people apartment-sitting and squatting in New York art studios and movie projection booths, and it resonates, the feeling of cozy comfort mingled with the thought that the real resident will come rattling through the front door at any minute.
Sun 1/17
It is not easy to wheel a big suitcase over an ice-covered sidewalk, carry it down a subway staircase, up a different staircase. It is not much fun to wait for an airport bus before dawn as the snow blows around you. It is good to remind yourself that you can do such a thing if it comes to that. In hindsight, I wish I'd caught a cab that morning.
That evening, back in San Francisco, my parents got pizza at Little Star, a place recommended by Michelle Clair. It was pretty good. It was better than Grimaldi's. As I sat back and looked at the lack of snow outside, I decided it was good to be back.