Jackson Hole... Grand Tetons...
Jackson Hole
As the passengers slept, the drivers Jimmy and Charlie drove through the night. As the sun rose, we were moving through lightly settled lands. And as we kept going, we rolled in to Jackson Hole. Even if there hadn't been signs, I would have recognized it from verbal descriptions of folks who'd been there: it was like Disney's Frontierland done at massive scale; big wooden beams and oversized log "cabins".
I liked Jackson Hole better once the bus parked in a parking lot and we were able to pile out. I thought of it as a resort for the super-rich. But it let us scruffy backpackers set up a camp breakfast in a public parking lot; nobody hassled us. We burst into a visitor center asking for directions to nearby hikes; folks talked to us and were friendly.
Some folks went rafting. I went for a walk, thinking that would let me appreciate Jackson Hole better than some generic rafting trip. That was probably a mistake. Andy-from-Brighton and I went walking up Snow King mountain, a ski resort just at the south edge of the city. It was a nice walk, but if there was something especially Jackson Hole-ish about the walk, I wasn't perceptive enough to spot it. Then again, it was good to get used to the elevation.
Along the way, Andy and I were overtaken... well, basically I was overtaken, and Andy had slowed down to let me keep up... anyhow, we were overtaken by two more Tortoisers, Fabrice and Pascale, from Paris. Fabrice was a marathoner, and was pretty good at setting a hiking pace, too.
We got a little lost hiking along Josie's ridge; we went past the place where we were supposed to head back downhill. Fortunately, we asked some local dogwalkers where to go, and they soon set us straight.
Grand Tetons: Precipitate Action
As we headed out of Jackson Hole, a storm seemed to follow us. It caught up to us when we stopped to take photos.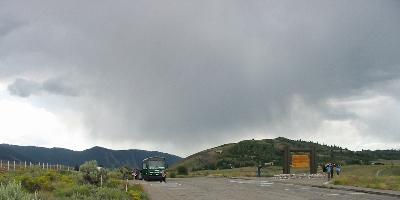 As we drove in to Grand Tetons National Park, the rain poured down. Normally, Jimmy would have brought us to a trailhead to let us hike around. But it was pretty rainy. Instead, he brought us to the visitor's center so we could sit inside and stay dry.
And so the bus parked in a parking lot and a line of scruffy backpackers hustled through the drizzle into the dry of the visitor center. Hmm, that rain had turned into a drizzle.
After a few minutes in the visitor center, I looked out the window. It had stopped raining. I went outside, looked up at the sky. I looked at which way the clouds were blowing. The rain was on its way out. With 20/20 hindsight, we could have gone on a hike anyhow.
As it was, I found a little hike. There was a little walk from the visitors center to the Murie ranch. The Muries had been two influential members of The Wilderness Society, a group that encourages the USA government to protect wilderness lands. One of the Muries had been a president of the Wilderness Society; this ranch of theirs had served as the Society's headquarters for a while. Normally I don't like to visit historical sites for history's sake. "Something interesting happened here once" doesn't mean the site's interesting now. But I liked what I saw on this walk.
After the visitor center, we had a couple of photo stops, including one at an oxbow lake, where we saw no charismatic megafauna (though this lake is rumoredly a good place for that).

Grand Tetons: Bus Camping
We set up camp at Colter Bay campground. Some brave folks set up their tents, braving the chance of rain. Most folks, including me, were not so brave, and planned to sleep on the bus. We set about making a camp dinner.
Here I learned more about water-carrying. You don't want to just dump your dirty dishwater on the road next to camp. It smells like food, which attracts critters. That's not good when you're in bear country. (We were in bear country.) Instead, you're supposed to flush your dirty dishwater down the toilet. Our campground toilet buiding even had a special toilet for this: an extra big bowl, with no easy way to sit on it.
I found myself nudging towards dishwashing, towards water-carrying. The Grand Tetons were cool; compared to Nevada, it was cold. I'm no Lynne Cox, but apparently my fog-loving nature meant I tolerated cold water better than most of my warmth-loving companions.
Folks set up a campfire. I sat by it, and there was fun conversataion. Folks added more wood to the campfire so that they wouldn't freeze. I couldn't take the heat, headed back to the bus to sleep.
Monday