Puzzle Hunts: Untamed with the Lester Tang Conjecture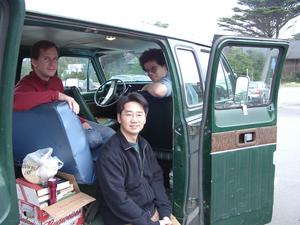 Photo by Tobias Lester: Tom Lester, Peter Tang, and Larry Hosken in the trusty green van
It was Saturday, November 6 2004, and the parking lot of the San Francisco zoo contained more traffic than you'd expect an hour before opening time. Quartets of people gathered around vans, getting into silly outfits, picking up clipboards. A puzzle hunt was starting.
The Just Passing Through folks were running a game: Shinteki Untamed. (There is a fair amount of overlap between the Just Passing Through folks and the Scoobies team I've mentioned previously. Do not be alarmed.) Team Mystic Fish was playing, but I wasn't playing with Team Mystic Fish. In this game, the team size was locked at four, and I was the fifth fishie who wanted to play.
Fortunately, my friend Tom Lester wanted to play, and he'd talked his brother Tobias into coming along. With those people in place, I figured that my high school chum Peter Tang would round out the group well. And thus had our team been thrown together: The Lester-Tang Conjecture. I was the only one who'd played in a big puzzle hunt before. Nevertheless, we all figured out how to have plenty of fun. We suited up into our lab coats, put on backpacks, checked our gear. We were heading in.