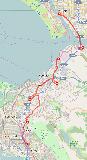 When I walked most of the way around the bay, I'd skipped more than I meant to. I wanted to skip walking a curb-less, shoulder-less, bike-lane-less stretch of road. I incorrectly thought that meant I had to ride the bus a long ways. Later on, I figured out that I could walk further and just ride the bus a little ways.
So on April 30 2015, I came back to do that: I walked from the El Cerrito Del Norte BART Station up to the Vallejo transit center just skipping the sketchy stretch of San Pablo Ave from Rodeo to Crockett.
Wildcat Canyon
I stepped out of the El Cerrito Del Norte BART station. I wandered around the local bus center, wondering if I could have figured out a better bus route if I'd just stuck around a while longer. I still wonder: the signs would have told me that WestCAT exists, but I might have been trying to get details by browsing the web on my phone. Maybe I would have been patient enough for that, maybe not.
Anyhow, I was back now, with a more informed plan. I headed north on San Pablo Ave. For my first destination, I had the choices Wildcat Canyon Regional Park▼, Playland-not-at-the-Beach (not open on weekdays), San Pablo Lytton Casino▼ (ugh, casino), Taqueria La Bamba (not open so early in the morning…or was it?). Wildcat Canyon was the winner here—I'd poked my head into the park before, but today I'd have an excuse to walk in through the south side and out through the north.
I walked along San Pablo Ave. I walked past Taqueria La Bamba. After my earlier pleasant surprise with South San Francisco's El Farolito, I had some hope that La Bamba would be open. But this time, no surprise: it really was closed.
I took off along the side streets paralleling Highway 80, then further aside to the base of the hills and the Alvarado park section of Wildcat Canyon Park. I picked up a trail map so I could figure out how to get through and out the other side.
BevMo!
My next choice of destinations was: City of San Pablo (a weak sauce, last resort choice), San Pablo Art Gallery (not open on weekdays, so far south I wouldn't have an excuse to walk through Wildcat Canyon park), or BevMo! (wouldn't quite be open by the time I showed up). What did it say about El Sobrante and/or BevMo! that this chain beverage store was such a popular check-in place?
I made my way through Wildcat Canyon park, out of the built-up picnic-table-ish Alvarado area and up into the hills. My newly-acquired paper map, Google Maps, and reality didn't seem to agree on exactly where the park's trails went; still, it was simple enough to get onto a trail that exited park's north side. Those trails got high up; soon I had views on out to Richmond's refinery tanks. But then I was out of the park and on residential streets.
My purpose this day was to walk the route I'd skipped in avoiding a curb-less, shoulder-less stretch of road. So I wasn't overjoyed to walk a curb-less, shoulder-less stretch of Hillcrest Road. But it wasn't busy, and it wasn't a long stretch. And I was at least kind of happy: I was someplace I'd never been before. I walked past a gurdwara and soon was down out of the hills and onto San Pablo Dam Road, El Sobrante's main drag.
San Pablo Dam Road's businesses had an old-timey feel. Proprietors hadn't thrown money on keeping up with design trends each year. I appreciated the old signs.
I turned north onto Appian Way. I'd thought of Appian Way as an interesting highway exit. I'd studied Latin in high school, so a local road named after an old Roman road was fascinating. El Sobrante's Appian Way didn't seem especially Roman, but it was a fine way to make my way north, out of El Sobrante and up to Pinole, on up to the intersection with Highway 80. There, I'd reached a large shopping center: BevMo! was here but it wasn't close.
I made my way through a mile of parking lots to reach the door of BevMo! As predicted, BevMo! wasn't open yet. But it would open in a few minutes. There was, improbably, a bench a few doors down; I walked past a few more big box stores, plunked myself down on the bench, hauled my Kindle out of my backpack and read a chapter of Hipster Business Models. Since I was in a parking lot, it would have been nice if I'd read the chapter about the Montethi brothers who live by driving around the country, parking their van in parking lots, fixing people's windshields, and asking folks to pay what they think windshield repair is worth. Alas, I hadn't made it that far in the book yet. I got myself back up on my hurty feet and forced myself to move around again.
At BevMo!, I bought a bottle of ordinary apple juice. As I headed out, I checked into the store on Swarm, which then shared a Foursquare tip about the store: Great wine selection! I guess that's what smartphone users were doing for a fun night out in Pinole: get some wine to drink at home, don't check in anyplace else.
Refugio Valley Park
My next choice of destinations was: Trader Joe's (another chain store?) Pinole Community Playhouse▼ (probably not showing a play on a Thursday morning), Refugio Valley Park▼. That triangle meant that a visit to the park would also "count" as a visit in the next neighborhood of destination choices. In that next neighborhood, my choices were the same except swapping out Trader Joe's for Kinder's Deli, which was proud of its meat selection. This vegetarian ambled parkwards, sipping apple juice.
I walked past a dive bar called The Green Lantern, sharing its name with a superhero. I wondered why the superhero-themed World Henchmen Organization puzzlehunt hadn't sent us there. Then again, this bar looked pretty sketchy, with no windows. Maybe it was just as well the puzzlehunt had passed this location by.
If I'd taken a side trip on Tennent, I would have seen more of Pinole; as it was, I blew through on San Pablo Ave; I saw some houses, saw some businesses, got the idea that there was more to Pinole than the shopping centers by the highway. But I think I missed a lot, too.
Then I was out of Pinole and walking along San Pablo Road between towns. There was a sidewalk, but there wasn't much going on: hills, trees, train tracks, traffic. Still, I wasn't the only carless human walking here. I encountered a few others; saw a lady waiting at a bus stop. This place was civilized, just more spread out than I was used to.
I was back in civilization, the town of Hercules. A strip mall by the side of the road had Kinder's Deli, a popular check in place. I turned onto Sycamore, which had more strip malls; this must be where the town of Hercules came to shop. Though Refugio Valley Park was low down in a valley, I still spotted it from a ways away by its dome. It was a well-equipped park; it had trash receptacles. I tossed out my apple juice bottle.
Rodeo
I headed out of the park. My next destination wasn't a popular Foursquare checkin: it was the bus stop where I could catch a ride through the curb-less, shoulder-less, bike-lane-less stretch of San Pablo Ave.
Heading back out to San Pablo Ave, a bus passed me. It wasn't the bus I wanted. It was labeled 10 GEMS BIRDS. This made no sense until I got home and looked up that bus line: it went through a neighborhood whose streets were named after gems and birds. If I'd meandered more in Hercules, I might have bumped into a 12 TREES FLOWERS bus.
I walked along San Pablo Ave from Hercules to Rodeo, putting up with a short curb-less section (which, in hindsight, I could have bypassed by taking a path off West Victoria Crescent).
I walked through the town of Rodeo, along a commercial street that took me to the bay. I walked along San Pablo Ave until its bike lane ended. I sat at a bus stop there for half an hour until the 11 (which didn't have an intriguing categoric name) bus picked me up.
Dead Fish Vista Point
I could have hopped off the bus right at the vista point I'd missed during my main walk around the bay. Instead, I went past and let the bus take me into Crockett. I'd never been there; here was a chance to see something new.
Crockett was new to me, but it wasn't new. Here was another town with bars that time forgot. I marvelled at the signs for Toot's and Club Tac. Here was a place of marvels. But I eventually made my way back to the Carquinez Straits vista by the Dead Fish restaurant, where we'd parked to pick up the Rubik's Cube puzzle in the World Henchmen puzzlehunt.
I walked across the bridge to scenic vista on the other side, where a dog walker had brought his dog to…listen to the Highway 80 traffic? It didn't seem like a great dog-walking spot. I looked down at the dock where the ship Golden Bear had been during my previous walk to this spot. Now she was going around the world, crewed by CSU Maritime students learning by the "sink or swim don't" method.
I was in Vallejo. I'd walked the "gap" I'd missed by taking the bus before. Mission Accomplished! I walked up to the ferry terminal, saw there wasn't going to be a ferry coming soon, and caught a SolTrans bus back to civilization and BART.