Around: Artsy Peninsula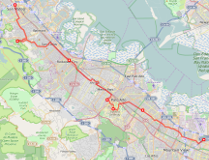 I was outside and walking before sunup. There was a euphoric thrill—out and active in the quiet and cool of the morning. Would today be hot? Maybe, but it wasn't hot yet. Would today involve walking in traffic? As it turns out, yes, but that traffic wasn't here yet.
Water Dog Lake Park
My choices for next destination were: Hiller Aviation Museum (not open this early), Vivace Restaurant (not open this early), or Water Dog Lake Park (open this early). The time was right to go to Water Dog Lake Park, up in the hills.
So I set out along El Camino Real, turned in at the Peninsula Clock Shop where we'd picked up a puzzle for the Doctor When Game and around the corner was Vinyl Solution where we'd picked up another Doctor When puzzle. Along Hacienda up into the hills, past boring houses to Indian Springs Park and on up to Alameda de las Pulgas, a main drag up in the hills. Along de las Pulgas until I reached the Belmont border, which seemed faintly familiar—had I seen it on a past walk? Off de las Pulgas onto a little side street, saw a bench near a rock and remembered—I'd been here before on a walk between Geocaches; this was the vicinity of Geocache GC2GF0D "Between a Rock and a Hardwood Place".
I was surprised to find the trailhead to Water Dog Lake Park amongst apartment buildings, but shouldn't have been: this trail wove between built-up places. Up and up and then I was at the lake. I supposed that if I'd been there at a more civilized hour, there would have been dogs playing in that lake. As it was, I looked at a sign that warned of mountain lions. I gulped nervously and hurried to figure out where to go next.
Redwood City's Fox Theatre
My next choice of destinations was: Stafford Park▼, Fox Theatre▼▼, Pulgas Ridge Open Space Preserve. The Fox Theatre was also a choice in the next two neighborhoods. In one of those neighborhoods, it was the clear choice, even though it was closed; there, the other choices were a wine shop and a not-open indoor sports center. So: I would visit Redwood's City Fox Theatre, albeit just its exterior.
So I backtracked, walked out of Water Dog Lake Park the way I'd come in. I made my way to Redwood City along paths vaguely familiar from long-ago walks. Merry Moppet Lane was hard to forget. Too late, I remembered a stairway out of Carlmont's parking lot was blocked off—remembered it because it had fooled me before. I walked along Alameda de las Pulgas, now busy with morning commute traffic. Kept going when that street became San Carlos Ave. Walked down to downtown San Carlos. Broke my fast at the Stacks on the Redwood City Border, made my way past the familiar Redwood City Caltrain plaza, plunked myself down on a bench. A few seconds to admire the theater's fine exterior before figuring out where to go next.
Cafe Borrone Allied Arts Guild
My next set of destination choices was: Cafe Borrone (open for lunch), Stanford Stadium (no game at the moment), Allied Arts Guild (sounded like a glorified mini-mall), Burgess Memorial Pool (who brings a swimsuit on a walk? Not me.). Cafe Borrone looked like a winner.
I hoisted myself up from my bench and set out, walked up Main past the roller skating rink to Harry's Hofbrau and El Camino Real. On El Camino, I kept myself on the north side of the street so I wouldn't be caught in the weird no-pedestrian area…but that was silly, because I was thinking of an area on Middlefield Road, not El Camino.
In Atherton, I walked past K&L Wine Merchants. Once I saw the sign, I recognized it from going past on El Camino in the past; though I hadn't thought I'd recognize a hoity-toity wine shop. When the sidewalk ended, I headed to the Atherton (weekend-only) train station, noting the not-so-visible path by Lloyden Drive which has a geocache hidden in it. In Atherton's Holbrook-Palmer Park, I stopped to use the restroom. Why write about a bathroom break? This one was special: while I was in there, someone else walked up to a urinal, used it and said "Oh thank god." He really needed that urinal right then. "Oh thank you Jesus." I didn't say it out loud, but I was pretty darned grateful for public restrooms right then; I couldn't have done this trip without them. Thank you, civic planners, for not forcing me to pee in back alleys.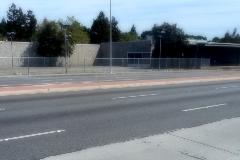 Back on El Camino, I was soon in Menlo Park, soon at Cafe Borrone. It was a little after noon; plenty of locals had decided to lunch here today; they were all ahead of me in a line out the door. I gauged my hunger: I was still kind of full of banana pancakes from breakfast. New Plan: I'd skip Cafe Borrone and visit the Allied Arts Guild instead. Maybe it sounded like a mini-mall, but at least I could breeze through it quickly. Except: it turned out to be—yes, basically a mini-mall for art, but, wow, a really pretty one in a sprawling old building complex with fancy gardens:
Cantor Art Center
My set of destination choices in and around Stanford University was: Rodin Garden (on Stanford Campus next to the…), Cantor Arts Center, Calafia. I'd never been inside the Cantor Arts Center before, always in a hurry to do some puzzle-y thing outside in the Rodin Garden. Today was my excuse to choose to go inside.
And so: through residential streets, across a new-to-me bridge over San Francisquito Creek, across Sand Hill Road, around Stanford Mall, onto Stanford Campus, past the Stanford Mausoleum via the path where we'd solved spooky blinky-light campus in the dark for a puzzlehunt.
The Stanford folks really liked Rodin. Now that I was finally visiting not-just-the-Rodin-Garden but actually going inside the place, I had a chance to see: More Rodin. But there were other things. The Cantor Center, I've heard, was meant to let Stanford students see "the usual" great works without having to head to a big-city museum. By now, I'd been to a few big-city museums, so much of what I thought was "Well, whaddya know—they got one of those here, too."
Hoover Park
Though my official choice had been Cantor, I still wanted to lunch at Calafia, one of my favorite restaurants. So I walked through campus, past the Oval, past the stadium, through a field, out of campus to the Town & Country Village to Calafia where I had a darned nice veggie burger.
And it was time to choose a destination from the set: So Gong Dong Tofu House (but I was, with no regrets, full of veggie burger), Hoover Park (a park with not-so-great phone data reception), Palo Alto Art Center (site of some fine outdoor art for picking up puzzlehunt puzzles and next to some text-covered blobby art pieces for the Palo Alto Library which somehow belonged in a puzzle but as far as I know hadn't been used in one yet), and Winter Lodge (an ice rink, and I didn't know how to skate). Of those, Hoover Park seemed good.
And so I walked down Embarcadero Road, dodging around the students who were enthusiastically biking away from the High School which I guess had just let out for the day. At the Elizabeth Gamble Garden I paused to tsk at a CAUTION sign by a little fountain: Was our lawsuit-prone society causing us to put silly warnings on everything? Then I read the sign more closely: the murky water in that "little" fountain was over four feet deep. Oh. That was a non-obvious good thing to warn about after all.
In the demonstration gardens, I wasn't sure how much I wanted to follow the example of folks who had put a sundial in the shade of a tree, however. Maybe when they put the sundial there, that tree hadn't been so big.
Walked past some residences to Hoover Park, which was a fine stopping point to sit. It was time to think about next destination, but it was also time to think about where to sleep tonight. I had my eye on a little set of hotels near Moffett Boulevard's crossing with Highway 101. I'd stayed there once or twice back in my Googler days. Those places weren't cheap; no place near the Googleplex was. But they weren't as expensive as others, so maybe that was good enough.
Back on my feet, I walked past houses, strolled through Mitchell Park, walked along Middlefield, crossed the Mountain View city limits, went past the not-so-visible bike path that led to the more-visible bike path that led to the bicycle underpass that led to the bicycle overpass that led to the part of the Googleplex by Permanente creek, past housing developments with menacing names like "The Shadows", and reached the County Inn, which had a vacancy. I checked in.
Nearby was the Fortuna Market. Google Maps thought it was a grocery store; but the reviews mentioned tacos. I went there (going past the abandoned Denny's), and sure enough it had a taqueria inside. Thus I had a pretty good burrito for dinner that night.
Back in the hotel room, I tried to check my email, but my Sprint wifi hotspot wasn't working. I remembered that it hadn't worked 2/3 times I'd tried in Phoenix, either. I made a mental note to switch phone carriers next time I was ready for a new phone; or maybe sooner.
Next: Milpitas 1-2-3