Around: Tourist in my own Home Town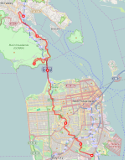 The next morning, my legs and feet let me know they weren't used to this much activity. Tender toes whimpered as I pulled on my shoes. I didn't so much walk down to breakfast as hobble. But once I'd been up and about for a while, the complaints settled down. I was ready to keep going.
Bay Model
My toes complained as I walked up some steps from the Travelodge parking lot to the public shore path. After a while, they settled into positions within my socks and stopped complaining.
I made my way through the parks around Pickleweed inlet, along the bike path under Highway 101, to the little business park on the shore where Pickleweed Inlet meets Richardson Bay. I walked past Glassdoor.com's glass door, and over to the Sausalito waterfront. Past houseboats, boatyards. Up to the shelter of Educational Tall Ship, still building its educational tall ship, the Matthew Turner. Past the Modern Sailing School, start of many sailboat charters back in the day. This was familiar ground. But then I stopped, surprised.
There was a tall ship tied up at the Army Corps of Engineers pier. No, there were two tall ships tied up at the Army Corps of Engineers pier. It was the Hawaiian Chieftain and the Lady Washington. They used to be in Sausalito most of the time, but had sailed away to Washington state some years ago. This weekend, they were back for a visit.
I walked around the Bay Model. Would this give me the strength I needed to walk around the real bay? Maybe. I looked at the model of the Carquinez Straits bridge, my big walk's eventual goal (well, the town of Vallejo just on the other side of that bridge). There was just one bridge in the model; it predated the building of the second bridge. So maybe the model didn't hew too closely to reality these days. Still, I was glad I'd walked around it.
Hawk Hill
My next set of destination choices was: Aurora Ristorante, Bay Area Discovery Museum, and Hawk Hill. Aurora Ristorante wouldn't be open until lunch time. I'd almost visited the Bay Area Discovery Museum once, but was gently warned by the ticket seller: You know it's for kids, right? So I'd walk from Hawk Hill, and from there to San Francisco.
Maybe it would be like that time I walked from San Francisco to Hawk Hill, and from there to Sausalito, except in reverse.
It was time to walk again: along the waterfront, to the art car and Dunphy Park. A stop at the Sausalito Market to buy an apple and a packet of cookies in case I got hungry in the snack-less wilderness of the Marin Headlands. I poked my head in at Philz to see if anyone I knew was there—and in triumph at having even spotted the mostly-unsigned chain coffee store; a passer-by said, "Ah, you like the art?"and I felt sheepish that I'd just been trying to figure out if I recognized the place. Past the Sausalito Ferry pier, looking at how they were coping with the increase in number of tourists renting bikes in San Francisco, riding over the bridge to Sausalito, and then wondering why the bike parking at the Ferry pier was all filled up with other rental bikes.
I walked along Bridgeway with its view of the water and plentiful tourists. I headed south and observed the waves of tourists on their rented bicycles coming in from the north. Up the hill, past Aurora Ristorante, still not open. (It occurred to me that I might make quicker progress waiting for it to open, having a quick lunch, and walking south than choosing to walk to Hawk Hill and walk back to Highway 101. But maybe a scenic vista would be a more interesting stop than a pizzeria.)
At the intersection with Alexander Ave, of course the cars were crazy and of course a van almost took out a cyclist—except that the cyclist knew it was a dangerous intersection, and warily made her way around the van, yelling. It had been good to explore unfamiliar-to-me territory up in Novato. But it was nice to be in a place I knew, to know where to be extra-careful.
Walked out the access road to Fort Baker. Walked past the Discovery Museum, but didn't go in because: for kids. Ate snacks for energy. Walked up the hill, exposed to the sun until I was at the northern end of the Golden Gate Bridge. A few yards of shade through some trees, then back out to the exposed hillside walking up to Conzelman Road. Then along the exposed road to Battery Spencer. Stopped a while at Battery Spencer for bridge photos, then further up the exposed road.
There seemed to be a heat wave going on. I hadn't applied sunblock. I hadn't packed sunblock. Why hadn't I packed sunblock? I reminded myself that I'd be in San Francisco soon, could sleep in my apartment tonight, could pack my sunblock. I walked up the hill some more. One of my toes started complaining. I hobbled up to the next scenic vista, sat on a bench, took off shoe and sock, looked at toe. Oh, I'd developed a blister and popped it. How lovely. I had thought to pack bandages, and applied one to my toe now, to keep it from rubbing against my other toes. I wondered how many more blisters I'd get in this walk. If I got too many, should I stop? How many was too many? (This worrying was pointless; though my toes were always tender, this was the only time things got bad enough to stop me.) Further up the exposed hill. Further.
Hawk Hill, an old military bunker was nice because that bunker had tunnels, which were a chance to get out of the sun for a while. I cooled off, took a look around. Here were views of San Francisco. Out the back side of the bunker, views up the Marin Coast. I remembered that I live in a beautiful place.
Golden Gate Bridge
My next choice of destinations was Crissy Field, Walt Disney Family Museum, Golden Gate Bridge▼. Since I'd have to cross the Golden Gate Bridge to Crissy Field, the Walt Disney museum, or any place in San Francisco, that was obviously the right choice.
So I walked back down through the foothills until I reached the north end of the Golden Gate Bridge. Crossed under the ped/bike underpass to reach the vista point on the bay side of the bridge. Enjoyed the vista for a bit, then crossed the bridge. This was an unpleasant mix of jostling tourists and busy highway sound, but I made it. At the toll plaza, went past the little spot by the side of the rode where Alexandra had parked the car while other Mystic Fish folks had skeedaddled along the bridge walkway to pick up a puzzle for the Justice Unlimited game: that space was now clearly marked CHP ONLY (but a hapless tourist still tried to park there as I went past).
Twin Peaks Summit
My next set of destination choices was: Alamo Square Park (where the "painted lady" Victorian houses are), A.C.T. theater (where maybe I could have got a ticket to wait around until 8pm to see a play... oh, lots of waiting), or Twin Peaks▼. Hmm, Twin Peaks was a two-neighborhood spot, would also count as part of my next set of choices, with the other choices being SOMARTs (an art space—maybe with something to see when I showed up, but maybe not) and El Rio (a bar, not a great choice for a tea-totaller). So: Twin Peaks, then.
Thus, walked through the woods of the Presidio. Crossed the Richmond district, going past the Internet Archive, a few blocks amongst Clement Street shops; popped into Boudin for a cheesy roll; walked just a few blocks away from the house where I'd grown up.
Through Golden Gate Park: past the De Young museum (passing up a chance to visit its scenic vista tower, walking from Hawk Hill to Twin Peaks, maybe I didn't want to wait in a line for a scenic vista tower), past the gate to the Japanese Tea Garden (site of the Shrub of Life for the original leisurely San Francisco minigame), through the arboretum (flashing my San Francisco ID to get in free), past the county fair building where kids were holding a chess tournament, out of the park and through the 9th and Irving shopping district, past the On The Run shoe store (not thinking about it at the time), past firefighters and displaced tenants at a big apartment building.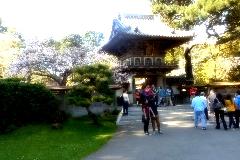 Walked more: Up the hill to UCSF's Parnassus campus; a block from my apartment; up the access road behind UCSF, including the Woods Building with its cheery skeleton; up to the Aldea Heights UCSF student housing; across the road to Avanzada road (marked with plenty of "No Parking" and "No Dumping" signs to make you wonder how many folks park there to dump things), to the reservoir at the base of Sutro Tower, to Marview and Farview, to the not-so-easy-to-spot trail up to Twin Peaks.
Twin Peaks was a mess: Many specialized vehicles were parked up there—maybe for shooting some video? Cops abounded, guarding the specialized vehicles. Tourists swarmed about, buffeted by the wind. No wonder there were so many: it was a clear day, with great views.
John McLaren Park
My next set of choices: John McLaren Park▼, Bernal Heights Park, Mama Art Cafe; a toss-up. Hmm, John McLaren Park was a two-neighborhood spot and would also be part of the next set of choices: San Bruno Mountain State Park (scenic, but would involve backtracking: no great way south from there), Art at the Dump (not clear it was visit-able, and seemed unlikely on a Saturday evening). So: John McLaren Park.
Walked down Twin Peaks, upfill from Juvenile Hall, down O'Shaugnessy (Why didn't I go through Glen Canyon for the more scenic walk? It was getting late; I was getting tired, making worse decisions); appreciated a Glen Park drinking fountain. Walked through neighborhoods I didn't know so well. A thrill when I stepped onto Mission Street for a block: Mission became El Camino Real; for a while, my big walk plan had been "Walk El Camino Real from SF to SJ". I'd ditched that plan, but there was still a thrill. Up Peru street, not stopping for its dirt-path pedestrians-only block, because I was a pedestrian. And then I'd reached John McLaren park.
It was getting late in the afternoon. Time to plan sleep. I wanted to go somewhere, catch public transit to my apartment, then transit back the next morning. But where was a sensible somewhere? Maybe the southern border of San Francisco.
Thus I walked through McLaren Park, out the other side, and through the sometimes-scary Sunnydale neighborhood. Alas, this was one of its sometimes-scary times: I was snapping a photo of a Benny Bufano statue when many many cop cars start zipping around the neighborhood with sirens going. (Later, I figured out they were probably responding to a murder.) I kept walking, quicker after that. Two gentlemen standing outside a liquor store greeted me as I went past. One asked me if I'd ever been told I looked like Jim Carrey before. I said I had. I didn't say I hadn't taken it as a compliment that time, either.
Sunnydale and Bayshore is the last stop of SF Muni's T streetcar line. There, I caught public transit back to my apartment, stopping off for a burrito along the way.
At home: I added more things to my backpack. I'd been packing light, knowing I'd be at my apartment on the second evening of my walk. But now I wanted to pack for another four days of walking. So: remembered to pack sunblock. Packed the laptop so I could keep up with emails in the evenings.
Caught up on emails. Slept.
Next: Good-bye Pacific