Around: Good-bye Pacific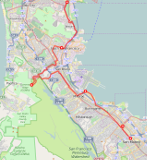 In the morning, I caught public transit from my apartment back to Bayshore and Sunnydale. It was time to resume walking.
El Farolito
My choice of destinations was: Jackson Arms Shooting Range (closed at this early hour), El Farolito Grand Ave, South san Francisco (closed at this early hour), or H.I.T. Wall Studios (music studio, not readily visitable). Given a choice of three places I couldn't visit, El Farolito was at least centrally located.
I walked south on Bayshore. Past the building on the San Francisco-Daly City border (a popular drinking spot back when Daly City and SF had differing drinking laws—crossing the room changed laws). Maybe a quarter mile to the Daly City-Brisbane border and the 7 Mile House. I was moving from city to city at a quick pace. I kept walking along Bayshore, in its bike lane. From a previous walk, I knew I could probably do that without having to dodge too many bikes. (For less traffic, I could have walked Tunnel Road, out by the dump, instead, and been taken further out of my way.) At the fire station, cops were talking to an upset guy. At the Machinery and Equipment Co, I contemplated machinery. Then: back to walking along the Bayshore as it went past Brisbane Lagoon, and on into South San Francisco. Not much traffic, some shade from trees, it was good.
I reached El Farolito a little after 9:00 in the morning—and it was open! Depending on whether you checked Foursquare or Google Maps, you'd think it opened at Noon or 11, but reality differed. Thus, I started my day with a burrito from one of the best burrito places in the SF Bay Area, i.e., one of the best burrito places in the world. Life was good.
Sweeney Ridge
My next set of destination choices was: See's Candies (closed this early…or was it?), Sweeney Ridge (no great way south from there, would involve backtracking), or National Archives (only visitable with an appointment, unlikely on a Sunday morning).
Thus, I walked past the shops of SSF Grand Ave, down to Orange Memorial Park and its statue garden, along Centennial bike path with many walkers and joggers this fine Sunday morning, up to See's Candies which was indeed closed. I walked along El Camino for a while, shops on my left, National Cemetary on my right. I walked to the National Archives, just so that I could say that I'd seen it. It turned out that I'd seen it before, but hadn't known what it was: just a big concrete box with a lot of "U.S. GOVERNMENT PROPERTY" "NO ADMITTANCE" warnings. I walked through parkings lots that backed up to the Archives. I walked up through the National Cemetary and up and up Sneath and past trees decorated for Easter and yet further up Sneath to Skyline.
It was hot; I'd done a lot of climbing through the heat; I'd drunk a lot of my water. And with a name like "Sweeney Ridge", I bet I had more climbing to do when I reached this place. When I reached Portola Elementary School, I entered its yard and wandered around the building's outside until I found a drinking fountain. I sat in shade for a bit, cooled off. Drank some water, cooled off some more. Refilled my water bottle.
And then walked up up up Sneath, up past a San Francisco jail (not enough room in San Francisco for everybody we want to jail, apparently), and up. I'd been most of the way up Sneath before, but never to the top. Now here I was, at top of Sneath, also a trailhead for something called Sweeney Ridge.
A sign told me of what interesting thing I could reach via this trail: A California Landmark, the San Francisco Bay Discovery Site. I'd wondered about this site, actually—I'd seen its plaque before. (I thought I'd seen this nearby, where Hillcrest hits the San Andreas Trail; but now that I look up info, I see that's the site of a later Portola camp; the correct plaque's site is in Pacifica, across the street from the community center where Pirates' BATH ended. Anyhow: it always seemed strange that the landmark plaque was so far away from the landmark it described.) Now all I had to do to see the landmark itself was walk up another 1.8 miles of trail.
The other interesting thing at the trailhead was a map: This showed me that this trail connected up with a trail from Pacifica, on the other side of all these hills I'd been climbing. I hadn't known there was a way across. Now I did; I was already planning future walks (maybe starting from Mori Point or Fassler Ave or thereabouts).
Anyhow, about those 1.8 miles to the site: I made it! Up at the top of the ridge, you could see San Andreas Lake (formed by the earthquake fault) and SF Bay to the East; and the Pacific Ocean to the west. This was the last I'd see of the Pacific on this trip; my steps would soon take me east.
Bayfront Park
My next set of choices was: Umami Sushi (not so interesting to a vegetarian who, hours later, was still using up the energy from a big burrito), SFO Terminal A Art Exhibit▼ (not so much fun to get to on foot), or Bayfront Park▼ in Burlingame. Bayfront Park was the winner; since it was a two-neighborhood place, that also spared me from having to visit the Rollins Road In-n-Out Burger. Time to make my way from this high ridge down to sea level.
And so I walked back down to the trailhead. Down to Portola Elementary, where I refilled my water bottle. (Yes, I'd drunk the whole thing. It was hot out.) Walked along noisy Skyline. Glimpsed the end of the San Andreas trail before I turned downhill. Down twisty streets through dull residential blocks. Kept walking down to El Camino Real, which was bustling and interesting. Walked ECR, made it to Millbrae, past the mysterious water meter shelter, headed over to Broadway, stopped in a Jamba Juice for shade, juice, and a honey/nut bar, past the 16 Mile House, used the BART station overpass to cross the tracks, headed past the Rollins Road In-n-Out Burger, over the 101 and to Bayfront Park. I'd been here on walks; I'd been here capturing Munzees. Now I took a moment to watch planes.
Burlingame Central Park
Looking at my choices, I could keep following the bay shore or I could head for downtown San Mateo. I was tiring; I kind of liked being close to civilization and hotels and places to rest soon. So, faced with the choice of CuriOdyssey at Coyote Point on the bay, Mingalaba (a restaurant I wasn't hungry enough for), or San Mateo Central Park▼ (home of Leon the Giraffe statue), the park won.
Thus I set out through Bayfront Park, then out past hotels and other airport businesses. I crossed the Rosalie O'Mahony bicycle and pedestrian bridge over Highway 101, past the horse-and-rider statue, past the firehouse, past the Wind Over Water Board Shop, within view of the BVRLINGAME train station (anagramatical inspiration for the MR EVIL BANG puzzlehunt), through downtown Bvurlingame, up to El Camino, to downtown San Mateo.
A guy waiting for the bus noticed the shoes in which I'd walked all these km, squawked: "New Balance! Hey, hey– Where did you get those shoes? I try to find 'em but, they're hard to get around here." I asked, "Does San Francisco count as 'around here'?" It did, so I pointed him at On The Run, my local shoe store which, luckily for this big-footed fellow, stocked New Balance shoes.
Soon I was at the park. I made my way through until I reached Leon's lawn. I sat on a bench.
(The Great Entertainer)
My next set of choices were: Trader Joes's (food market), the Great Entertainer (pool hall), Twin Pines park, or Water Dog Lake Park▼. It made sense to start walking towards Water Dog Lake Park; I probably wouldn't reach it before it was time to look for lodging, but I could make a good start.
I headed south on El Camino Real, through the mix of roadside business, sooty retail, and randomness that I love in the best parts of El Cam. And then I realized I was looking at The Great Entertainer. And there was a hotel right next door. Maybe this was far enough.
That hotel was a little expensive, but the Stone Villa Inn across the street was cheap. I checked in. Played some cowboy at the Great Entertainer, learning just how much my skill had, alas, atrophied. For dinner, I got a bean burrito at Taco Bell. It wasn't as good as El Farolito, but it didn't involve any walking and that seemed like a good idea right then.
Back in the hotel room, I tried to check my email, but my Sprint wifi hotspot wasn't working. I remembered that it hadn't worked 2/3 times I'd tried in Phoenix, either. Oh well—I could go an evening without checking email.
Next: Artsy Peninsula