Around: Straight Shot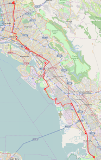 Caught up on correspondence, leaving the laptop at home, for hours I rode back to the Ardenwood Park and Ride.
Arden Oliver Sports Park
My choices for next destination were: IHOP (it was breakfast time…but I was still not hungry after that huge lunch I'd had yesterday), TruDance (a dance class place, not a great place to "drop in" on a weekday morning), Arden Oliver Sports Park▼ (probably nothing to do, but maybe that was the best choice anyhow).
Ardenwood wasn't a wildly exciting road to walk along. Mostly, it was fences protecting subdivisions from road noise. So I walked between walls, walked into Union City and on and on. Alvarado Square had a neat decoration with parts you could swivel around if you pushed them, so I pushed a couple of them. And more walking and more walking and then some light industry and then I was inside the Hayward city limits and there was the Arden Oliver Sports Park. Huge sports fields with nobody playing on them because it was still Thursday morning. Actually, that wasn't quite right: one guy was kicking a soccer ball around on a soccer pitch. Big signs everywhere said that we couldn't use a sports field without a reservation, so I guess that guy reserved that field for the morning so he could kick that ball around. Or else he was a maverick.
Kennedy Park
My choices for next destination were: Kennedy Park▼ (I'd been there before, a straight shot up Hesperian Boulevard from my location), 17 Hertz (a music studio, probably not drop-in-able), and Eon Coffee (nice… but I'd got a late start, was worried about making distance today, so Kennedy Park's straight shot sounded good). So: Kennedy Park, for reasons that turned out not to be valid.
I walked along Hesperian, through the Mt Eden Neighborhood. And then I was on familar ground: I'd walked through Chabot College before, and here it was. And then, suddenly, there was Eon Coffee. I had chosen Kennedy Park as my destination because it was conveniently right on Hesperian, but it turned out that Eon Coffee was, too. As a consolation prize, I sat for a coffee and a croissant.
And then up again and walking again, past strip malls, past the Hayward Airport, past more strip mall, and there was Kennedy Park. I wandered around a little, snapping photos of baby animals and the carousel. But really I wanted to keep walking. I'd got a late start, after all.
Bay Trail at San Leandro
Only two destination choices in the next section: Dina Star Dancers (suitable for drop in? who knows?), or the Bay Trail, specifically the section near where Heron Drive meets Bayfront Drive. OK, time to visit the bay in this here walk around the bay.
Back on the road, I walked off of Hesperian onto Bockman Road, which headed bayward. Walked past houses, past a school. Not much was happening, and I wasn't paying enough attention to notice when Bockman angled off so that I was walking on another street entirely. Then I was at San Lorenzo park. As a "Lawrence," I thought that was worth poking my head in for. I was in a Census-Designated Place named "San Lorenzo," but hadn't heard of the place before. Yep, I didn't know about a namesake place only about 20 miles from where I live.
I got myself back on track, made my way past some residences and through San Lorenzo/San Leandro Grant Avenue Industrial Area to reach the San Lorenzo section of the Bay Trail.
I was excited to be there. It was my first time there, but I'd been close before: I'd been on the Heron Bay section of the Bay Trail before, looking south at this spot. But I'd been too chicken to walk south, because this section of the "trail" was pretty much a trackless area of marsh and debris. Not a huge trackless waste, but not something I felt like tackling. But now I was going to cross that area going the opposite way—and I would recognize the trail on the other side, was sure I wouldn't get lost.
And it was pretty easy. Maybe because of the drought, the marsh wasn't so marshy. Trails petered out, but it was pretty easy to spot other trail section-lets to pick up. And soon I indeed reached the more well-defined (paved!) section of the Bay Trail that I remembered.
San Leandro Marina
The next set of destination choices was: San Leandro Marina (where this section of trail led), Drake's Barrel House (not where this section of trail led), California Conservatory Theatre (not where this section of trail led), Optimist Rifle and Pistol Range (not where this section of trail led).
So: followed the trail to Marina Park, traipsed through that to reach the marina.
Nimby
It was about 14:00, with several hours of daylight left. This was a little surprising: extrapolating from previous days' progress, I figured that by the time I reached this area, it would be time to think about finding lodging. I hadn't really found out anything about my next set of choices. (I spent my evenings trying to figure out general character and open hours for the next day's choices.) But today's walking had been pretty much a straight shot up Ardenwood/Union City Blvd/Hesperian so far. My route hadn't involved backtracking, not even much sideways "wiggling".
So I picked from my next set of choices pretty much based on what I could find out from my phone's Google Maps right then and there: East Oakland▼ (choosing a neighborhood felt like taking the easy way out), Nimby▼ (?), O.co Coliseum▼ (probably not a great place to "drop in" on), the In-n-Out on Hegenberger (not this vegetarian's fondest desire).
And so I made my way through a residential neighborhood, over to the industrial area around OAK airport, over to the surrounded-by-industry residential neighborhood of Coral Road. I'd been in this strange neighborhood before for the same reason: its pedestrian overpass over the 880 Nimitz Expressway. Kept going past the DMV office, back into industry. School had let out, and I walked along 85th Avenue behind a kid carrying a backpack bigger than he was.
NIMBY was a maker space for folks making Burning Man-ish art pieces. So there was art.
The Cotton Mill
In the shadow of a truck decorated with the "Metropolis" robot, I sat hunched over my phone to figure out where to go next: The Cotton Mill (an art gallery (actually, as it turned out, artists' studios)), Trevethen Aquatic Center at Mills (I still had no swimsuit), Dimond District (checking into a neighborhood was the last resort), Vientian Cafe (it was late in the day for coffee (though, as I'd later find out, this "Cafe" was actually a restaurant where I could have dined)). So I chose The Cotton Mill; in hindsight, not the best choice for this walk. At least the walk itself was good.
I headed up to International Boulevard, a busy business-y bustling street. I was thirsty, out of water. Fortunately, I was surrounded by businesses. Somebody wanted to sell me a beverage. I entered the J J Fish & Chicken restaurant and waited in line a couple of minutes while the folks behind the counter tried to give one customer their order. This involved a lot of back-and-forth conversation. When I realized how much time was passing, I headed back out onto the street. A few blocks later, I got a fruit juice at Maria's Market & Deli and it was just about the best thing.
And so I sipped and walked further along International, staying on the shady side of the street, enjoying the bustle. At the Fruitvale BART station, I headed off into the side streets, going past a traffic accident, into a little neighborhood nestled between train tracks and highway 880. The way to The Cotton Mill was in a tangle of streets under an overpass, but I eventually found it.
It was private artists' studios. It wasn't meant for drop-in visitors. I'd made a bad choice. Oh well. At least I could snap photos of some of the high-quality graffiti under the overpass.
OMCA Lakeside Park (Lake Merritt)
I hadn't researched this next set of destination choices, but I was headed towards downtown Oakland where I knew my way around pretty well anyhow. Arizmendi Bakery (Since the huge meal at Country Way more than 24 hours before, the croissant at Eon had been my only solid food. I was starting to feel hungry. Then again, my legs were still energetic.), OMCA▼ (yay, a great museum—I'd be getting there late, though. Might be closed), or Lakeside Park▼ (a park by Lake Merritt; I wrongly thought that this was a name for all of the parkland around Lake Merritt, so…); so a plan emerged: go to OMCA. If it was closed, walk by Lake Merritt for a bit and say my choice was Lakeside Park.
I had a tough time getting out of the Cotton Mill's neighborhood. If I'd been smart, I would have gone over that overpass I was under. I assumed it was an onramp to the 880, but actually it was a street passing over the train tracks. Instead, I backtracked a few blocks. After walking northwest pretty much all day, backtracking was a little sad; but soon I was heading the right way.
I walked along 12th street by the elevated BART tracks for a few blocks, then back to International. And then I was walking around Lake Merritt to OMCA. There, a big banner told me that OMCA would be open late tomorrow evening; big metal gates told me that it was, at the moment, closed. So I walked alongside Lake Merritt, staying out of the joggers' way.
It was 17:00 in the evening. I'd planned to look for lodging at around this time. But I hadn't planned of reaching Downtown Oakland so quickly. I wouldn't find any cheap lodging here; and my next destination would be in Berkeley; not much chance of cheapness there, either. But now I was close to BART, so I could BART home, sleep in my own bed, and BART back, not losing much time.
If I wasn't trying to find lodging, I could keep walking north, make some progress towards Berkeley. That's what I did. I'd made it further than I'd expected today (what happened to that late start?), and that freed me up to walk farther yet.
I walked up MLK, past the MacArthur Maze, past the Here/There art as seen in the Ghost Patrol game, past the Sweet Adeline Bakery where I'd recovered from the Hogwarts Game. At the Ashby BART station, I saw that the sun still wasn't down. So I kept walking up to Downtown Berkeley, walked past streets familiar from my time living in Berkeley.
I dined at Long Life Vegi House and caught the BART to San Francisco; it was all very comfortable and civilized.
Next: Endsville