Departures: Around the Bay 2021
July 1–7 2021, I walked around San Francisco Bay. It was a good week.
Have you walked around the bay?
Let me know
, I'd love to link to your write-up or list your name or what-have-you.
Roy McCandless (reported via Corinne C. DeBra)
Gillian and Don (co-owners of ZombieRunner store and cafe and Palo Alto, CA) (reported via Corinne C. DeBra)
(More people must have done this, surely. It's very satisfying and very achievable. I bet local bicyclists have a name for it, though I haven't found such in my naive researches.)
Background
In 2015, I walked most of the way around the bay. I wanted to walk all the way around, but couldn't figure out a good walking route on the northern side.
In 2016, I walked most of the way around the bay again. I wanted to walk all the way around, but couldn't figure out a good walking route on the northern side.
In late 2019, an exciting announcement: the Richmond-San Rafael Bridge was getting a bike (and pedestrian) path. Now there was a way around the northern side of San Francisco Bay! (I sort of still wanted a way around the northern side of San Pablo Bay so I could walk around the whole San Francisco-San Pablo Bay combo dealie, but I was pretty darned happy to hear about that bridge path.)
(You'd think I would set out right away when I heard about that bike path. But I was pretty busy with a project right then. And then there was a worldwide pandemic and I sheltered in place for more than a year, law-abidingly and sensibly not crossing the county border. But then there was a vaccine and then I got the vaccine and then travel restrictions were lifted.)
So I set out on July 1 2021.
Thursday: SF → San Mateo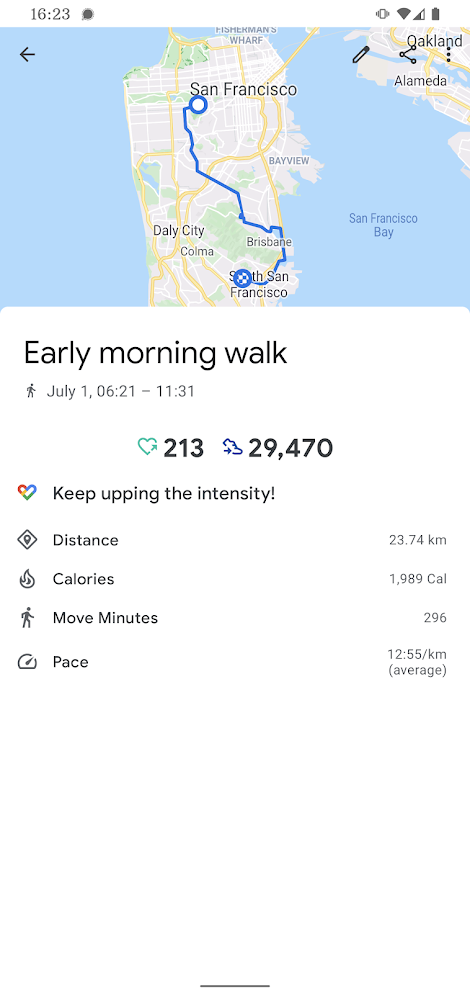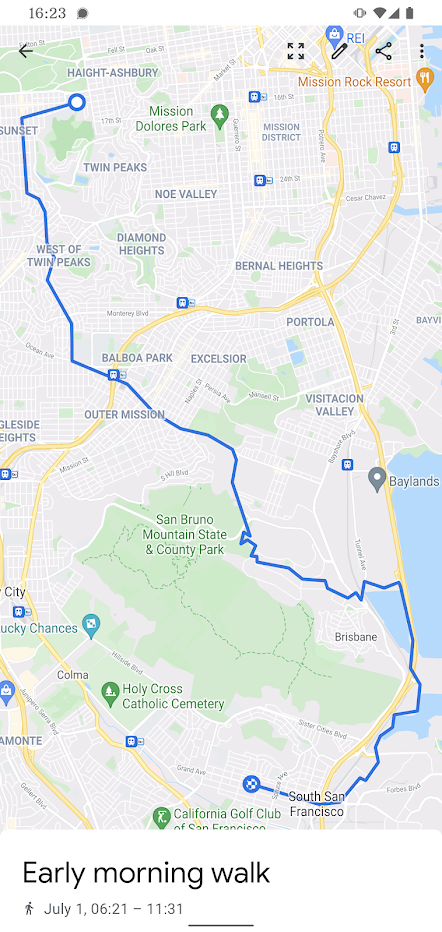 I set out early in the morning, hoping to thusly dodge afternoon heat. I headed south from my San Francisco apartment. I carefully picked my way through some of San Francisco's worst neighborhoods: Forest Hill, Westwood Highlands, Sherwood Forest. On these wiggly streets, sleepy drivers were slow to react to rare pedestrians. Fortunately, at 7 o'clock in the morning, most of those drivers were still snug in their beds. I emerged without injury.
When you walk south from San Francisco, you must decide what to do about San Bruno Mountain. I left town via Carter St. It's not an obvious way south. But Carter connects to "the back door of Brisbane", a neighboring town. Thence I made may through Brisbane: along the access road to the water tank, down the dirt path, past the houses of Silverspot Drive, along the dog-walking path that used to be a train route, past the warehouses.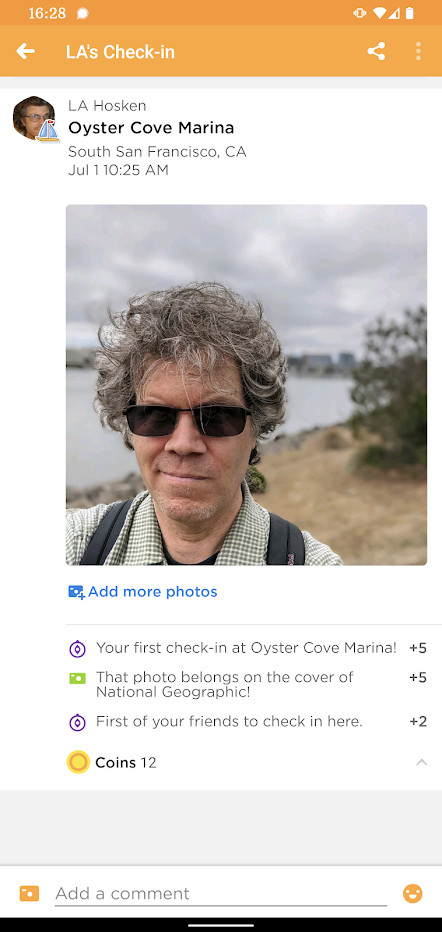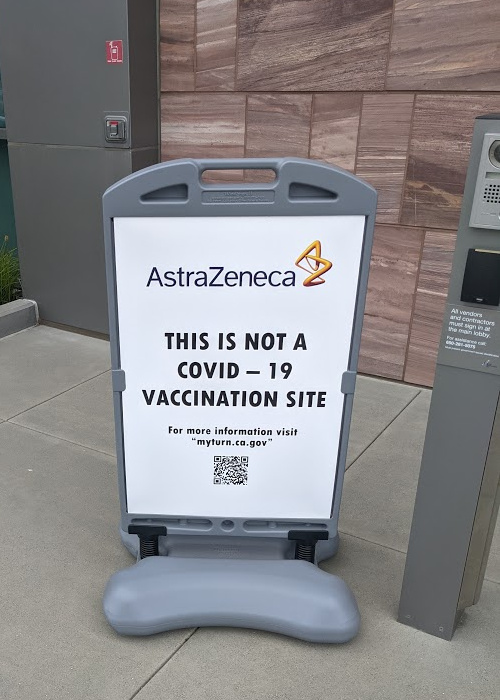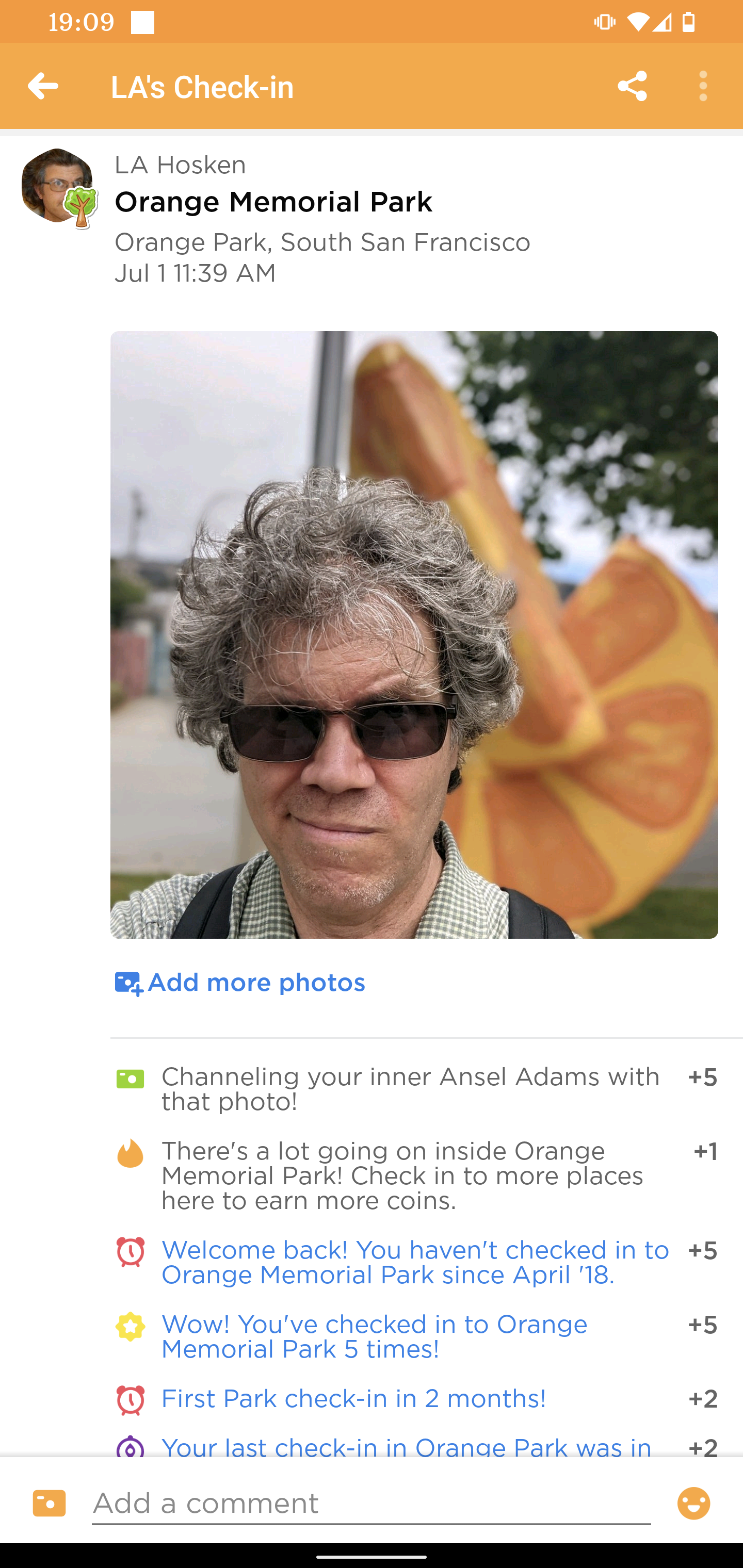 And then south between the lagoon and the 101 to Oyster Point, the east end of South San Francisco. Here I moved among the offices of biotech companies. They'd been in the news lately as they vied to find vaccines and treatments for the pandemic. But there were no throngs of office workers here; companies were still figuring out how (or if) to return working-from-home workers to shared offices. There were plenty of construction workers around, constructing new shared offices to hold workers who might eventually return to working in shared offices…
Over the tracks and under the freeway, I walked onto Grand Ave, South San Francisco's "Main Street." I was hungry. Cafe 382 was swamped with brunchers but the line at Taqueria El Farolito was short. Did it feel strange to re-visit a restaurant I'd visited on a previous almost-around-the-bay walk? Maybe. Nevertheless, I continued to follow the stops of my previous walk, bringing a burrito to Orange Memorial Park to eat.
Orange Memorial Park was under construction; the picnic area was torn up for a stormwater capture project. So I sat in the sculpture garden and ate my burrito and all was right with the world.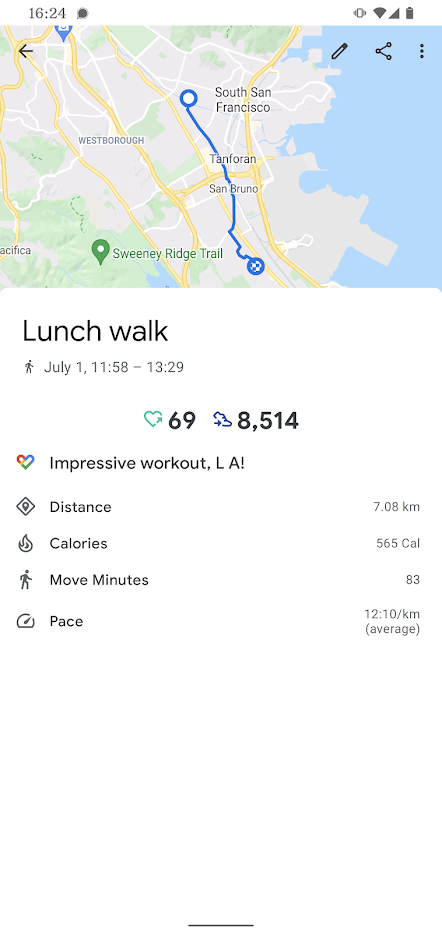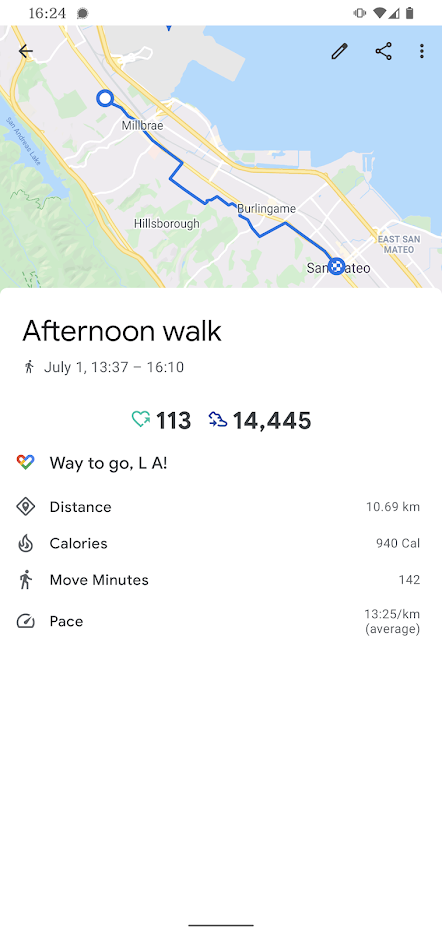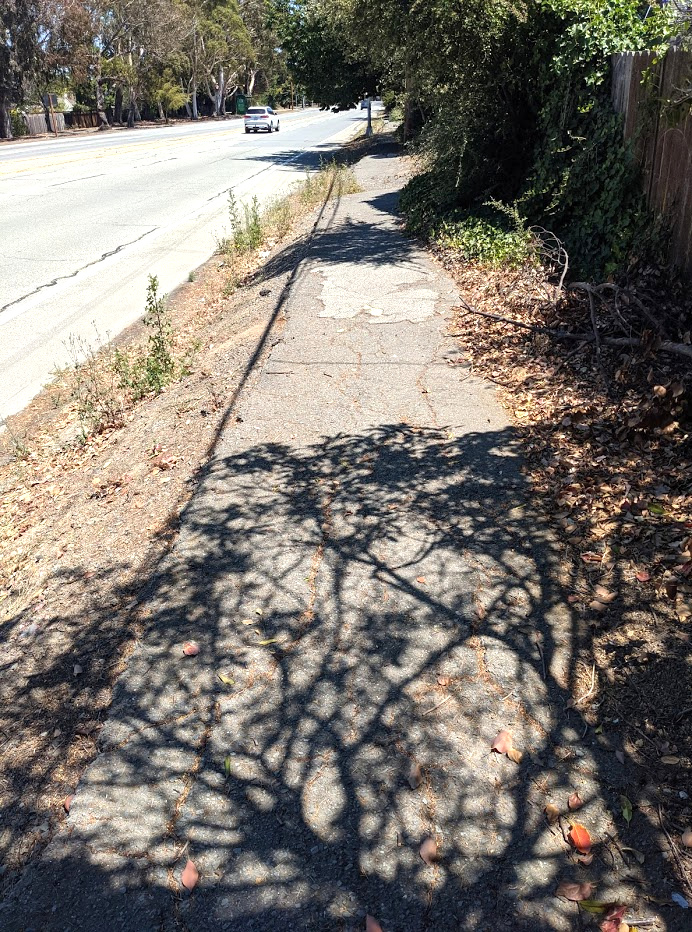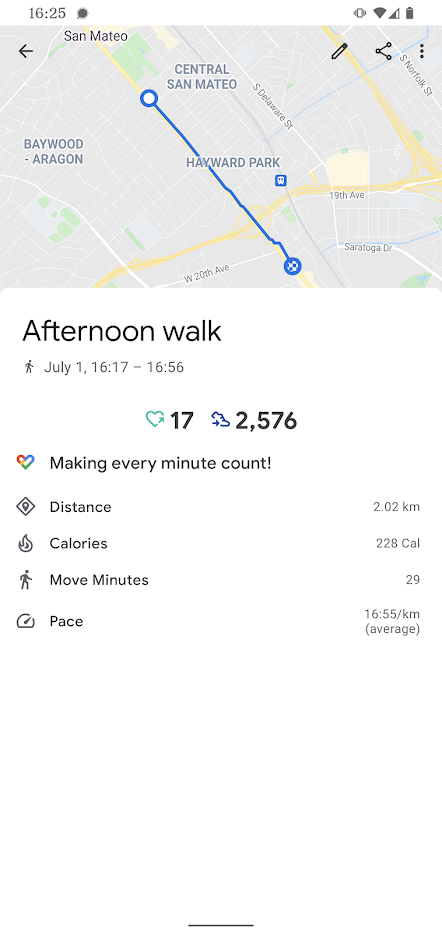 The sun shone down. I made my way along the Centennial Trail to San Bruno. I caught some shade on Huntington Ave, but the rest of the walk to Millbrae was in sun. My delicate fog-raised San Francisco constitution wasn't used to this. I drank most of my water.
I felt like an experienced urban hiker as I walked past Millbrae's Green Hills Park and spotted a water faucet by its silhouette. I felt less amazing when I discovered that the faucet didn't work; I'd have to find some other place to refill my water bottle. Or, I realized, I could repeat another stop from a previous almost-around-the-bay walk. I went to Millbrae's Jamba Juice, and that was cold and lovely.
In Burlingame, I learned something new about El Camino Real: there was a stretch ECR that I thought lacked a sidewalk. It had a sidewalk, albeit a rather distressed one. There's always more to know.
Further along in Burlingame, I realized I was tired, hot, and running low on phone battery. (My phone wouldn't tell me what % full it was; it would just estimate how much time it had left. These estimates, alas, weren't accurate.) Thus, I reserved a motel room at a place I could reach before any of these systems gave out: The Stone Villa Inn, which I'd stayed at in a previous walk almost-around-the-bay. These repeats were getting spooky.
Nevertheless, I took advantage of my area knowledge: rather than waste time trying to find better food nearby, I stopped by the local Taco Bell on my way to the Inn to pick up a couple of burritos.
Friday: SM → Santa Clara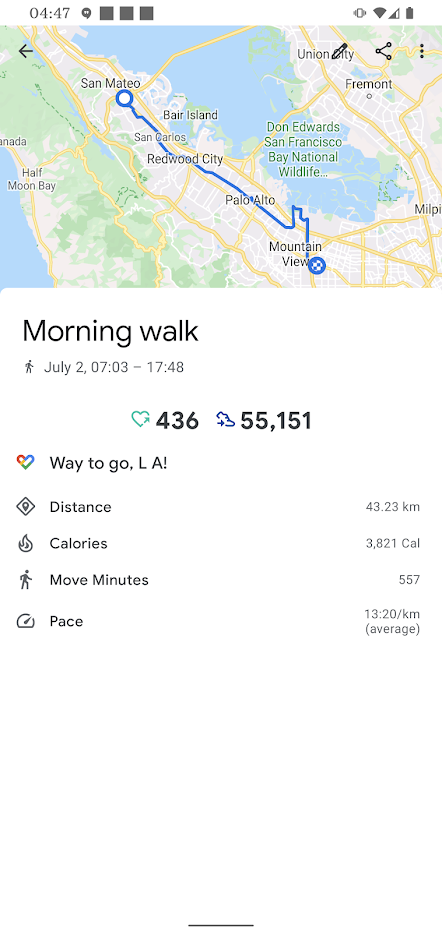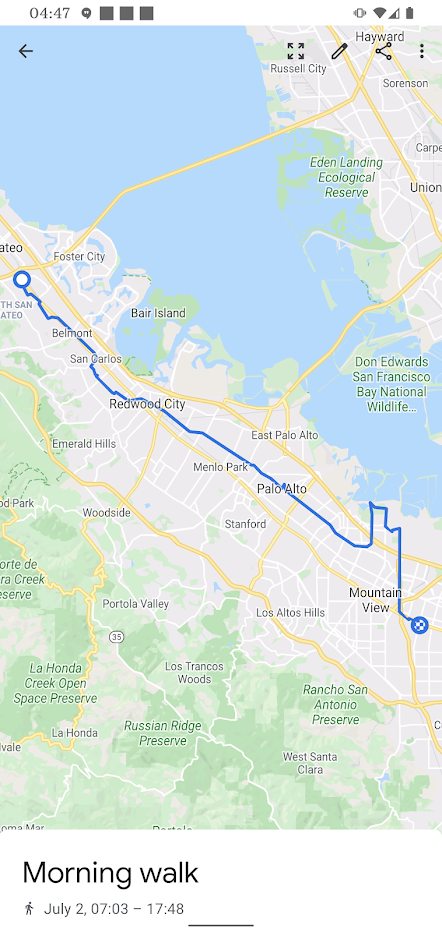 I walked southeast from the Stone Villa Inn. My first stop was at the Hillsdale shopping mall. It was still early in the morning; the mall wasn't open. But I just needed to visit a certain spot in the parking lot: I was playing Munzee, one of those phone games in which to move in the game-world, one moves in the real world. Visiting that parking lot allowed me to complete a zeecret mission. Then I closed the game app on my phone to keep it from draining my battery. Yesterday's suddenly-low battery still had me spooked.
On my way through Belmont and San Carlos, I paralleled El Camino Real but kept a few blocks away. I was playing another phone game called Orna in which one moves in the game-world by moving in the real world. In Orna, I could score points by "taking control" of lands; and it was easier to take control of lands that no other Orna player had visited recently. Thus, when I could shun main roads and still make progress, I did so.
I arrived in Redwood City as people were waking up, getting coffee, preparing for their commutes. I walked along Middlefield Road, which was more pedestrian-friendly than I remembered; a major crossing that once forbade walkers now had a crosswalk and a walk signal. I walked past auto body shops, at peace with my lack of vehicle. I walked past taquerias, regretting having filled up on a relatively uninteresting breakfast. Middlefield Road took me through Atherton and Menlo Park. It took me past Palo Alto's Como Esta Taqueria and I was no longer so full, so I paused for a burrito.
I paused less than an hour, I know, because I was also playing a third phone game, Troubador Tour Board, in which one moves in the gamer-world by… uhm, I'm going to stop writing about all of the phone games I was playing in which one moves in the game-world by walking around in the real-world. Anyhow, after the burrito, I kept walking east on Middlefield.
Now it was warm, and I was going through my water quickly. I looked on my map for a big park; big parks have places to refill water bottles. It took me a while in Rinconada Park to find a working faucet, but I eventually did.
In Mountain View, I walked the Permanente Creek trail north into the shoreline area. For weeks (months?), I'd listened to a pile driver sink supports for the trail's bridge. I'd earned some use out of that bridge, by golly. I walked along paths that I'd biked when my head was overfull of Javascript. I walked over landfilled ex-marsh until I reached the edge of the water, then walked along the shore observing birds and golfers.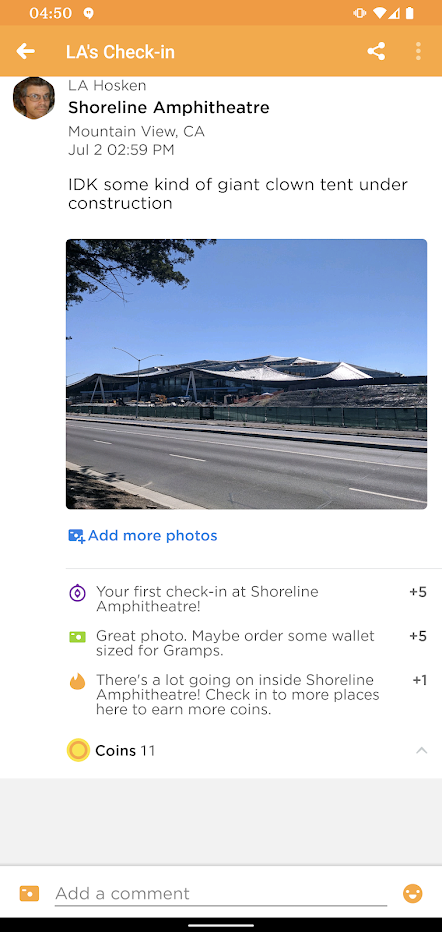 It was getting to be mid-afternoon. Still thinking about battery life, I booked a motel room in Santa Clara and started making my way out of the Shoreline area. I paused by the Shoreline Amphitheatre: there was a new building going up. It looked something like an oversized circus tent made out of solar energy panels. What were those Googlers getting up to now?
I made my way east through the business park until I reached the Stevens Creek Trail, my way south back to civilization. But before I walked south, I looked over at the former Moffitt AFB, where two more new giant circus-tent buildings hunkered. Google sure had built plenty of office space just in time for a pandemic to frighten office workers away from shared spaces.
I walked the Stevens Creek trail south into Mountain View proper, then walked along a busy section of El Camino Real to the TownePlace Suites by Marriott at Sunnyvale, which was a fine compromise between "OK" and "not too much further".
Saturday: SC → Fremont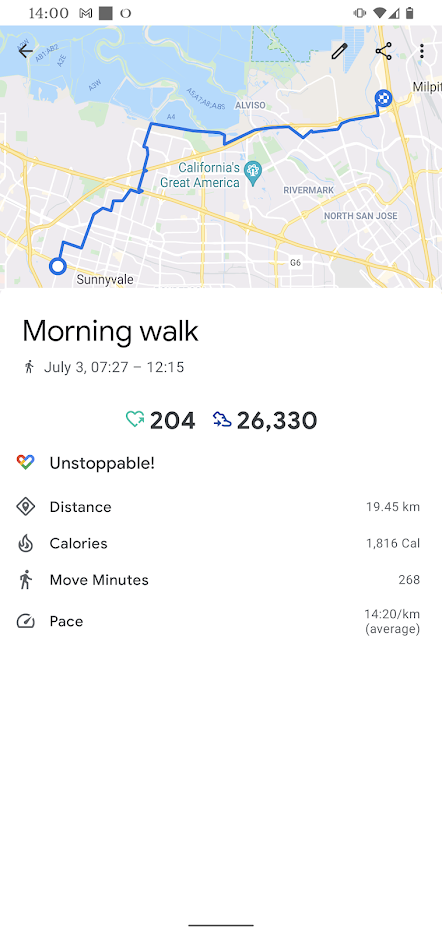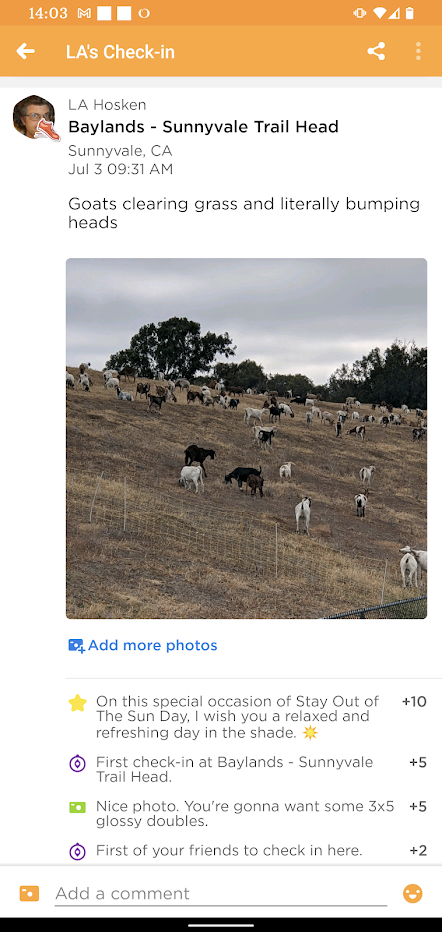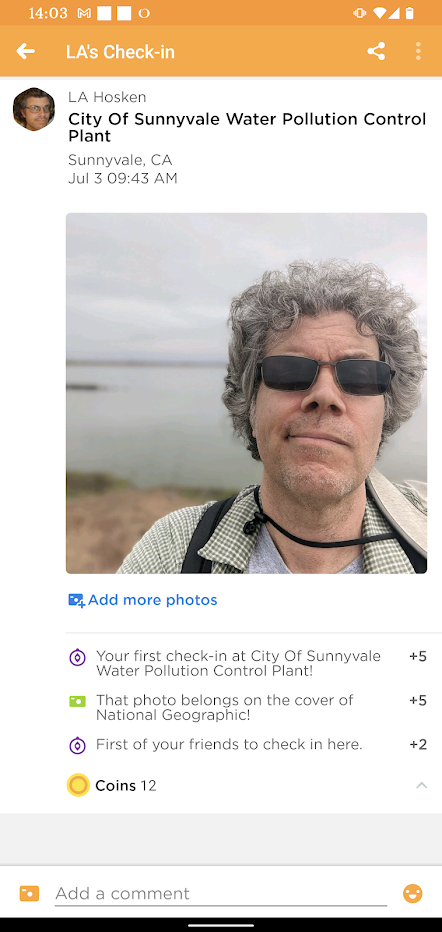 I walked a short ways through Sunnyvale's residential neighborhoods, but I was back in the tech-office-park realm pretty soon. There were tech offices surrounded by empty parking lots. Maybe the lots were empty because it was Saturday. Maybe the lots were empty because it was the 4th of July weekend. Maybe the lots were empty because of leftover COVID-19 work-from-home policies. For whatever reason, this was a darned spooky time to walk through tech parking lots.
Then I reached landfilled marsh. Past a hillside being cleared by goats, I arrived at a trailhead by a sewage treatment plant. It felt a little strange to drink from a drinking fountain right by a sewage treatment plant, but I'm glad I did. Soon I was walking the Bay Trail by Saratoga Creek. There were birds. There was a breeze. There was plentiful anise which might explain why everything didn't smell like sewage treatment.
Then I emerged back out into the land of business parks. If I had it to do over again, I would have walked out to the dull predictability of Tasman Boulevard to continue east. Instead, I tried a bike path next to Highway 237. This was noisy and unpleasant. When I could, I walked through deserted office park parking lots instead of right by the highway.
Thus I made my way to Milpitas' McCarthy Center shopping center. The Starbucks there sold me cold iced tea to drink, food to keep my spirits up; and gave me water to refill my water bottle. I sat a while at that Starbucks, un-jangling my nerves and generally recuperating from Highway 237.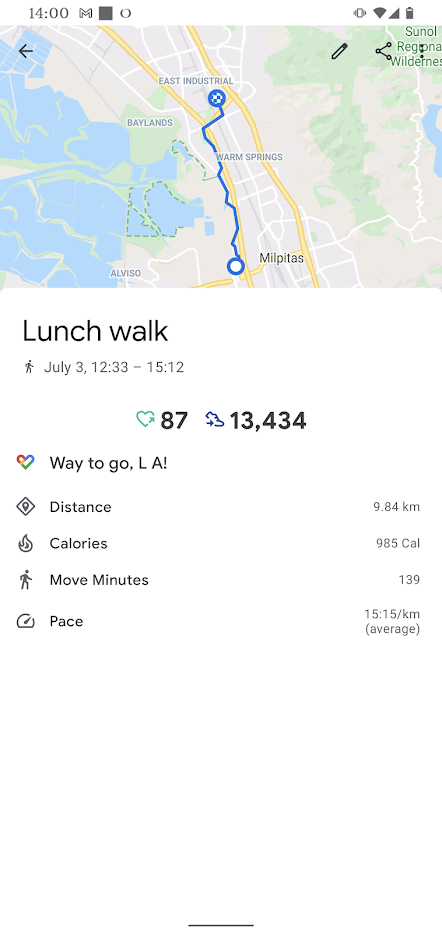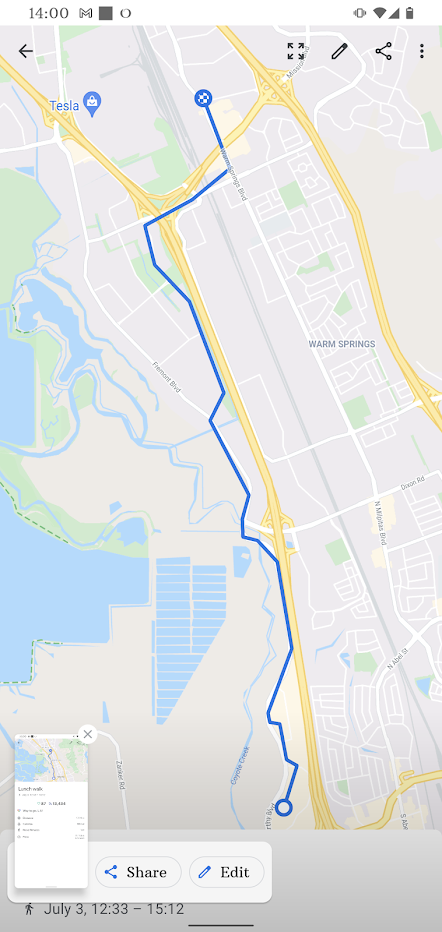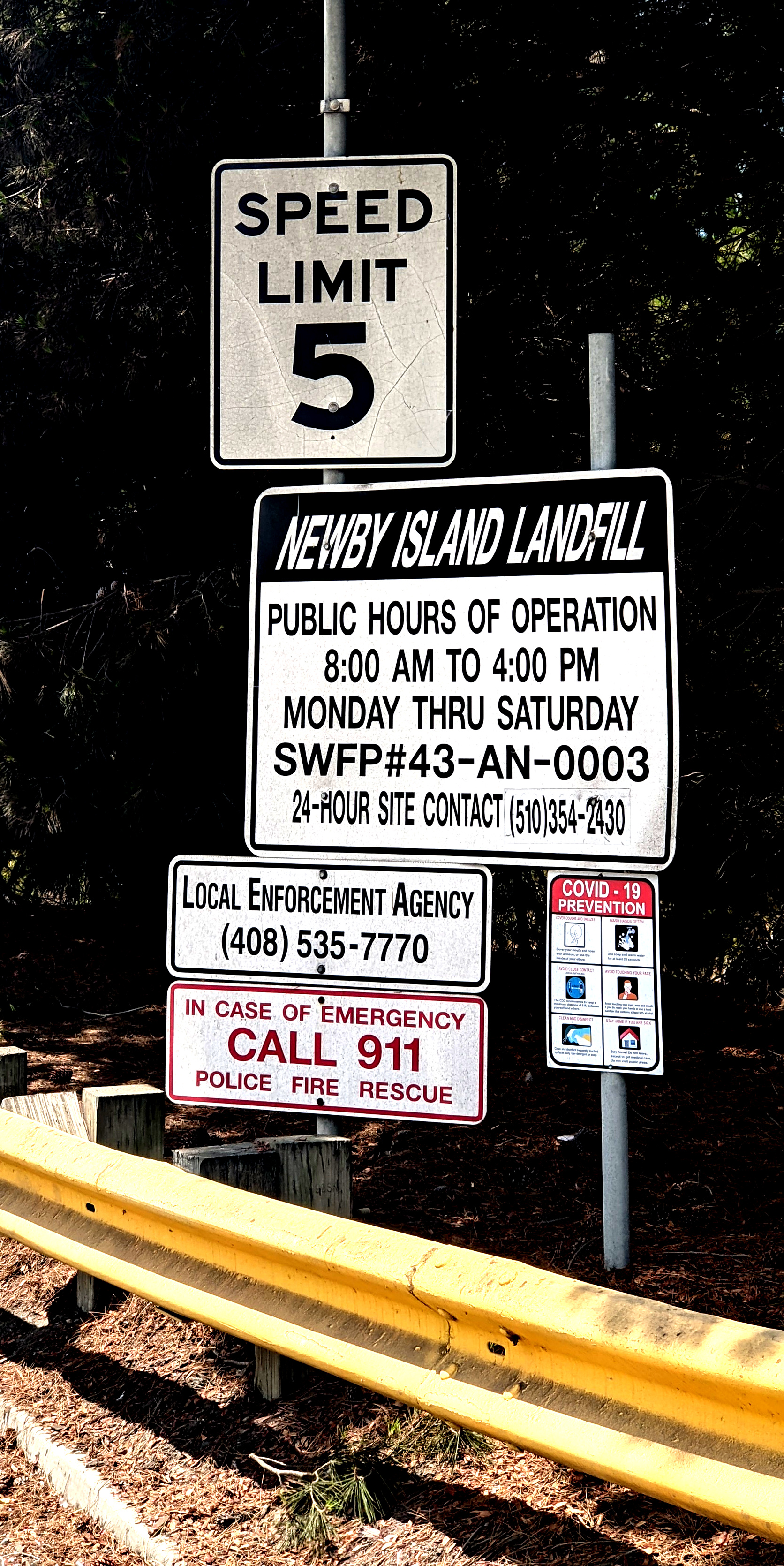 From past walks almost-around-the-bay, I remembered that the Coyote Creek Trail north from here was exposed to the sun. Instead, I walked along an office park street; it was busy, but had some shade.
I went past the Newby Island Landfill and snapped a picture with which to tease game "newbies," inexperienced tyros. (Newby interested me; walking-around-the-bay-logistically. Looking at a trail map, there were trail systems that almost-but-not-quite connected Santa Clara and Newby Island in a few places. It seemed there were almost ways to walk from Santa Clara to Milpitas among birds and anise instead of cars and offices…but I couldn't find a way through the tangle of trails.)
I walked a short ways along Fremont Boulevard. This was a wide road meant to serve local workers. On this weekend day, it was pretty empty. When I walked past destroyed barricades, I got the impression that local hot-rodders liked to race on this this road when it was deserted. Fortunately, there were none about on this day.
I turned off Fremont Boulevard onto Lakeview Boulevard. I imagined city planners discussing its name. "If it had a view, we could call it 'Lakeview,' if there were a lake. Aw, let's call it 'Lakeview' anyhow; it's a pretty name."
Lakeview brought me to Fremont's Warm Springs neighborhood. I thought of South Fremont as being sparse in tourist amenities; but in the years since I'd last been through, things had changed. There was a choice of lodgings; there was a BART station in case those choices were all full; there were sidewalks where I remembered construction debris.
It was hot and I was tired. In the Warm Springs neighborhood, I gratefully checked in at the new-since-my-last-visit Hilton Garden Inn Fremont. I rested up a bit then went to the nearby Gumagumalu restaurant to pick up a delicious dinner. South Fremont was a lot better than I remembered.
Sunday, July 4th: Fre → Hayward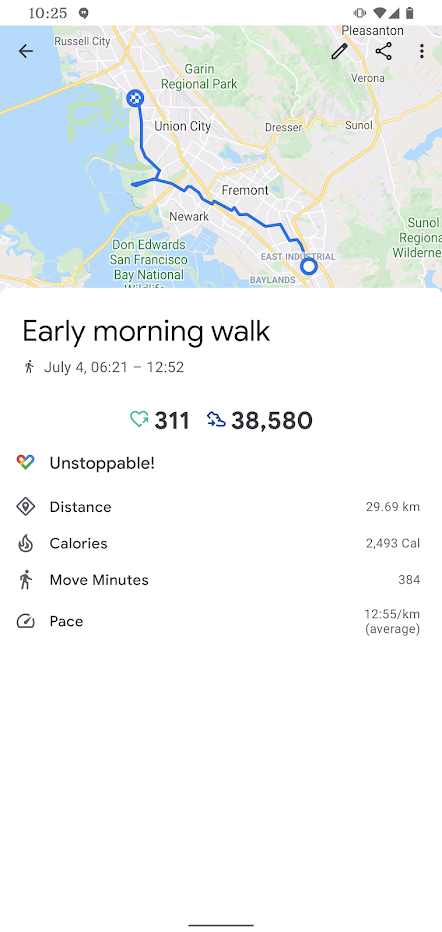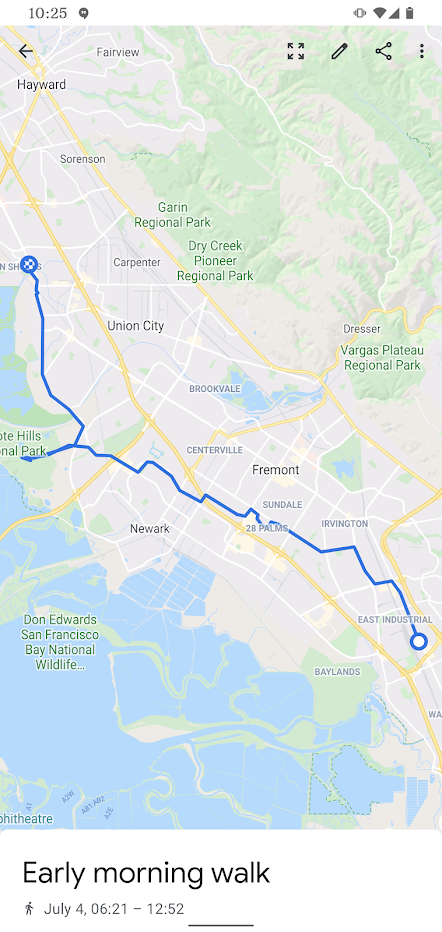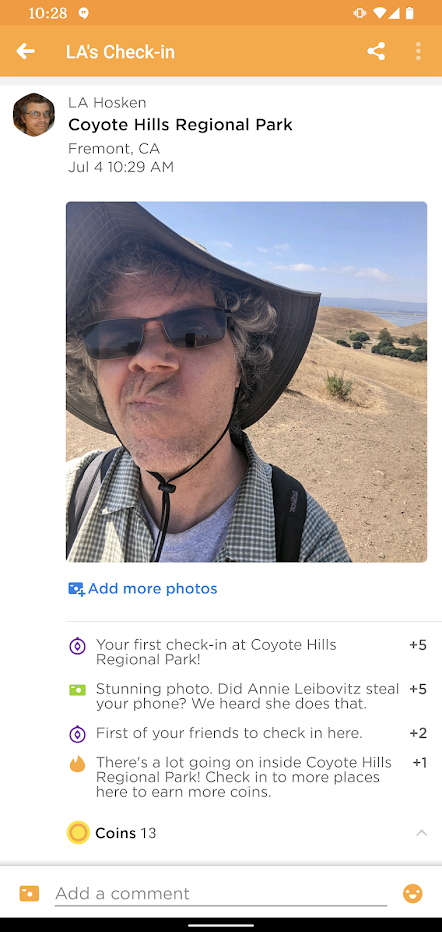 I headed out and walked through south Fremont to Newark. The day was already warm and muggy. I stopped at Newark Community Park to refill my water bottle; normally I didn't need to worry about water before noon.
I continued through Newark, clipped back into Fremont for a short ways, then made my way to Coyote Hills Regional Park. I wanted to get close to the bay once a day for this walk. Today, there wouldn't be a great way to get very close, but Coyote Hills had the next best thing: a high-up vista point from which one could see the bay.
I soon realized that this Park's trails were very exposed to the sun. I walked quickly, glad that the park planners had been generous with water fountains.
The Park's hills surprised me. My time in Mountain View's Shoreline area had trained me with the rule of thumb: any hill you see surrounded by marshes next to the bay is the remnant of landfill. But the Coyote Hills had rock formations jutting out; they weren't just landfill. I didn't stay around to study the situation, however. It was hot and exposed; I wanted to leave. I got up to a vista point, observed the bay, turned around, and left.
I made my way along Union City Boulevard. I went past walled-off subdivisions. Once, this had been farmland; now it was given over to stumpy dwellings. At one point there was a gap in the walls, giving a view to a field with bales of hay piled in one corner. These days, that view seemed out of place.
When the road crossed Alameda Creek, I recognized Oliver Sports Park. I made my way inside and filled up my water bottle. It was a hot day and I was drinking plenty; but these were civilized lands with working public fountains, so heat didn't worry me so much.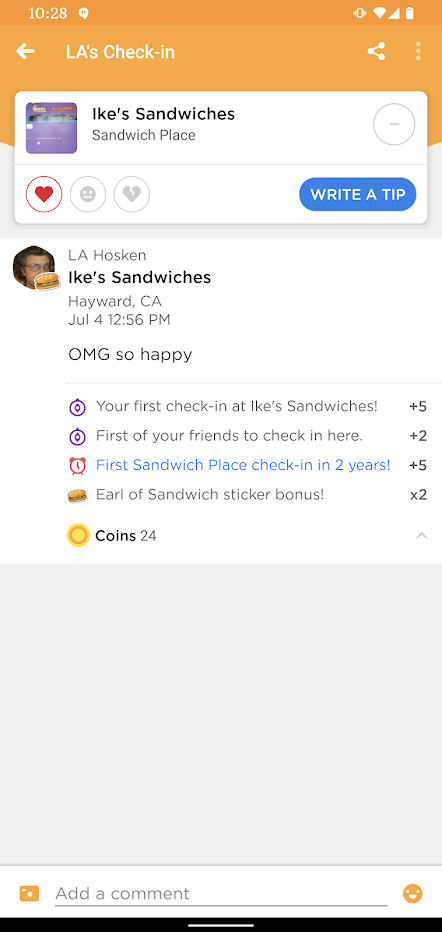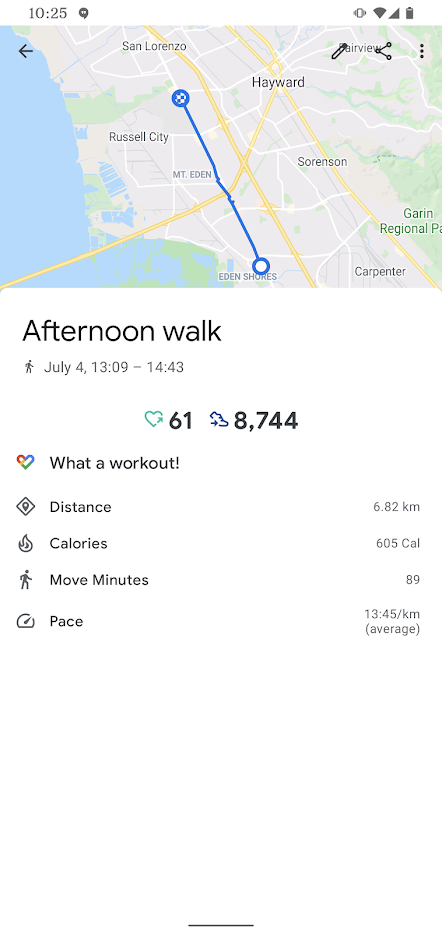 A block past the park, I encountered a shopping center. There I saw a rare-to-me treat: an Ike's Sandwiches shop. Mirabile dictu, it was open on July 4th. Thus I sat for a while in a shopping center with an excellent sandwich and a cold beverage.
Wonderful, just wonderful.
All good sandwiches must come to an end. Thus I hoisted myself up to my feet and kept talking. I continued along Hesperian Boulevard. I walked through Chabot College campus, which had some shade. But I was going slowly. That sandwich had helped me deal with the heat, but only temporarily. When I reached Hayward Airport, I booked a room at the La Quinta Inn there, showered, and snoozed.
It was the night of July 4th in the East Bay. There were fireworks. I'd hoped that an airport hotel might have sound insulation good enough to be quiet nonetheless; it didn't work out that way, though.
Monday: Hayward → Berkeley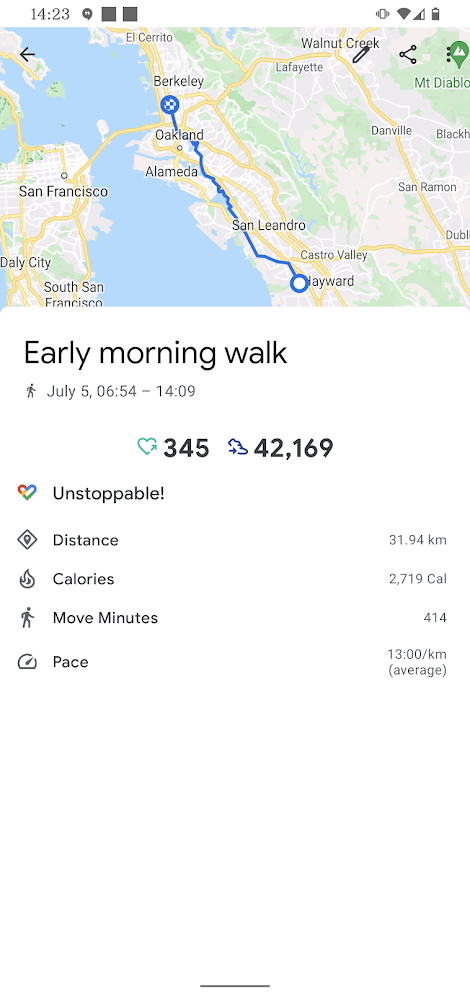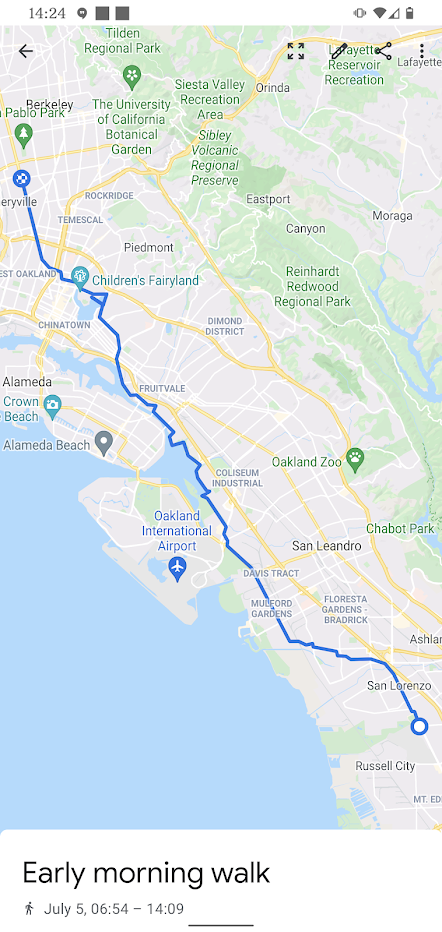 I didn't know a great way to get from this part of Hayward to my mid-day goal in Oakland; fortunately, Google Maps steered me just fine. I made my way from Hayward to San Lorenzo through residential streets.
Eventually, I reached more familiar ground: Doolittle Drive in Oakland, the road to the airport. This was gritty, but its familiarity was welcome to a walker who'd been on unfamiliar ground for the past day. There was the Alco metal place with its big art. There were the gates marking the San Leandro/Oakland border.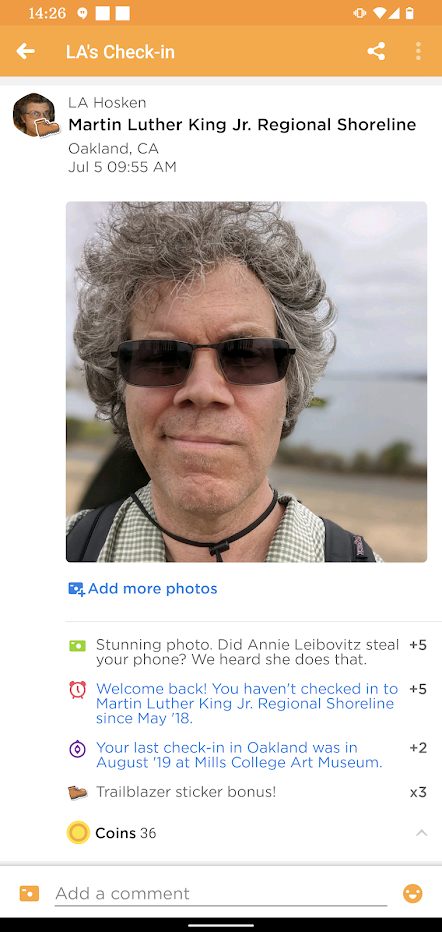 Sooner than mid-day, I was at my mid-day goal: Oakland's Martin Luther King Jr Regional Shoreline, with a trail along the water. I'd been looking forward to walking in this area for months, kept away by shelter-in-place orders.
Here were joggers, dog-walkers, rowers, athletes, and fans of easy workouts. Then there was the walk through the trucking/warehouse area, the janky crossing at High Street. Maybe it wasn't that spectacular, but there wasn't a walk like it in San Francisco and I'd missed it.
I walked through Jingletown, admiring the murals. I walked though Union Point Park; at the far side of the park, I was amazed. I was accustomed to a few folks living in their vehicles in the park's parking lot. Now the parking lot was full of vehicle/residences. How many people had lost their homes during the pandemic's upheaval? How many had landed here? Many, apparently.
I walked the 16th Ave overpass over the Nimitz Freeway. On the other side, again: I expected to see some homeless folks, but was surprised to see many, many homeless folks. The stimulus funds, the eviction protections—these small measures hadn't been enough to help all these people.
I walked through residential streets, crested a hill and there in front of me was Lake Merritt. I'm not sure why it hit my like a ton of bricks, but it did. I was getting emotional about returning to Oakland. I walked down to the park at the lake shore, sat on a bench, and just reveled in being back.
I eventually hoisted myself to my feet, made my way over to San Pablo Ave, and headed north.
A little ways into Emeryville, I was brought up short by a familiar business logo; I was outside the storefront of Trivium Games, an escape room by the folks who'd made the excellent Ghost Patrol puzzlehunts. I hadn't visited the room yet—it had opened during the pandemic. By the shores of Lake Merritt, I'd thought of excuses to come back to Oakland. Now I had an excuse to come back to Emeryville, too.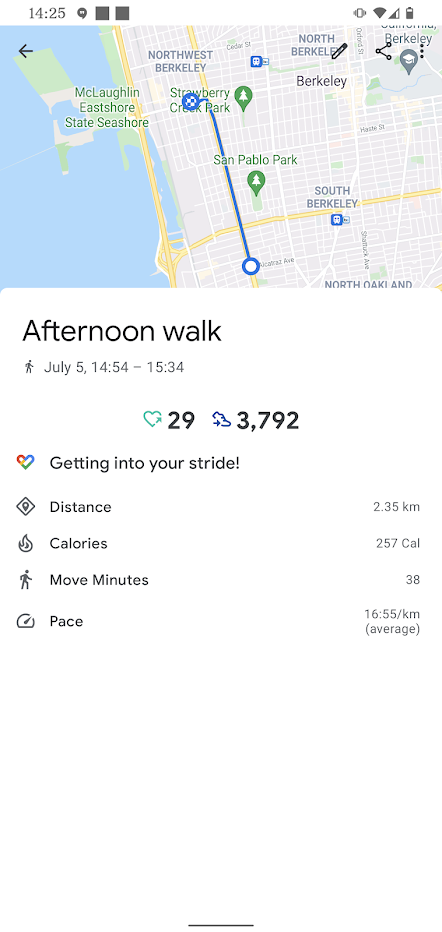 I lunched at the Paradise Park Café, another place I'd been missing. Afterwards, I didn't make it much further, just to West Berkeley. I booked a room at the Marina Inn, picked up some take-out from Long Life Vegi House (another place I'd missed), and was soon asleep.
Tuesday: Berkeley Mill Valley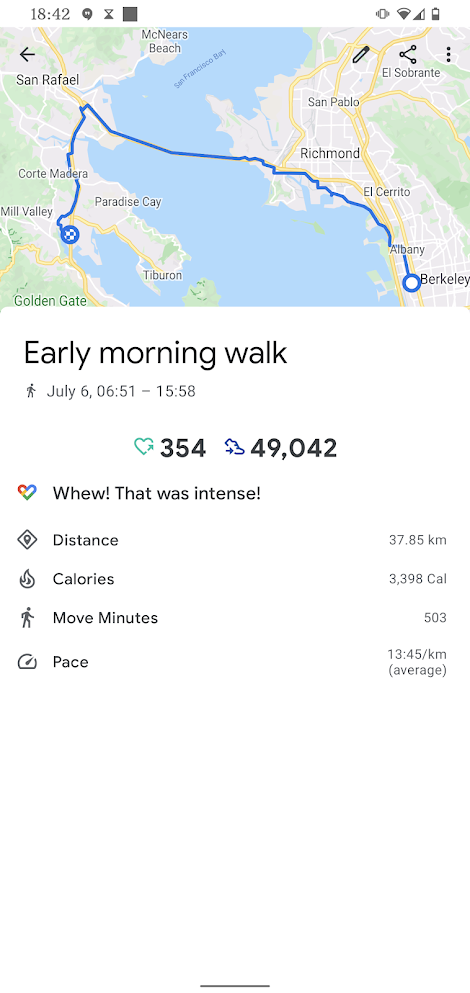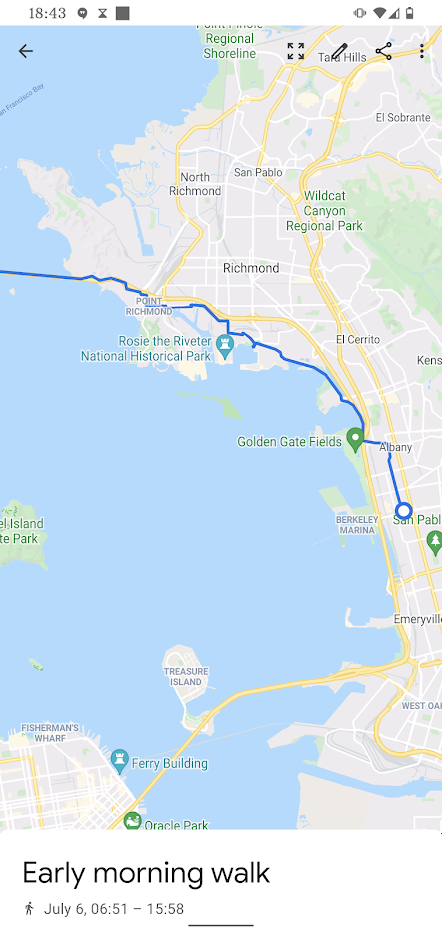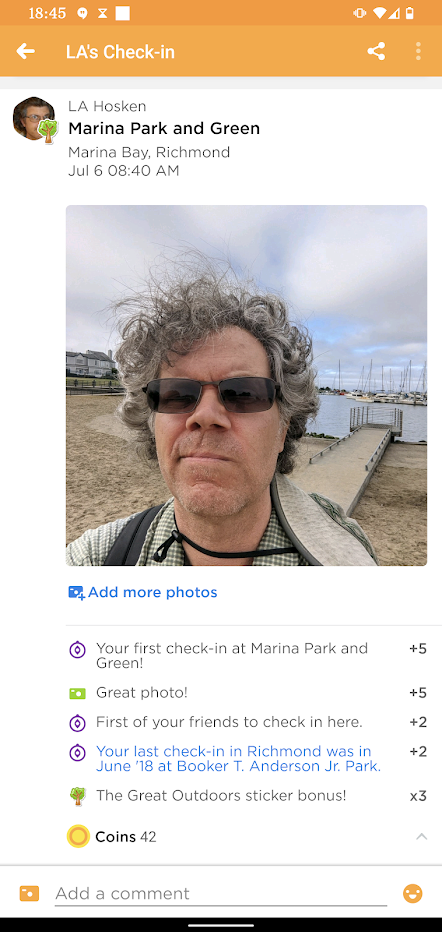 This morning's walk started with familiar ground: Walking beside the bay from the Point Isabel dog park to Richmond's Marina Park.
But then I left the familiar. I'd never had reason to walk to the Richmond-San Rafael Bridge; it had been closed to pedestrians. Now I was walking along an industrial stretch of Cutting Boulevard for the first time. I made my way past boatyards, warehouses, lumberyards. I navigated parked-up sidewalks, stepped carefull over railroad tracks.
Then, briefly, back in the familiar: I was next to the Richmond Plunge. I'd been in a puzzlehunt van here, stuck waiting for the Point Richmond Tunnel to get un-blocked. Now I headed the other way: through an unexpected neighborhood of boutique shops and ye-olde-village-decorated buildings. On the one hand, this seemed surreal after the walk through a gritty industrial area; on the other hand, I appreciated the drinking fountain in the park.
Google Maps didn't know the way to the start of the bike/pedestrian path, but I'd already found an Access map .pdf linked from the MTC's Richmond-San Rafael Bridge Path page and loaded it on my phone.
Soon, I was at the Bridge Path trailhead. Across the street, an AC Transit Bus with a bike rack waited to take me to Oakland's Jack London Square. Why had I walked through the industrial bustle of Cutting Blvd when I could have ridden here in style on a comfy bus? Why was I walking around the bay instead of biking? I didn't have great answers to these questions, but pressed on nonetheless; I was committed to my course of action.
I made my way along the trail to the toll plaza. On one side of me a busy freeway grumbled. On the other side, a fence protected me from a grassy hillside covered with the Chevron oil refinery's pipes. Every few years, this refinery made the news by catching fire. I hoped that this wouldn't happen for the next half hour until I could get past. I surprised some deer eating grass on the hillside. I wondered how many freeway drivers went slow and kept an eye out for deer. I wouldn't; it had never occurred to me that deer might thrive here.
At the toll plaza, I looked over a posted trail map sign. I saw something that might be relevant in the future. I mentioned that this bridge path allowed me to walk all the way around the bay, in contrast with my previous walks most of the way around the bay. But a naysayer could argue that I still haven't walked all the way around the bay: San Francisco Bay extends a couple of miles north of the Richmond-San Rafael Bridge. By walking across the bridge instead of taking a detour to trespass on Chevron refinery lands, I cut a corner. According to the posted map, there's a "planned" trail extension north to the top of the bay. Hopes, dreams, and planned extensions of the San Francisco Bay Trail are something like "lies, damned lies, and statistics" but maybe someday that trail will exist and I'll have to walk around the bay again just so I can legit catch the top part without getting accused of taking a short cut just to avoid getting jailed for trespassing.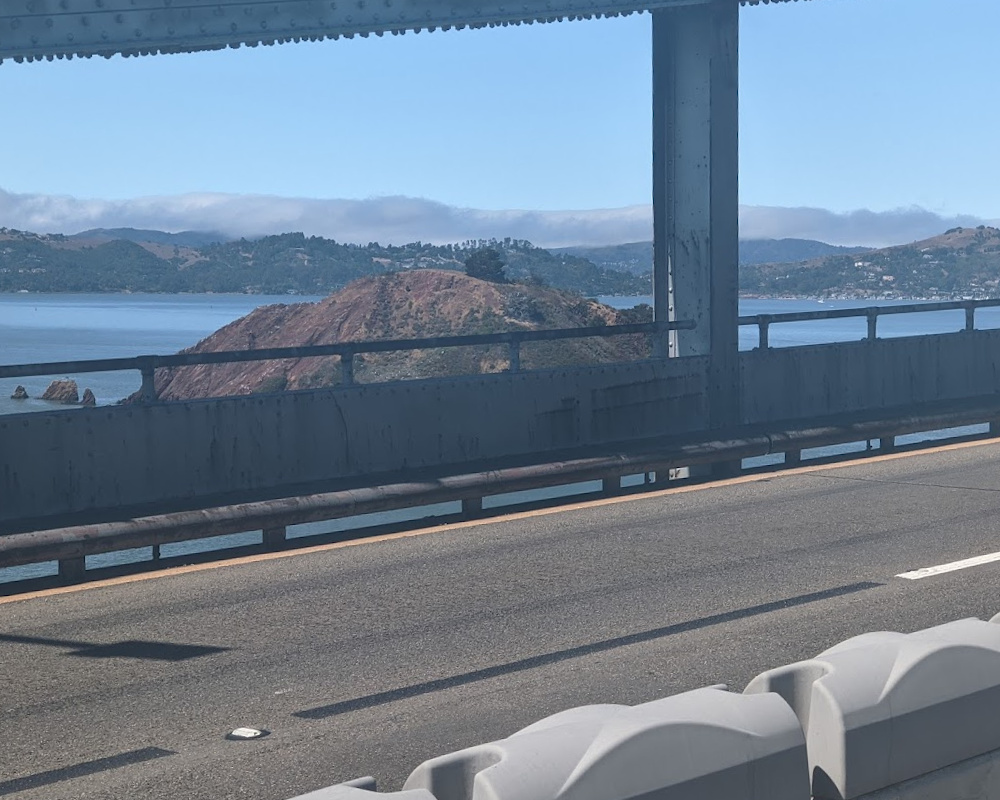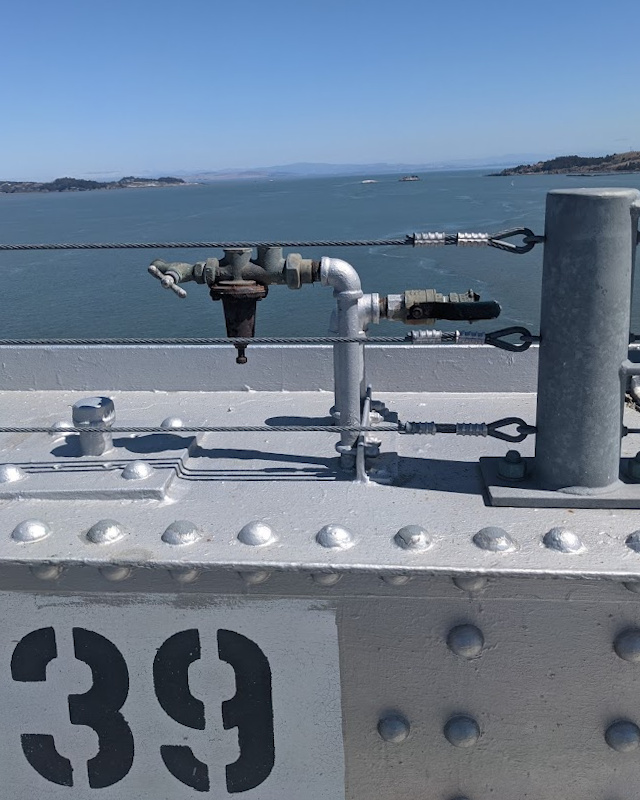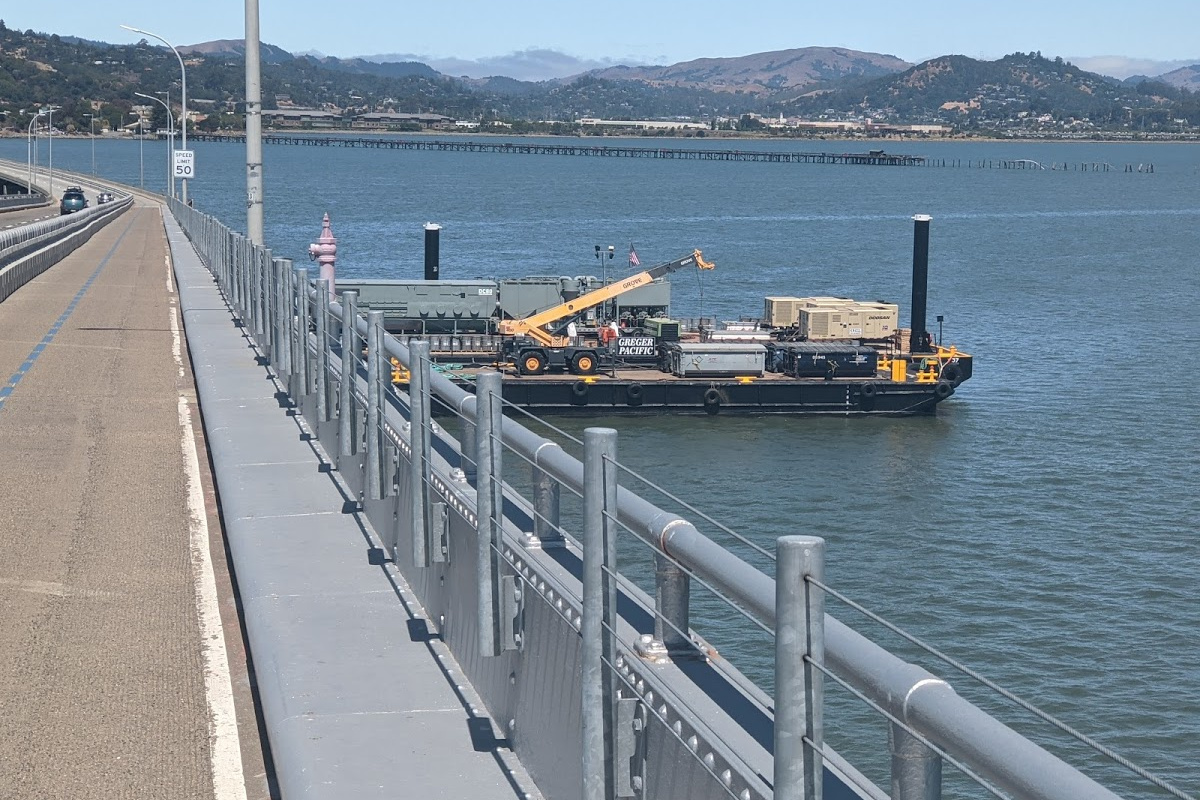 I walked across the bridge. It was something, experience-wise, like walking across the Golden Gate Bridge: good views, loud traffic noise. I took in the views. I looked at an old painted-over pushbutton and wondered what it controlled; I didn't try pushing it to find out, though. Every so often, a bike went past; this bridge didn't see nearly as much human-powered traffic as the Golden Gate, but you still had to keep an eye out. When I paused to take in the view, I stood sideways to give the bikes space to get past.
At one point, I was paused and looking around and had a sense of déjà vu. I'd stood on this bridge before. Years ago, I'd been a passenger in a car on some night drive; all traffic had stopped. I'd stepped out of the stopped car, thinking When will I have a chance to stand out in the middle of the freeway like this again?. I couldn't remember why I'd been on this out-of-my-way bridge. Had I been with Paul Dubois on the way to play board games? Had I been with high school chums coming back from a hike? Was I even sure this was the right bridge? (No.) I bemusedly resumed walking.
Part of the bridge was covered with plastic sheeting. A couple of barges covered with equipment were tied up to the bridge. Maybe some kind of maintenance was going on, but not right at that moment.
The bridge was hot and exposed. When I reached San Quentin Point on the west side, I was pretty glad to take a minute, sit at a bench at a view point, and drink most of my water. I'm glad I took that moment of contemplation, because the next stretch of walking got frustrating.
Google's experimental-and-not-guaranteed walking directions thought (reasonably) that I could walk along the bike path directly to the Larkspur Ferry Terminal. But a sign at the path's start let me know that pedestrians weren't allowed. Instead, I walked 3km out of my way, past a broken drinking fountain, along a noisy frontage road until I could reach a place I could turn towards the Ferry Terminal. By the time I got there, I was grumbling.
I pressed on to Corte Madera. My first stop was a drinking fountain I remembered from past walks. Further along, I paused longer in the hoity-toity Town Center Corte Madera shopping mall. My walk-around-the-bay outfit looks a bit silly; I got alarmed looks from some of Town Center's more fashionable shoppers. I saw where a now-gone shopper had left behind an empty ice cream cup for someone else to throw away. I sat next to the cup so that it wouldn't be so obvious that I was loitering without shopping. I dinked around on my phone and booked lodging at the next town south, the Strawberry Village shopping area of Mill Valley. I got up, tossed out the empty ice cream cup, and headed out.
I stopped at the Corte Madera Peet's. This was not at the Town Center shopping mall; it was on a nearby bike route. Here, my outfit drew no strange looks. I enjoyed a big cupful of iced tea very much. Ice was wonderful.
I headed along the bike route past Horse Hill Preserve, hurrying to get past the big open bin where local gardeners could pick up horse manure. Taking a wriggly route so that my now-wobbly legs could avoid the steepest hills, I made my way to the Travelodge at Strawberry Village, where I'd stayed the night on a previous walk most-of-the-way around the bay. Although there was a fine-looking restaurant on the hotel grounds, I fell asleep before I got around to seeking out dinner.
Wednesday: Mill Valley → SF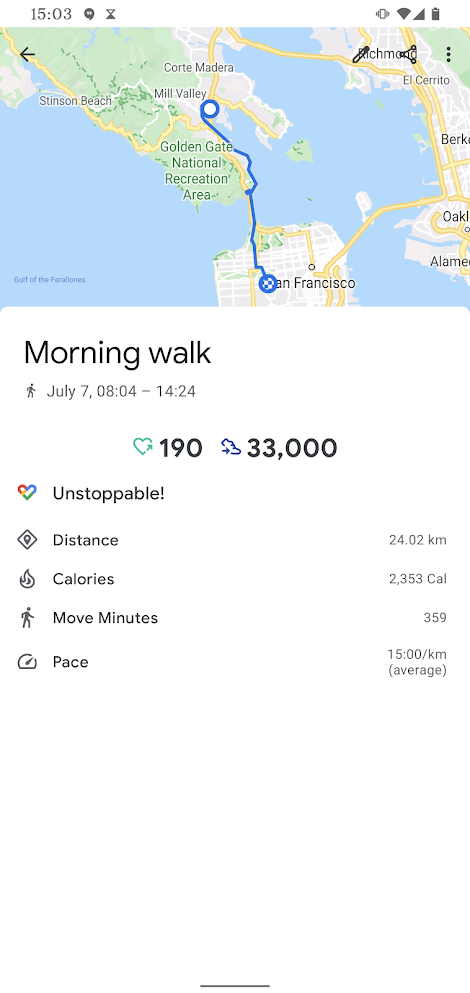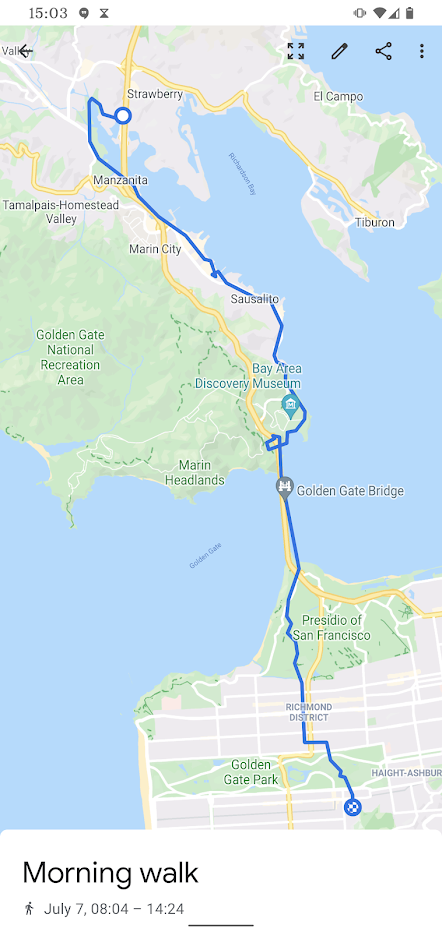 Something had gone wrong with a toe yesterday; now it was a big bruise. I took my time gingerly putting on that shoe. I would walk carefully this day, keeping weight off of that toe. Fortunately, I didn't have far to go with this awkward gait; I was almost home.
I headed out, backtracked a bit, and then headed south around the Pickleweed Inlet. As I had in Oakland, now in Marin City and Sausalito I had a sense of returning to the familiar. Unlike in Oakland, I didn't have a sidetracking urge to visit local spots; I was almost home. I wanted to go home.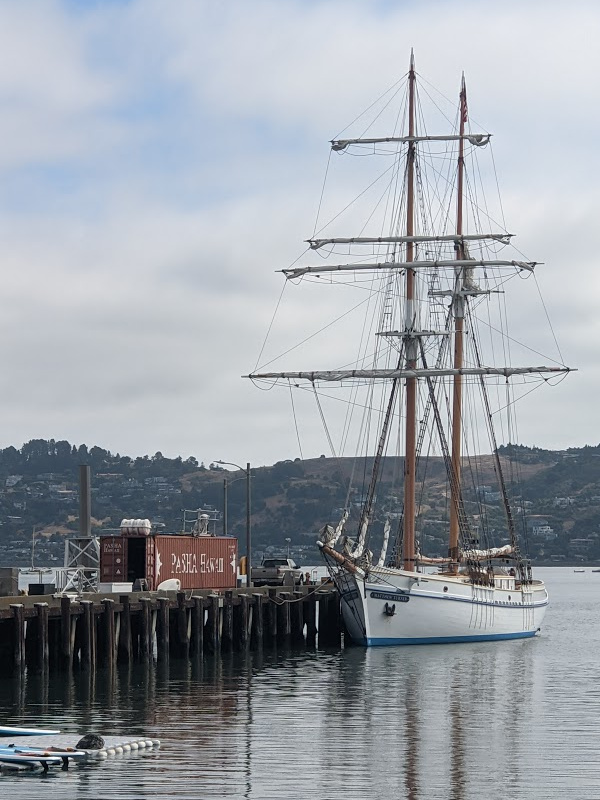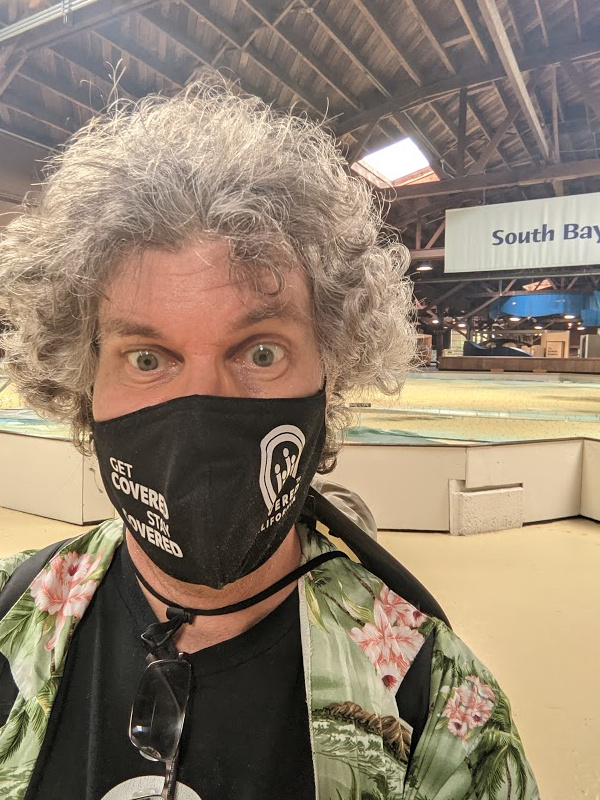 Even without sidetracks, there were interesting things along the way. I paused a bit at Heath Ceramics' wall of tiles; I admired the tall ship Matthew Turner.
Because tradition and ritual are as important as you want them to be, I went in to the San Francisco Bay Model and walked around the bay model. For my previous walks almost-around the bay, I'd done this on the first day. On this trip, I was doing it on the last day. I realized that if I went on another around-the-bay walk starting from San Francisco, I should walk clockwise instead of widdershins so that I might visit the Model on the first day.
Ritual completed, I continued walking through Sausalito. Dunphy Park had changed: the old art car was gone (grr) but there was a new public restroom (yay). That scary stretch of Alexander Avenue on which parked cars had forced pedestrians and bikes close to reckless cars now had outlawed parking. There was probably a sad story behind that change, but I was glad that the change had happened.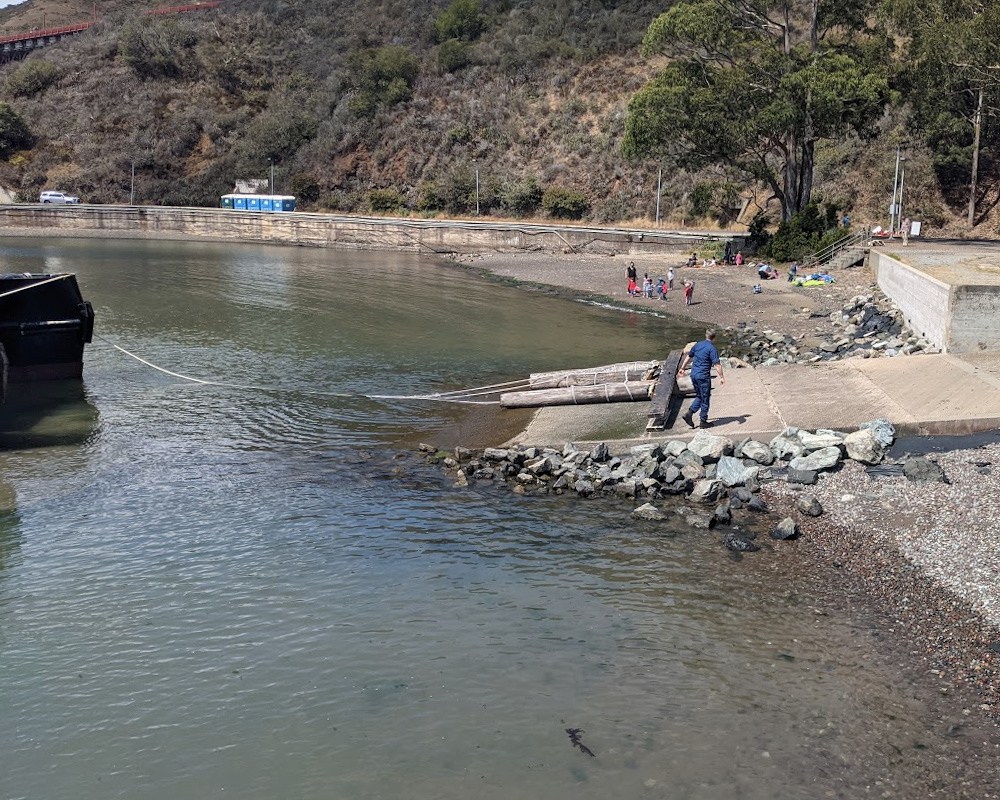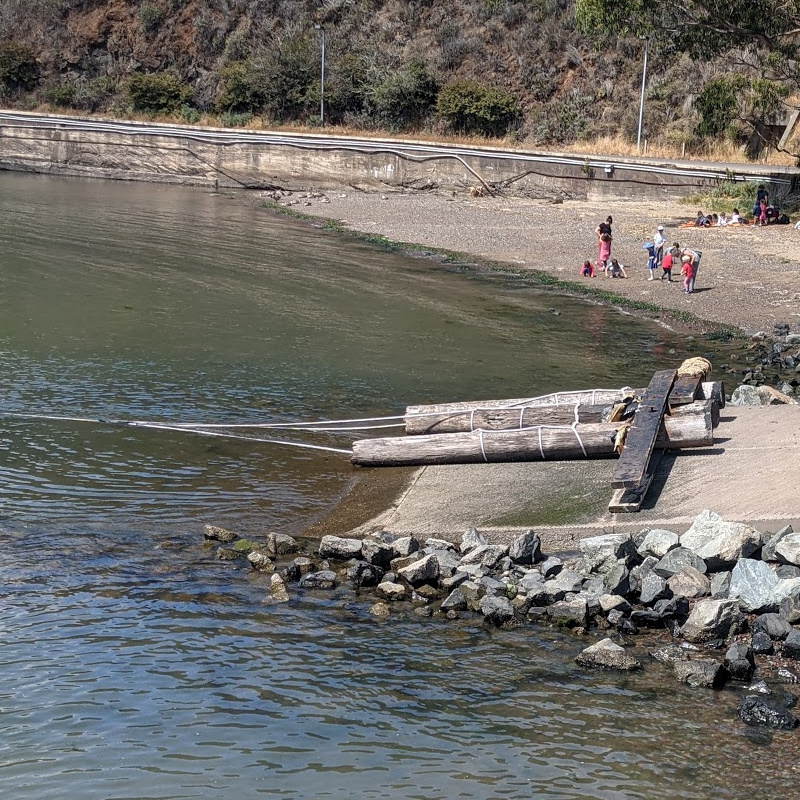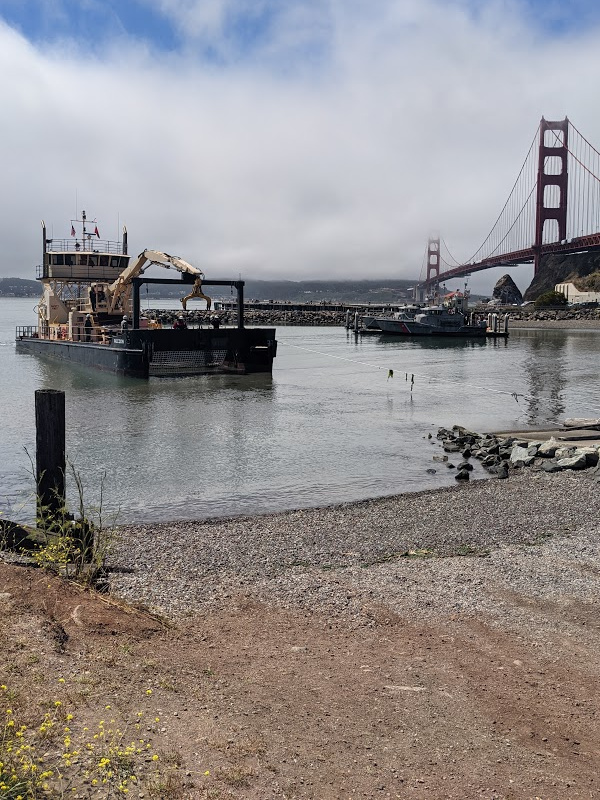 At the Fort Baker Coast Guard station, I paused to watch some debris removal. Some structure of pilings and boards had broken loose from somewhere and come to rest on the Coasties' boat ramp. Now the debris removal vessel Raccoon was here to make things right. The Raccoon has a crane arm that can lift debris into the hold; but that arm wasn't long enough to grab the debris on the ramp without beaching the Raccoon. So a Coastie tied up the debris and attached a line from the Raccoon, which then dragged the debris into the water. And thence the the Raccoon's crane hauled out the debris. Then the Raccoon rafted up next to one of the docked Coast Guard boats so that the sailors could hand over borrowed lines.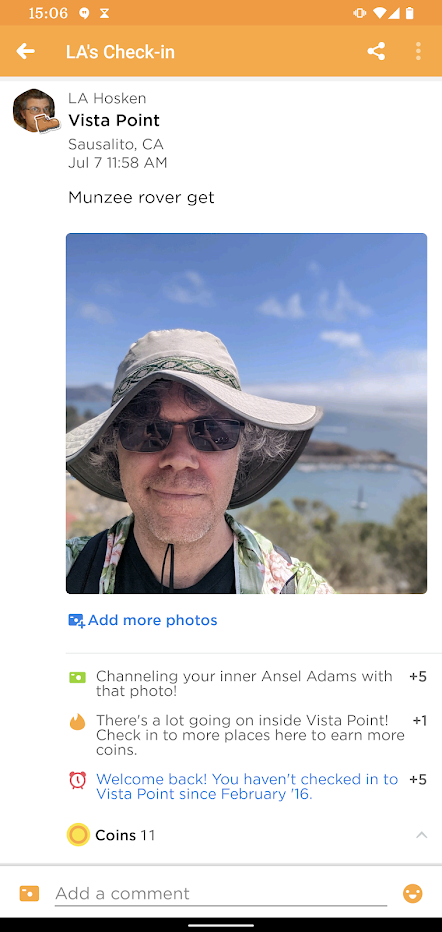 I headed up the hill to the vista point at the north end of the Golden Gate Bridge, then headed across that bridge. It was a semi-madhouse, approaching pre-pandemic levels of crowded-ness. There was loud traffic; there were clueless tourists; there were frustrated bicyclists. But I was in a good mood: I was almost home.
I walked off the bridge, into the Presidio, up the coast, past Rob Hill. As I crested the hill heading towards the Presidio Landmark, I could see UCSF Parnassus in the distance. And then: through the Richmond District, through Golden Gate Park, up 5th Avenue, over to UCSF Parnassus and home where I sat and didn't use my legs for many hours (until the next day when I BARTed to Oakland to solve some 5treet 1ntrigue 0peration puzzles).
---
Addendum: Remember how I messed up a toe? A couple of months later, that toenail fell off. As consequences go, this was gross but mild.
---