Seattle/Vancouver Road Trip 2005
On New Year's Eve 2004, I tagged along with Tom Lester on a little road trip up to Seattle and Vancouver city. Depending on what you know about Tom, that might mean something to you or it might not.
I was starting a new job in a couple of weeks. Tom was also between jobs, and Tom was an inspiration. Tom had taken advantage of his liberty; Tom had gone on a road trip. He'd driven from California to Nova Scotia, taking detours to see friends, family, and sights. This road trip was so long that he took a break. I mean he took a break from his road trip. He left his car on the East Coast somewhere to fly back to California and hang out with friends and family for a couple of weeks. He'd flown back, driven around this great nation some more.
Tom and I had friends and family scattered on up the Pacific coast. Neither of us had been to Vancouver city.
So we went on a road trip. It was pretty interesting, and we saw a lot of cool stuff along the way. Then I lost my notes. And I accidentally erased the audio recording I'd made of an informative conversation with Patrick's dad Al. And now it's nine months later and I'm trying to reconstruct all of this from photos and memories. And I'm reminded why it's important to write things down soon after they happened.
So there aren't many interesting stories in this narrative. It's "of interest only to the completist." But there are some neat photos. You might want to click on those.
New Year's Eve
It was before dawn and I was starting at the ceiling of my apartment. I needed to get back to sleep. Later that morning, I was supposed to head over to Tom's for the start of our road trip. I wanted to be well rested. But I was too excited about the trip to sleep. I tried to sleep.
My pager buzzed. It was set up to buzz when I get mail from certain people. Tom was one of those people. I reached over, flipped open the pager and read. Tom had sent me mail: He was awake, couldn't sleep; if I woke up early and read this email, we could get an early start. So I called him, and he drove over to the city. We were at Kate's on Haight before they opened; soon after they opened, we were full of breakfast and on the road.
So we made it out of the Bay Area without hitting any traffic. In fact, we made it about 300 miles North before we encountered our first traffic jam. We weren't caught in this jam, but we observed it. A car was driving through a drive-through redwood tree. But you can't just drive your car through a drive-through redwood tree. You need to have someone hop out and take photos. Some someone hopped out to take photos. Meanwhile, more cars were stuck waiting behind. Tom and I watched this from the porch of a gift shop. We'd already driven through, got photos. We'd beaten the rush by minutes.
We kept driving, hitting Crescent City at around sundown. A scenic vista above the city had some interpretive text about a tsunami that had hit several years back. The world was still reeling from reports of a tsunami that had hit Indonesia the week before. If you want to go traveling to forget about tsunamis, the Oregon coast is not a good place to do so.
We drove on through the dark. And the southern Oregon coast gets plenty dark. Though we'd called up Veronica and Patrick for directions, we didn't notice that the Sixes River Road until we'd driven past it. Fortunately, it was now late enough such that we were once again traffic-free and we got turned around no problem.
But soon we were at Veronica and Patrick's ranch where the Sixes River meets Highway 101. Veronica was there, Patrick was there, Alice the dog was there, Zeppa the other dog was there. Al and Mary, Patrick's parents, were there. They'd all been waiting for Tom and I to show up so that we could all drive to Port Orford for dinner.
Breadman and Nancy ran an Italian restaurant in Port Orford called the Port Orford Breadworks Trattoria. What kind of person wants to be called "Breadman"? A man, I guess. With a name like Breadman, I was relieved that he wasn't dressed up in tights, not a superhero of the oven. And the food was good.
Of Course It Rained
I woke up, walked into the kitchen. I walked into a hanging rack of pots. The kitchen's usual inhabitants were not so tall. They had their pots and pans hanging from the ceiling at an easy-reach distance for them.
Other folks woke up, maybe because of my racket, maybe not. We talked. Patrick cooked his special breakfast. I remember that Al had lots of stories about the work he'd done at U.C. Berkeley. I think he set up experiments and demonstrations for some of the science teachers. Now it's nine months later, and I didn't write down the details. So know this: it was an interesting conversation, but I can no longer tell you why. Then Al and Mary were packed up and left on their way home.
I remember that we went out to Cape Blanco and let the wind and rain push us around a while. Previous visitors had built some shelter out of driftwood. These gave some protection from the strong winds--but there was also the worry that the wind would tell the shelter apart and rain wood upon our heads.
I think we spent the rest of the day inside, cooking dinner and warming back up.
Onward and Northward
I woke up, walked into the kitchen, walked into the pots and pans again. Fortunately, this time there were fewer people to wake up. Veronica loaded Tom and me up with dried persimmons. It was persimmon season. Just a few nights before, I'd been hanging out with the Clairs in San Francisco. Michelle Clair had made some persimmon pudding.
And then we were on the road again, heading up past Stonecypher Road and plenty of Oregon. Along route 126 were moss-covered trees and mist. We zipped through Portland with her bridges and on to Vancouver Washington. Vancouver was a town for people who wanted to live close to Portland, Oregon, but who wanted to live in Washington State, which had no state income tax. Our friends Cathy and Susan lived there and liked it. They stayed there even after Cathy landed a job in the Bay Area. She was flying down every Monday and flying back up every Friday.
That sounds crazy, but it's a good kind of crazy. I was glad that Cathy would be my co-worker in a couple of weeks. So we talked about work and we played Mojo the dog and Zoomba the dog and another dog whose name I now forget. I learned that Susan had been a DJ at a science fiction convention, and that seemed like an activity so geeky that it went down past the bottom of uncoolness and wrapped around to become supreme coolness.
And then it was time to go. Cathy and Susan gave us some persimmon bread for the road. I wondered if it was possible to live on persimmons and persimmon-based foods indefinitely. It certainly seemed feasible to live on them for a day.
And then it was northward, northward, not stopping. Rain smashed down; we couldn't see the road; we followed the headlights of the car in front of us. The rain lasted forever until it stopped. We stopped in Olympia so that we could find out that my Washington travel guide was out of date, recommending a long-gone restaurant. So we had dinner at some place that unfortunately served nothing containing persimmon. And then it was northward, really not stopping this time, until we reached Ron and Sua's amd bed and sleep.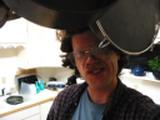 Seattle
And so we spent a few days in Seattle visiting friends and family.
Ron and Sua were tired. It's a bit overwhelming when your first kid turns out to be twins--it's like they already have you outnumbered. Lauren and Melody were cute and active and fun to keep up with for a few days while we stayed at the house.
Tom's photos:
Joon and SooJeong came over, bringing along their kids Helen and Daniel. We played yunori, a parcheesi-like game; but instead of rolling dice, we threw flattened sticks in the air and counted how many landed curved-side up. Except we didn't have proper sticks, so we threw wooden spoons instead.
We had an ex-Geoworks/BlueMug dinner at the Five Spot. The previous time I'd seen the ex-Blue Mug amazons, they'd just been getting settled in Seattle in quickly-found apartments. Now they were setting up real homes, settling in, looking less like fish out of water. Matt and Davina weren't working at Amazon, which was cause for some joy. Matt was working at Openwave, where I had just quit. It was good to see them again even if I wasn't working with them.
I visited my cousin Nancy and her husband Cedric and their son Paul, who was theoretically in his Terrible Twos but was mostly harmless when I saw him. Back before I'd known I was going to be switching jobs, I'd recruited Cedric to work at Openwave, now my ex-employer. Now he'd been there a few weeks. So we exchanged work gossip; wasted now: a few months later, Openwave shut down its Seattle office and Cedric was laid off. The nice thing about the software industry is that it gives you a lot of time off; the bad part is that you don't choose when that time off comes along.
Meanwhile, Tom played tourist.
Tom's photos:
Vancouver
Tom and I took a day trip up to Vancouver city in exotic Canada.
The first convenience store we encountered had plenty of Men's Pocky, so we loaded up.
One of the best things about Vancouver is the waterfront walk in Stanley Park. There are totem poles. And from there you can see North Vancouver, which has plenty of conveyor belts, plus some big bright piles of sulfur. Also there was a kid dryer. During the warmer months (e.g., not January) I guess a lot of kids play in the water. When you want to dry them off you tell them to run into the kid dryer and you press a button. But no sane kid was going in the water today; there was frost on the ground.
Tom's photos:
We went to the Capilano narrows bridge, which unfortunately turned out to be a tourist trap. Don't go there!
Tom's photos:
We came back to look at the historic district and check out some more waterfront areas.
Tom's photo:

We went to the Vancouver library. It has some interesting architecture, but don't let that fool you: it's actually pretty well set up for people. There were lots of people there reading and talking. It was a real community center.

South for a Day of Missed Opportunities
One last morning in Seattle, we played with the kids.
...and then it was time to head south. Neither Tom nor I had been to the Olympic peninsula, so this was our big chance. Except that it turned out that visitor centers were closed for the winter and it sounded like just about everything was shut down, perhaps because it was bitterly cold and no sane person would go there.
So we went to Aberdeen. As of the time my out-of-date Washington guidebook was published, Aberdeen had an old sailing ship and big plans for a maritime history museum to rival that of Mystic CT... you can see where this is going, can't you? Tom and I drove around Aberdeen for a while. There was a nice observation platform on the river close to a place that turned wood into wood chips. There was a Wal*Mart. Behind the Wal*Mart parking lot was something that looked like maybe it was once a dock for a historical sailing ship.
If you're in Aberdeen and you want to visit a neat viewing tower, there's one at 28th and Bay. I don't recommend stopping in Aberdeen just to see the tower, though.
We headed south along the Wasthington coast.
We headed south until we reached Astoria, where the mighty Columbia river moseys out into the Pacific. This is a huge sandy outlet--there's a long bridge over the river which is mostly a not-so-high platform that runs over a lot of sandbarrish wetland. It was pretty in the low light.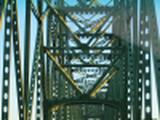 Tom's photo: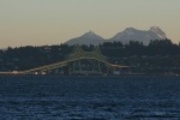 This outlet is treacherous and has claimed hundreds of shipwrecks. That's too bad, but the silver lining is that the Astoria historians salvaged material for a great maritime/riparian museum. Tom and I got there just half an hour before it closed. We rushed through. We didn't pause to look at much; mostly snapped photos to look at later.
How dangerous is this area?
[Captain Robert] [illegible] told Vancouver that he had previously been off the mouth of a large river (the Columnbia) for nine days but had been prevented from entering by rough water.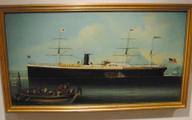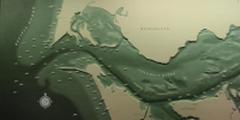 Tom's photos:
When the museum closed, we left peacefully. I snapped some photos of the waterfront as the sun went down. Then we kept on South until we reached Tillamook. There was a good Mexican restaurant there; or maybe it seemed good because it was getting late and we were pretty hungry. Maybe that was enough. And with a full belly came wonderful sleep.
We Visit Some Places That Are Open
So we visited the Tillamook cheese factory. I learned some things.
The Tillamook symbol is a ship, the Morning Star, launched January 8 1855 for the Tillamook-Astoria-Portland run. So this ship must have braved the Columbia river outlet many times.
Local dairy farmer Dale Buck has put up fencing next to his farm's drainage ditch. I guess this is to keep crap from making it into the water. There's some Tillamook Bay National Estuary Project which might have something to do with this. Oregon's plentiful rain makes it difficult to keep manure out of waterways. If you want to spread manure on your fields as fertilizer, for goodness' sake, wait for a dry day.
There was a town called Bayocean nearby. Some engineers got the bright idea of improving Tillamook Bay by constructing a jetty. Was it supposed to provide some shelter? Maybe. Anyhow, it didn't. Soon, rough seas took Bayocean.
History: 1788 Captain Robert Gray and the Lady Washington first enter Tillamook Bay. Did I see the Lady Washington once when I was in Puget Sound? Maybe.
Tom's photo: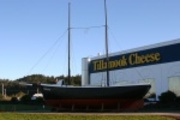 We headed south and stopped at Cape Kiwanda which had a snooth beach. And we stopped at Cape Foulweather, which had dramatic clouds.
Tom's photo:
Newport had a marina with not-so-great lunch choices but some fun boats to look at.
Tom's photo: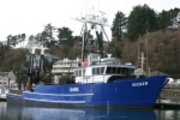 And south of town was the awesome Oregon Coast Aquarium. Why hadn't I heard of this before? It was great. It looked like there were more aquatic-museumish things to do in Newport if you weren't crazy enough to be there in January.
Tom's photos:
We kept heading South, stopping at some dunes at sunset. By the time we got to Bandon, it was after dark. We had dinner with Veronica and Patrick there at La Fiesta. Then it was a drive through the dark to Veronica and Patrick's house for sweet sleep.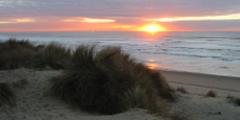 Tom's photo:

Port Orford and Sixes Again
I guess we spent a couple of days back on the Sixes river at Veronica and Patrick's.
Tom's photos:
We visited a flooded river. Patrick drove us around town, pointing out the under-construction maritime museum and an abandoned quarry.
We planted some trees in the rain. I found out that my raincoat was fine for walking around in, but not for manual labor. When we got back inside, I saw that I'd ripped out both its shoulders.
Tom and I took a drive on up into the mountains east of town, where it was snowing and the roads were dirt.
Tom's photo: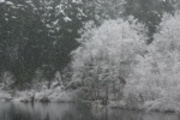 We visited the Port of Port Orford--it isn't sheltered, so captains haul their boats out of the water and park them on the dock. We visited with Henry the ever-stoic bull next door.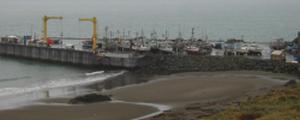 Tom's photo: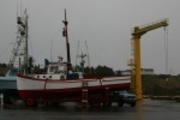 Tom and I checked out Castle Rock, site of some massacre or other.
South
We bid a fond farewell to Veronica and Patrick and the ranch and Henry the bull next door.
And then we headed south. Ah, the southern Oregon coast. Ah, the northern California coast.
We got away from the coast long enough to look for a trail. Along the way, around Howland Hill Road, we saw a big ugly house protesting the Friends of the Del Norte Forest. I wondered if the house owner was trying to get some kind of easement to chop down forest to make space for a big ugly house addition. I didn't have any idea what the Friends of the Del Norte Forest were about, but I wanted to give them all hugs and tell them to keep thwarting this jerk's plans. Anyhow, we took a walk the Stout Grove trail.
And then back out to the coast again at Crescent city, through to Klamath, stopping for photos at the Paul Bunyan statue.
Tom's photo:

At Klamath, we took a side road which took us closer to the coast than the highway would have. There was snow and hail. When we got out of the car to look around, Tom popped his car's hatchback trunk so that we could shelter under the door.
There was an early RADAR station, disguised to look like a couple of farmhouses. None of the RADAR equipment was still there. Actually, there wasn't much to see.
There were scenic overlooks. There was a rough road. We took the road slowly, steering around as many potholes as possible, slowly driving over the ones that couldn't be avoided. It looked like there was a side road leading to some prison. I wondered about the shocks on that prison bus. And then as we were stopped for photos, I saw the most amazing thing--a U-Haul truck coming the other way, barreling along, jouncing over potholes and cracks. I couldn't believe it. I wanted a video camera to record this for posterity.
We turned inland for a stop at Big Tree.
Tom's photos:
We pulled into Eureka to find out that the Blue Ox Mill Museum wasn't open that day after all.
So we had dinner and found a place to sleep.
And South
Eureka, surprisingly, had good bagels at a place called Los Bagels. So we loaded up on Bagels and headed south.
We made a side trip to Ferndale where there is a Kinetic Sculpture Race each year. The race wasn't going on, but a shared artist studio/shop space had a museum packed full of Race leftovers. It was pretty cool.
Tom's photos:
We stopped at Scotia, hoping for a tour of the lumber mill, but they were closed. Was it Sunday? It might have been Sunday.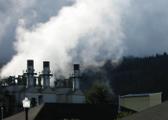 Then we took a sidetrip off of the 101 and onto the Avenue of Giants. I guess it's named after the giant sequoias.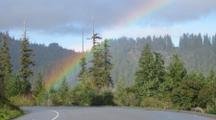 We walked around in Founder's Grove.
Then we went further south... and then took a side trip out to the coast, to the vacation spot of Shelter Cove. It looks like this place is overrun with campers and RVs during the busy season. But in early January, it's pretty empty. Maybe the best part about Shelter Cove was the road there and back, which wove through trees.
Tom's photos:
Next to Shelter Cove was Black Sands Beach, where lost coast trail emerges. This is a rough trail. Parts are under tide water part of the time. It is far from civilization. Tom was scouting it out in case he wanted to do some extra-rugged hiking later.
The sun set as we took the road from Shelter Cove back to the 101. And then Tom, with amazing endurance drove us back to the bay area.