Departures: Ron and Sua Got Married
Getting There
Friday, Nov 3, 2000, I was on an airplane, flying towards Seattle. I was going to spend the weekend in Seattle, see my friends Ron and Sua get married. I was a bit flustered: I was starting a new job the day after this trip. I wasn't too flustered, however; I was full of dim sum, looking down at clouds and hills and dams and lakes and farms and oxbow lakes and the confluence of Cowlitz and Columbia rivers. I saw forests sprouting plumes: forest fires. As we got further north, there was a haze over everything from all of the forest fires.
When I emerged from Sea-Tac airport, the haze was not so obvious; now I was in it. The 194-line bus I caught to Seattle didn't use the streets, instead boring me with an interstate and a tunnel. By elevator, I emerged from the underground bus station in the heart of downtown and maneuvered my luggage a block until I reached the Hotel Roosevelt where hotel clerks evoked a more class-conscious age by desperately staring at a point beyond my disheveled self until forced to acknowledge my existence.
Sleep-E Tom
By the time I was in my hotel room, it was late in the afternoon in Seattle, but it was sleep-time in Japan: When I got the front desk to ring Tom Lester's room, I woke him up. Tom worked at my ex-place of employment. He'd flown in from Japan that morning after a flurry of meetings with manufacturers and engineers. I asked if he'd be up for dinner or breakfast or whatever meal his stomach's time zone was in.
We dined at Trattoria Mitchelli, getting caught up.
My time between jobs had gone well, though the last few days had been rushed in my haste to get ready for the new job. Not that I knew much about the new job. For the interview, I'd sat down in a room the company's engineering department and CEO. They said that the position would be a "game scripter." I'd said I knew nothing about game scripting, had asked if they thought I could learn it. Their faces had fallen, I'd watched them mentally discard interview questions. Now, days away from the job's start, I had only the vaguest idea as to my abilities. "As near as I can tell, someone hands me a script--like a movie script. It gives stage directions like, 'Bad guys run across the hall.' Then I need to write a little program in this scripting language--where scripting here means 'computer script,' not something like 'screenplay'--that says 'badguy_42 change coordinates delta y 378' or something." I'd been studying up on UnrealScript, so I had a pretty good idea of what my scripts would look like, but I still had little idea of what they would be responsible for.
Tom was fresh back from meetings in Japan. Tom was the man in demand. He was going to move to another, more pie-in-the-sky project. However, people on his current project weren't to happy with this. The world of Japanese mobile phones was still one of turmoil. Japanese manufacturers spawned new projects and merged old ones, changing specifications in the manner of engineering consulting customers since the dawn of time. Uezu-san, who I'd mentored, was now managing his own engineering team. I hoped he'd be more patient with his team than I'd been with him. Tom was looking forward to working on a smaller project, with fewer people-management tasks and more technical-design tasks.
We talked about absent friends, foreign lands, and what to do next. Tom was still kind of wiped out from jet lag and meetings, but he was up for a movie. There was a movie theater just around the corner from our hotel, so we walked back, pausing to sneak into the Seattle Art Museum just in time to miss a Mexican culture presentation. We stood in the lobby, watching the crowd mill around as stiff museum people thanked those who had made the evening possible. Small children ran around the edge of the crowd, playing soccer with small plastic skulls. We didn't stick around.
At the movie theater, "Charlie's Angels" was sold out, but there were still tickets for the dubbed reissue of Jackie Chan's "Legend of Drunken Master." I'd seen it before and it was dubbed, but I still had a wonderful ginseng-smuggling, fire-breathing time.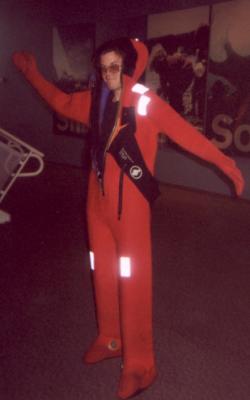 Back at the Odyssey Maritime Discovery Center, I tried on this survival suit. In the novel Snow Crash, they mention these survival suits, but I never knew what they were talking about until I saw this. The narrative of this travelogue doesn't get around to the Odyssey Maritime Discovery Center for another few screens, but I couldn't wait to show you this photograph.
After the movie, we looked at Gameworks, which Tom had never seen.
There, I finally had a chance to see Dance Dance Revolution in person. Until then, I'd only heard legends of it from people returning from Japanese business trips. When I watched, it didn't seem that exciting. There were some pads on the floor. A computer screen flashed instructions to the player, who stepped on pads. The player was watching the screen, listlessly stepping as instructed. Tom whispered that these kids weren't very good. They were still learning the dances. Kids in Japan would practice in private, using the home game. When Japanese kids played in public, they knew the basic dance well enough such that they could execute them with style and flourish.
At one point, I was standing around, Tom having wandered off. An arcade employee with outré whiskerage did a double-take when he saw me and asked me, "Hey, are they still around?" I looked around, and countered: "Huh?" He clarified: "Or have you had that shirt for a while?" I looked down at my shirt. I said, "Uh, I don't know. Uhm, I mean, to me, 'Sock Monkey' is a comic book." I guess he was talking about a band, not about Tony Millionaire's "Sock Monkey" comic book.
The guy wandered off before I could make the obvious comparison to Evan Dorkin's "Furious George" comics, not to be confused with the band of that name. I thought, In our time, there is a new kind of muse: not a small group of minor goddesses, touching just a few. Instead, a post-modern infinite sea of monkeys, touching all so that the same meme emerges in different media independently. It's probably just as well that the guy had wandered off, as I'd obviously exhausted myself past the point of coherence.
On the television, there were some election ads, negatively portraying Slade Gorton. Every so often, some media pundit clucks over negative campaign advertising. Nevertheless, I thought that it was worthwhile to slam Slade. I was a Californian, and even I had heard of his environmentally unwise governance. Then I realized that I'd first heard him singled out when I'd been in Washington (on the Adventuress). So maybe he wasn't that notorious, after all.
Not My Saturday
I'd originally had big plans for Saturday. Big, tall plans. I'd planned on lunching with my incredibly tall cousin, Nancy, and her impossibly taller husband, Cedric. But when I'd got back from St Louis a few days before, there was mail from my cousin: they were canceling out of lunch. Instead , they were going to spend some time with Nancy's mom (my aunt) who'd been going through some tough times.
So Nancy and her husband were heading down to Bass Lake be joined by mom and her husband. You might think that this was a good thing for Nancy to do. You might recall that I've gained wisdom and comfort by talking with Nancy. You might think that would be just what mom needed. You might think that.
Here's some mail that the mom sent about how things went:
Our plan was they arrive by air on Wed and rent a car and drive the distance to the cabin. Ed and I arrive Thursday between noon and 2 p.m. We arrived about 2:30 p.m. to find a note on the unlocked door saying Nancey and Ced had gone for a day trip up to the Ansel Adams wilderness area (aka MInarets) and they would be back by 3 p.m. That time came and went and no show. Made dinner and ate and still no show. Finally about 8:30p.m. I called the sheriff's office and reported them missing. (Fortunately they had left paperwork in the cabin showing the rental car agency and also a grocery list showing they had bought a map.) I gave the information on their note from the door and was told it would be about 2 hours before the sheriff would get back to me. (The rental agency would not give me info on the car but said they would give it to the sheriff's dept. Later found out on a previous rental it had been stolen!) Call back from the sheriff's office at midnight and nothing to report yet. About 1 a.m. they asked us to come to the sheriff's office. You can imagine what we thought when we drove up and the door said "Sheriff/Coroner"! About 1:30 a.m. as we were talking with the search and rescue co-ordinator they called in and said they found the car abandoned at the 6000 foot level stuck in snow on the road and that there were tracks leading away from it. Shortly after 2 a.m. they called again and said they had located them and it would take about an hour for them to get back to the area.

Turns out they got stuck at 3 p.m. and decided to walk back down the road which was used by loggers and they walked 10 miles in the 3 hours before they came to the junction in the road and there was a logging truck there which had windows and a tarp inside. They decided to spend the night under the tarp in that truck and if any car came by to try to flash the lights in the truck. (That was how they were finally discovered. The sheriff that found them was only the second vehicle to pass in all that time!) They were cold, hungry and thirsty since they were not prepared for what they went through.
Nancy and Cedric's Christmas letter offered some clarification:
...the car got stuck on the ice. It was about 3:00 in the afternoon. We normally travel well prepared, but this time we had no food, water, or extra clothing. We decided to walk the ten miles back down to the highway where we'd be more likely to wave down a passing car. By the time we reached the highway, it was 6:00 and completely dark. Fortunately, a logging company had left an unlocked water truck there. The nearest house was twenty miles away, so we prepared to spend the night in the truck. Luckily for us, Nancy's mother had found our note and had called the sheriff when we failed to return. The sheriff found us at 1:30 a.m. Nancy's parents were much relieved, of course, and we had a joyous reunion back at the cabin at 3:00 a.m.
You might wonder why I'm telling you all this. There's a possible interpretation, kind of creepy: "Cancel out of a lunch with Larry, and disaster will strike. You'll stress your mom less by letting her stew for another few days."
But that wouldn't be true. Nancy's like a major character in a play or movie. Even if you find her car abandoned in the mountains on a winter night, she'll be back by the end of the third act. I'm sure her mom was worried, but she shouldn't have been too worried.
I just included this aside because it was exciting. That's more than I can say about how Tom and I spent our Saturday.
Meanwhile, Back at the Ranch
So I wasn't going to have lunch with cousin Nancy. The change in plans had come along a bit late for me to try to set up a lunch with anyone else--instead, I'd spent my time tracking down a book of photographs. With hindsight, this was a mistake. Tom and I had fun doing tourist stuff on Saturday, but the lunch wasn't so great.
What was the tourist stuff, you ask?
First, we wanted to have breakfast at The Longshoreman's Daughter. It was in the Fremont district, and we weren't. Tom, who has acclimated to hotel life, asked someone behind the front desk to call us a cab while we waited in the lobby. We sat and talked for a couple of minutes, and then there was a cab stopped outside, so we went outside, but by then the cab had gone--no, wait, it was by the hotel's other door. So we walked over to the cab. There was no-one inside.
We shuffled around, trying to figure out what might have happened to the driver. It was all very mysterious. Then an agitated man stormed from the hotel, where he had been arguing with people at the front desk.
This man was our cab driver.
He let us know why he was so agitated. He wanted to park the cab in the hotel's parking lot. He explained why. If he parked in front of the hotel, his cab would be ticketed or towed. This didn't make much sense--it seemed that if he'd stayed in the space where he first stopped, he was legal. When he pulled up to the hotel's other door, he was (thanks to some road construction) obstructing traffic. But it wasn't clear why he'd pulled up. I didn't mention that, not after I heard the names that he called the people at the hotel.
I was glad when he changed the subject, as I could say nothing nice about his beef with the hotel people. (On the plus side, I did get to hear a saying of the cabbie's native land: "Every asshole is the king of his trash.")
He had gone to school in Idaho, which hadn't been easy for someone as swarthy as himself. He grew a bit in my estimation. Maybe he was a sumbitch, but he must have been a tough sumbitch to tough it out in Idaho. And he got us to the restaurant.
Tom and I are early risers and we had beat the rush at the Longshoreman's Daughter. We were seated right away and our food came fast. It seemed that we hardly had a chance to talk before the food was gone. Maybe part of what I like about the place is that the waiting gives more opportunity for conversation. That and the frequent coffee refills. Anyhow, breakfast was nice, but not as wonderful as I'd come to expect from that place.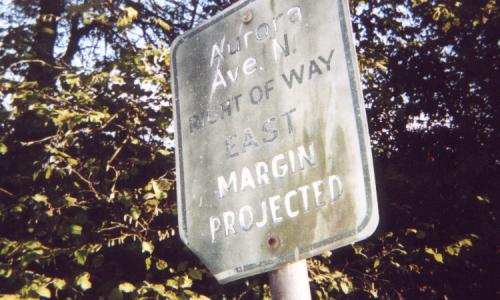 This sign was on a road by the side of Lake Union. I couldn't figure out what the sign was trying to tell me. Maybe this is how houseboats describe which "street" they're on?
We walked back towards downtown along the lake shore, hoping to see some houseboats. In this we were largely thwarted. Fences and trees prevented us from seeing much of the dock area from the walkway. We walked past yacht sales storefronts and boat insurance storefronts which concealed boat docks behind them. Paddling in Lake Union is definitely more scenic than walking around it.
The Sad, Sad "Experience Music Project" Which Might Get Cool If They Get Their Act Together
There was a new tourist trap at the Seattle Center. It was pretty on the outside, but Tom had heard that it was boring inside. We couldn't decide whether or not to go in, so I flipped a coin. We went in. It was pretty boring inside. It was the Experience Music Project.
The main problem with the Project was the lack of interpretive/explanatory text. Looking at some exhibit, you'd hold up the big clunky "Meg" to find out about it. "Meg" was an electronic device with headphones, a handheld controller with buttons and an LCD screen, and a heavy belt unit which provided power and held a CD-ROM.
"Meg" was pretty lame. It figured out where it was by wirelessly seeking a signal. It took quite a while to do this. Then it would hunt around on the CD to figure out what information to show. This, also, was pretty slow. And then there wasn't much information. Actually, I stopped using "Meg" after the first few exhibits.
"Meg" gave Tom and me something to talk about. When we worked together, it was on wireless devices, devices much lighter and faster than Meg. It wasn't clear why "Meg" was so clunky and slow, but from the UI, it looked like maybe it was running MS Windows. I'm just saying is all.
Tom's "Meg" strongly evoked the Windows look and feel: it crashed. Tom wasn't even trying to crash it, it just couldn't handle normal use. Tom had to bring his Meg over to a help desk. They gave him a new Meg so that he wouldn't have to wait a couple of minutes for his old one to reboot.
Probably all of this would be forgivable if the text associated with exhibits went into a bit more depth. It would be nice to learn something from the exhibits.
There was more to the place than the museum aspect. There were little sound rooms where visitors could play instruments. From my experiments with MegaBrööce, I knew I wouldn't play anything interesting by aimlessly picking at a bass guitar for 15 minutes.
There was an exhibit where you could apply various guitar effects to a stream of music to find out what the effects were for. Tom played with it for a while and I checked out some of the effect boxes that were tacked to the wall. I noted that the Ibanez's "Slam Punk Soundbank" provided "Blast," "Spike," and "Anarchy." I wondered what would happen if I turned up the Anarchy, but it wasn't hooked up.
There was a table in which people could trigger various drum sound effects by tapping various spots on it, spots which were lit up. This made me wonder if it might be possible to create a great arcade game by combining Simon, Dance Dance Revolution, drumming, and Whack-a-Mole.
My favorite part of the place might have been "the Gehry experience". Gehry designed the building, and they had some prototype models and some videos about the design. There were some time-lapse pictures of the construction. The room was not as crowded as the rest of the museum and provided some respite from people who were desperately trying to have fun in an unconducive atmosphere.
Back in the museum proper, there was a video in which Sleater-Kinney talked a bit about the Olympia music scene, but they didn't say much. That seemed to be the theme of the museum: we won't say much. The same video flashed some video footage of Gene Defcon for a few seconds, but didn't say who they were or anything. I wasn't really sure what I was supposed to get out of the video. Was it supposed to capture the atmosphere? Great, but would it have killed them to include some captions for those of us hoping to come away a bit more informed? A few weeks before, I'd seen Sleater-Kinney and Gene Defcon. I'd been there with DanH who'd taught me some things about the Shriners and bones. I'd learned more at that concert than from this display.
I guess it's the Experience Music Project, not the Study Music Project. Maybe I was just supposed to let the displays wash over me, become pop-aware through a sort of osmosis.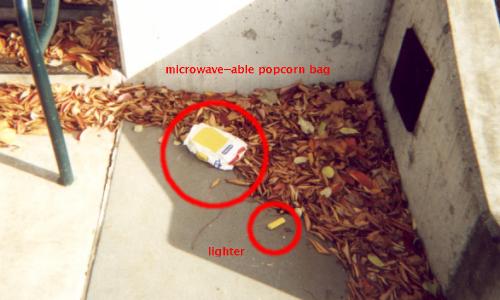 Making our way away from Seattle Center, Tom and I spotted this little tableau. I imagined that someone had used their lighter to pop this bag of popcorn. When I showed my dad this photo, he wondered if an airtight bag might be of use to someone who was smoking crack.
There was some kind of RockerGrrl convention in town, but I didn't see a high concentration of RockerGrrls at the Project.
There was a nice video on a big screen which showed a bunch of great musicians--James Brown, Maceo Parker, Bootsy Collins, George Clinton, and some folks which were presumably the P-Funk All-Stars. Unfortunately, this video also showed a couple of kids "learning the funk" from the "Archangel of funk". This added narrative structure to a video that didn't need it. Also, to watch the video, we sat on a bank of seats that tilted and swayed. It was supposed to be like a roller coaster.
At least we got something out of it. When we came out, Tom said that he'd learned that the funk was "all about the one," and he was right.
Harbor Tour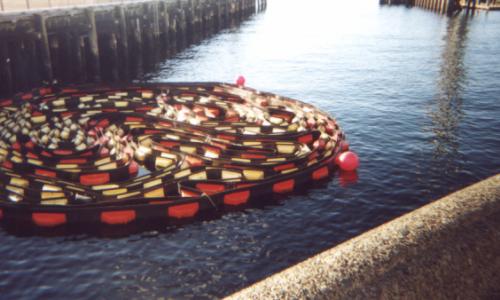 As we walked along the waterfront, Tom told me to take a picture of this, so I did.
We walked to the harbor area under the public market and signed up for a boat tour of Seattle harbor. We had a quick, icky lunch at Steamer's.
The harbor tour was really cool. I wish I'd taken notes. At least I took photos.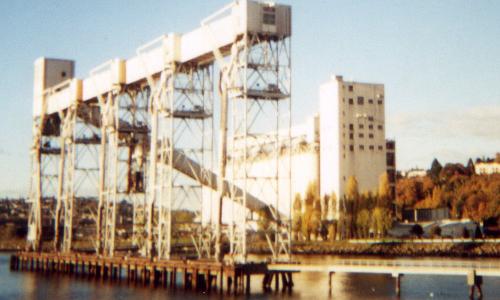 It turns out that the covered conveyor belt that I'd been so enthralled by on past visits is part of some really high-speed system for getting grain out of some silos and onto cargo ships. (Eve Andersson took a better photo of this while it was loading up a ship.)


I liked this old decrepit dock.


We saw a bunch of railcars on a barge and learned that it's cheaper to ship empty railcars up to Alaska by barge than by rail.
We saw fireboats and big drydocks and gantries and lots of other cool things. I had a blast.
Musing on Food and Beverages
We had dinner at a Public Market place called Copacabana, which had an outside balcony. I had Inca Cola, which Dave Loftesness had told me about. Bright yellow-green, tasting like bubble gum, it was an experience that remains with me, weeks later. I remember thinking that it would be nice to have a tapioca-pearl Inca Cola drink. It would taste like gum, and you could chew the tapioca pearls like gum, but it would actually be a beverage.
We went back to the hotel to wash up. Paul Du Bois had got into town. On C-SPAN2, Debra Dickerson (who grew up in St Louis) was talking about a book she'd written. She mentioned not being allowed in Meramec Caverns because the place was run by bigots. The Meramec Caverns had been a candidate activity for my stay in St Louis. Now I was curious to know if the place was still being run by bigots, but I couldn't figure it out from what she was saying.
Meanwhile, Paul had arrived at the hotel, and it was time for us to attend Ron's bachelor party.
Sailors Put the "Arr" in "Parrty"
We hooked up with some Seattle people at Belltown Billiards. I talked with Steve Yegge, who remained insightful about the handheld wireless computer business even though he'd been stuck in Amazon-land for the last couple of years. He told me that his brother Mike was doing intranet web mastering stuff at Amazon, and was thriving there. I slumped with relief.
There had been a plan to "roast" Ron at dinner by remembering embarrassing anecdotes. Now, over pool, people shared their dismay: no-one could think of any good anecdotes. I'd lived with the guy for years, but the best anecdote I could come up with was the time Ron hadn't talked with Bryan. I didn't really remember that story, though. Bryan had told during my St Louis visit. Maybe it was difficult to notice Ron acting particularly weird once you'd got used to him.
Then we went to join the rest of the group (including Ron) for dinner. As we were leaving the pool hall, Andy almost left his I.D. behind, perhaps as an homage to my first trip to Seattle. On the ride to dinner, John Mitchell mentioned that he was traveling on an expense account, officially in town on business. I expressed my enthusiasm for expense accounts: "Waiter! More mimosas! I wish to gargle!" Fortunately, we were still in the car, so no waiter actually tried to bring me any mimosas. We arrived at the dinner place, a Japanese restaurant in a hotel.
Andy was Ron's best man, and had organized the bachelor party. Andy made a great host, mingling around the table, keeping conversation going. He'd also come up with a Korean lesson so that Ron could understand Sua's native language. Thus, we got to see some extracts from Making Out in Korean. First, we saw some greetings. Ron was prompted to say various greeting phrases. Then the Koreans at the table would grade him on pronounciation to the merriment of all.
I wasn't paying that much attention: I was scanning the list of greetings for the phrase "Pongo sumida". Months before, at a pre-wedding party in Japan, someone had told me that "pongo sumida" was the Korean way to say hello. I didn't see anything like that in this list of greetings. This made me wonder what "pongo sumida" might mean.
Maybe the lady at that other party had wanted me to get in trouble. Maybe "pongo sumida" means "I like smooth, young boys." I don't remember doing anything to get that lady mad at me, though.
(While researching this travelog, I learned that "Bangap Sumnida" is Korean for "Pleased to meet you." So maybe that lady wasn't trying to get me beat up, after all.)
There was conversation, most of which swirled around life at Amazon. I tried to follow talk about distribution centers, catalog, supply chain, and distribution. Engineers exchanged stories about times when they'd been paged to look at problems that were not problems.
After dinner, we retired to Andy's flat. Ron had vetoed the stripper. (He thought I wouldn't be okay with it; though I thought I would, albeit in my snarkiest sector of "okay".) In lieu of a stripper, Andy gave Ron some time alone with an inflatable sheep which Andy gave to Ron to mark the occasion. Some of us had signed the sheep.
Our collective nod towards debauchery culminated with poker using nudie cards. By this time I was pretty sleepy. I sat back, drowsed, and watched as Mike Yegge and Ron displayed their innate understanding of probability and psychology by taking a few dollars from their friends.
Sunday, Before the Ceremony
Dave Loftesness had got into town. He, Paul, Tom, and I had breakfast at the hotel restaurant, "Von's." It was awful. There was a chafing dish that was full of scrambled eggs and other things embedded in the eggs. These things were impossible to identify. The potatoes had gone through a phase change. There was toast, but not as we know it. This breakfast was free and it still wasn't worth it. (When Tom had shown up at the hotel, they'd given him a room that still had someone in it. Tom hadn't gone into details, but sounds like something pretty traumatic happened. Anyhow, they gave him free breakfast coupons for the restaurant. Which was pretty traumatic in its own way.)
Anyhow, we went to the Elliott Bay Bookstore. I looked for a copy of Secrets and Lies, but couldn't find one. It took me a while to work up courage to ask about the book at the information desk. I couldn't remember who wrote it. I wasn't 100% sure I wasn't mistakenly grabbing the title of a Woody Allen movie. (Perhaps adding to the confusion, there was a movie titled "Secrets & Lies," though not by Woody Allen.) The nice people at the information desk said that they were out of the book. Tom said that he had a copy, or rather that he was borrowing Dave's copy. This goes to show something about overlapping interests.
Tom thought to pick up some Cow Chip Cookies for Veronica, but they were closed until noon.
We caught a streetcar heading North. Dave got out after a few stops; he needed to get ready for the ceremony, which he was ministering.
Inevitably, a Maritime Museum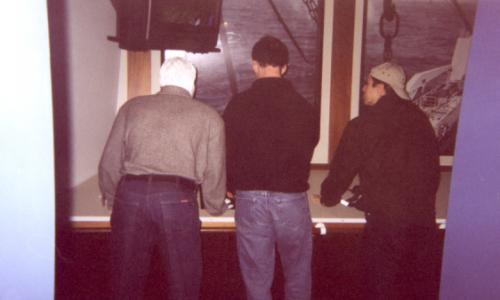 This wasn't three men in a boat. The guy on the left was some kind of mannequin. And they weren't in a boat, just the simulated cabin of a fishing boat. The two humans in the photo are Tom Lester (center) and Paul Du Bois (right).
Paul, Tom, and I kept riding until we got to the Odyssey Maritime Discovery Center. This place was a lot of fun. They had a crane-operator video game, in which you maneuver intermodal freight containers into a ship's hold. There were was a model RC tugboat which you could control to push around a bigger model boat. At the museum, they showed a pretty movie: Someone had set up a movie camera in an intermodal freight container, pointing outwards; they'd filmed the container's journey from the container's point of view.
There was a kid-sized fishing boat with lots of controls for for the kids to play with, including some block and tackle by which one might hoist one's younger sibling off the ground. Then it was time to go. I picked up a book about Cod and a biography of a tugboat captain. On the way back, Tom remembered that Cow Chip Cookies had a downtown branch, but they were closed Sundays.
This Is Why Events Unnerve Me
The ceremony took place at the Columbia Tower Club, high atop Seattle's Columbia Tower. This building has changed names a few times, and Tom, Paul, and I weren't sure that we were going to the right building. But we were.
The Columbia Tower Club has big rooms and a great view. I had enjoyed the view from the Chinese Room at Smith Tower, but could the Chinese Room have held all of these people? It could not. We milled around, smiling at people we recognized. Later on, I would figure out that I should have been smiling at people whom I didn't recognize; I knew some of them, but not when they were dressed up.
There was the view and we were glad to view it. You could sense the building's sway; it was something like being on a ship. There were floral displays that incorporated candles. There was some worry about the placement of these. They were under a low ceiling--they were leaving soot. Would anyone notice the soot? Could they be moved forward, to where the ceiling was higher? Or would that block the audience's view? I wondered what sorts of flowers were good for such a display, ones that would curl up but not burn. I thought it was good that the flowers were there, to give people a focus for their anxiety. And then it was time to be seated.
And there was Ron and there was Sua and I thought about the second-to-last time I'd been in Seattle, in a van driving across the state.
And there was Dave ministering and talking about the importance of marriage's permanence, and I thought about the last time I'd been in Seattle. And then the ceremony was over and the reception began and I was back in the present.
To Read My Travelogs, You'd Think I Went To Lots of Parties But I Don't Really
There was a view and we viewed it. I'm not sure why the San Francisco Bay Area people plastered themselves to the windows more than people from other places did. Maybe the Seattlites are jaded with views of their city; maybe people from further away didn't visit so often and didn't have so many things to look for. Eventually, we behaved ourselves and sat down at a table. I forget who, exactly was at the table. I was there, as were Tom and Paul. There was John and Shannon Mitchell. There was Tim Bradley, a Seattle ex-Geoworker, and a lady he was with whose name I, typically, have since forgotten. We talked and ate.
Then there were some speeches. Ron thanked a lot of people. Ron's grandfather, a good speaker, declared that he was glad that Ron was marrying "a beauty," which seemed a strange thing to say.
And then there were some tease-the-newlywed games which were dispersed soon after Reza Hussein kissed Ron on the lips, and there was much relief. Then there was dancing and mingling. Someone encouraged me to dance. Since I didn't know how to dance, I tried to catch up with a few people instead.
There were Joon and Soo Jeong, watching over their baby daughter Hellen. The last time I'd seen them had been that trip across Washington to the picnic at La Wis Wis campground. There, while I'd been watching Hellen, she had run off of a picnic table and clobbered. her head on the table's attached bench. Thus, I now watched Hellen for any signs of permanent brain damage. Thankfully, there were none of these. She seemed pretty alert, more alert than I was.
(This, of course, brings to mind a theory for a way in which certain behavior might pass between generations without a genetic link. That is: I am somewhat fluffy-minded. I have endured many head injuries over the course of my life. I would like to think that I was fluffy-minded when I watched Hellen fall off of that picnic table. Otherwise, I might have been quick enough to stop her. Ideally, I might have prevented her from running on the picnic table in the first place. Perhaps in this way, head injury-related traits tended to propagate. I didn't talk this over with Joon or SooJeong, though.)
As I recall, my main interaction with Hellen that night was to grab a plastic miniature-champagne-glass party-favor thing and to squintily hold by my eye as if it were a malformed monocle. Then I unsquinted and the thing fell off of my face. This seemed amusing at the time and we avoided injury.
I think it was at around this time that Ron's mother wandered by and asked why some people, myself included, weren't dancing. She encouraged us to dance. I guess she didn't know what else to say to us. Anyhow, those of us who weren't already dancing continued to not dance.
Paul was probably dancing.
Shannon came back from a trip to the ladies' room, saying that there was a great view. Actually, what she said was, "Hey, guys, you need to come check out the great view from the ladies' room." She said that she'd been dazzled upon entering her stall. And thus, our tableful of men--those who weren't dancing--ended up trooping over to the ladies' room. Shannon entered ahead of us to scout. This "scouting" involved finding an empty stall; she didn't worry about any women who might be wandering around in the sink area. Thus, as I slipped into the room, I found myself facing a startled lady. I think I said something clever like, "Uhm, excuse us."
The view from that stall of the ladies' room was nothing special. But I'm glad I didn't chicken out on the venture nonetheless. I was glad when I heard a familiar voice from another stall say, "Tim?!? Is that you?" I was glad to watch Tim say that yes, it was.
Later, I checked to see if the men's room also had a view. It did not, but I nevertheless considered my time in the men's room to be well-spent.
I forget what else we talked about. I think someone came by to encourage us to dance. But really, we were getting tired just watching other people dance. We were decrepit fogeys. I forget who came up with the idea of going to see a late showing of the "Charlie's Angels" movie, but the idea of sitting back and relaxing into somnolence sounded pretty good.
I stopped by to say good-bye to Sua. She asked where I was going. I said I was going to go watch a movie. She pouted and hit me. I liked her better for that.
Ron was on the dance floor, as were some other people. I congratulated him and thanked him for throwing a great party. Ron suggested that I dance one dance before I go. I demurred. Other people started to say that I should dance. I rolled my eyes, said, "Okay." I gave one spastic jerk, which caused my tormentors to jump away, alarmed. "That's my dance," I said, "and I'm gone." And I left.
Intimations of Employment
"Charlie's Angels" was an okay movie. Probably the best part about it was the trailer for "Crouching Tiger, Hidden Dragon." There was a RockerGrrl sequence in the credits. I scanned the audience for probable attendees of a RockerGrrl conference, but saw none.
After the movie, we talked for a bit. Shannon noted that something smelled funny. I had noticed some goths nearby; of course, one of them was smoking clove cigarettes. "Probably it's the goths," I said. Shannon didn't hear me, asked loudly "What's that? What did you say was smelling funny?" but the goths didn't come over and beat me up or anything.
Tom had stayed at the party; at the hotel, Paul wanted to stop by the front desk to arrange an early check out, so it would be just Dave and me riding up in the elevator. As the doors were closing, Paul said, "See you Tuesday!"
Dave said, "That's right, you start work then, don't you?"
I cussed.
Dave asked: "It's been a good month?"
I said: "It's been a good month."
The Hoi Polloi
I had breakfast at a sports bar in Capitol Hill. The food was so-so, but it was kind of fun eating at a diner counter surrounded by all of these down-and-out guys. Actually, I don't think I'd like to go back there. But my memories of Von's were still pretty fresh, so the place seemed great.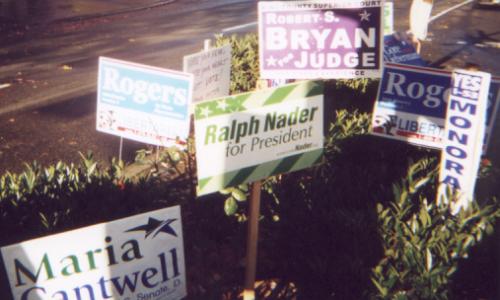 Remember, we were coming up on a big election.
Back at the hotel, I called up my airline to find out if my flight would be on time. Their phone system for this was totally automated. It had voice recognition. One of the phrases it recognized was "repeat that." I needed it to repeat something, so I said, "repeat that, please." The "please" confused it. Eventually, the system told me that my flight would be on time, and I checked out.
The downtown Cow Chip Cookies was, perhaps miraculously, open.
I was waiting for a bus to the airport when the clueless white guy walked up to me and asked, "Who would you choose, a womanizer or a drunk?" I allowed that that was a tough decision. He said, "You can't trust the drunk--the the drunk isn't in control of his mind." I said that I wouldn't trust either one of them very far. He repeated his central credo: The drunk didn't have control over his mind.
I pointed out that the womanizerer, too, had a body part he wasn't totally in control of. The guy shook his head; I wasn't following his script.
He said, "I'm getting at the election." I said, "Oh yeah?" hoping that he'd give me another straight line. He said, "You know, the womanizer isn't even running this year. He had people nagging him for eight years." I said, "Maybe he got tired of it," and gave the guy a look. He wandered off.
Maybe I should have told him that I'd already voted absentee.
First vs Coach
I arrived at the airport early; flights were running late. I saw Dave in the waiting area. His flight was delayed.
He said he was looking forward to flying first class. Like Tom, he'd flown in to Seattle from meetings in Japan. He'd flown business class, and thus rated a business class seat for his continuing flight to San Francisco. Since the plane had no business class, he would ride first class.
I got transfered onto his flight, which was leaving before my very-delayed flight. I wasn't able to get into first class, though.
On the plane, I was the only passenger in my cluster of three seats. I lifted up the arm-rests so that they were out of the way, and I had space in which to recline. I had all of the space of a first class seat; the only difference now was the service.
I was able to rectify this difference through klutziness: I spilled my juice. A passing flight attendant saw me trying to push the juice around with a napkin; she sprang into action. Paper towels appeared as if by magic. She wouldn't even let me help. Maybe she figured that I'd done enough.
Thus, when I next saw Dave a few days later, I was able to brag about my flight experience: all the perks of first class except for the blindfold and the sewing kit.