Science, Art, and Betsy
This isn't really a travelog. The word "travelog" implies some kind of narrative arc. But that would be silly.
I went to Chicago. I went to places in Chicago and snapped photos. Then I went other places in Chicago and snapped photos. Then I went back to the first places to follow up. Do you want to read about me ping-ponging across the city? Probably not. I sure don't want to write it.
So OK. Here are photos and anecdotes, unanchored in time. A jumble of notes. Deal with it.
From Midway airport to the city. A train ride. Yellow brick that I remember from previous visits to the area. A business with a great name: Wheatland Tubes. Then the horizon fills up with smokestacks, steeples, and water towers.
I stayed in a hotel. When I attempted to close the window curtains, I couldn't. They had frozen to the thick layers of ice on the window frame.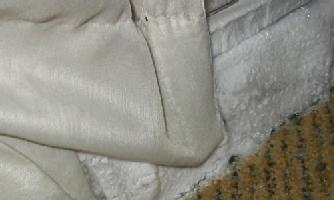 I ate at a Thai restaurant, glad of its vegetarian choices. I was close to some college campus. At the next table, two college kids were talking about something. One of them said "I'm in a band" about once every five minutes. She said it pretty loud, like she was hoping that people at nearby tables would notice, would come over to ask about the band. I noticed, I didn't go over.
Walking from the hotel to IIT was fun. Chicago is pretty. Even if it can get very very cold. I snapped many photos, following my usual "I can discard 10 photos and keep one and I'll still be happy" strategy. But that doesn't work so well in Chicago in the wintertime. It required a great deal of willpower to keep my hands out of my pockets for enough time to snap some photos. If I snapped too many photos in a row, my fingers stiffened up. There were some pretty industrial buildings. There were some new luxury condos.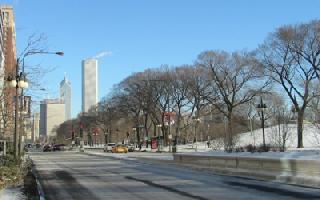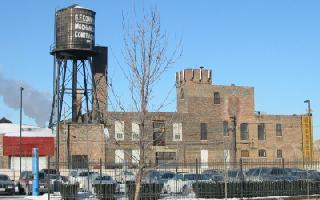 I visited IIT and took the architectural tour. There were strange particles on the sidewalk. Was this salt? You hear about using salt to de-snow-ify roads and such. Maybe this was sidewalk salt that hadn't been washed away. Some sidewalks were covered with snow, but most weren't.
The tour was interesting. Mies van der Rohe used to be at IIT, and some of the faculty "old guard" want to preserve his vision and buildings. It is surprisingly fun to call them the "Mies Police".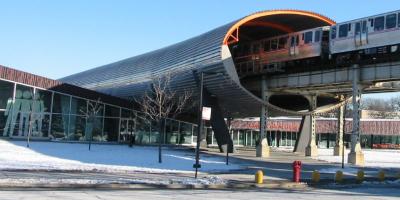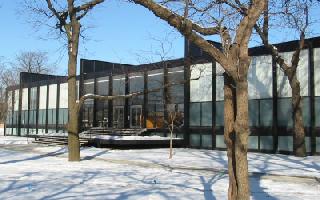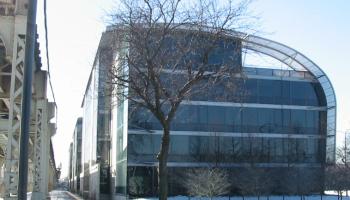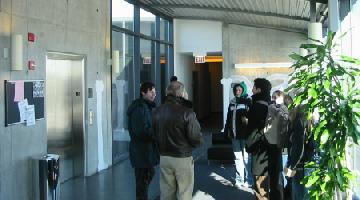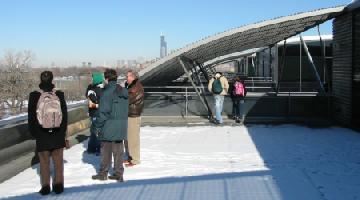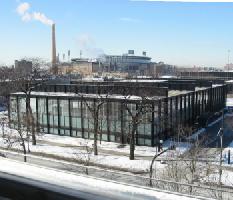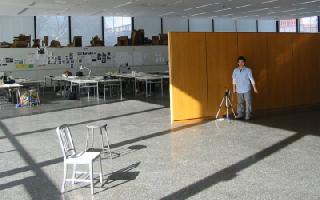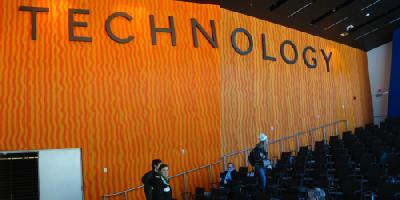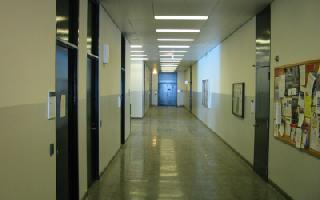 I passed through the Hyde Park/U of C area. I thought about looking for things I'd seen when I passed through before. I had vague memories of a cafe in the basement of a Divinity School. But then I thought I might be getting mixed up with Cafe Gato Rojo at Harvard. Anyhow, I didn't linger in this neighborhood. Partly because I was going to have to cross a snow-covered park to get back to the El. I really wanted to do that while it was still light out.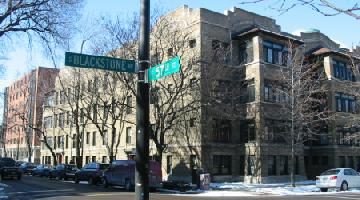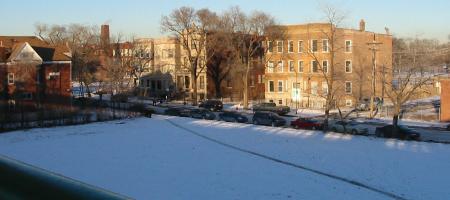 At the Museum of Science and Industry, I saw a huge model train set. I couldn't find its control system, though. Since that was the part that interested me, the MIT club's set-up is still cooler in my book. I visited the fake coal mine and it was fun. Oscar the mine guide told us about the dangers of the Davy Safety Lamp (which didn't sound so bad, compared to life before the lamp) and the horrors of black lung. This was in general a fun museum. An exhibit on the USN mentioned SOSUS, but only in passing.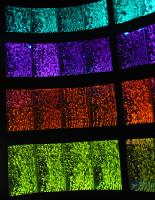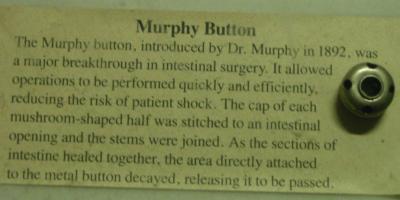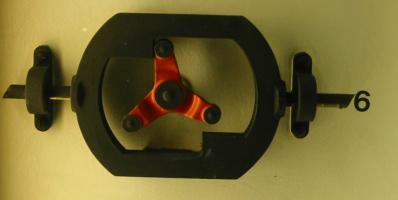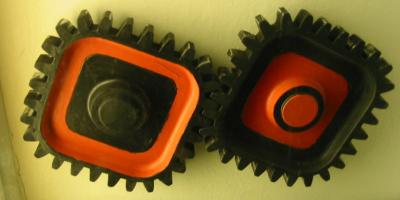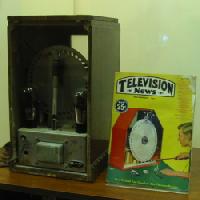 The Museum of Contemporary Photography had a few exhibits up. I think maybe they were on a Valentine's Day theme, because all of the exhibits were about sex. One exhibit was just photos of rooms and equipment from Japanese love hotels. One room was in a Hello Kitty theme, with Hello Kitty and My Melody dolls in bondage outfits.
The Museum of Contemporary Art didn't have much interesting. There was a piece called "Code Poems" by Hannah Keiner--an inverse-colored page showing a standard diagram of the semaphore alphabet. I wondered if I was supposed to get something out of it. Tauba Auerbach's work with encodings is so much more interesting.
Before he moved to Calfifornia, my dad used to work in this building--the Peoples Gas Light and Coke Company building. He says that in the summertime the building vented air-conditioned air out onto the corner. This cooled down the passers-by and provided a sort of electrical show of force.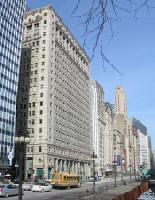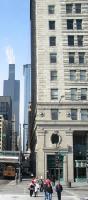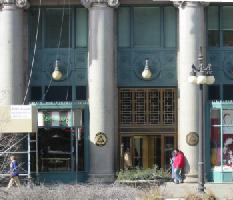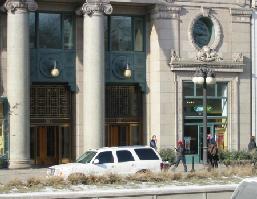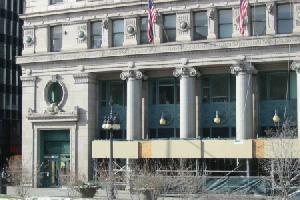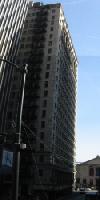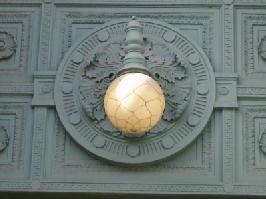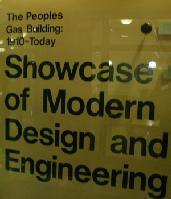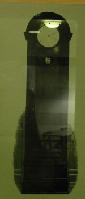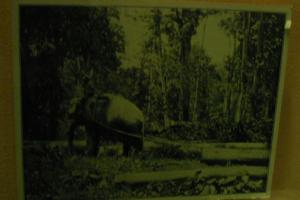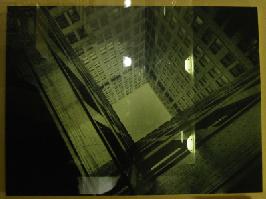 I met up with Cousin Betsy. We visited the Chicago Art Institute. I tried to take some photos of Betsy at the Institute, but she was too quick. I saw the painting "The Rock" by Peter Blume, which I remembered from my previous visit to the Institute, about 20 years ago. Betsy and I talked about Ivan Albright and the Portrait of Dorian Gray. You know Cassatt's painting showing the lady bathing that little kid? It's in this museum.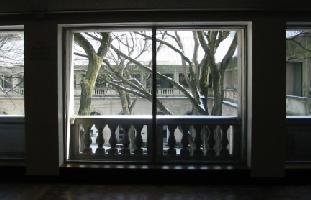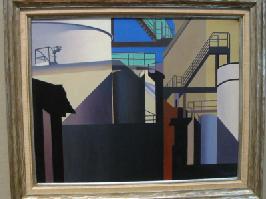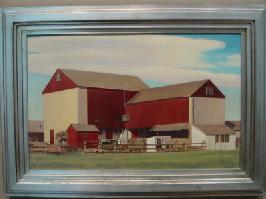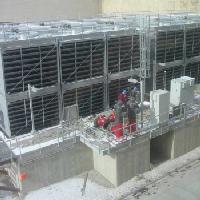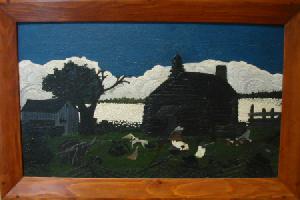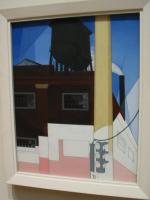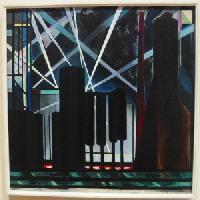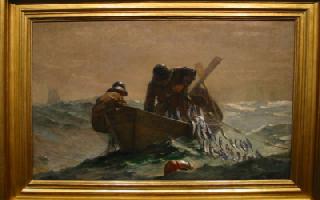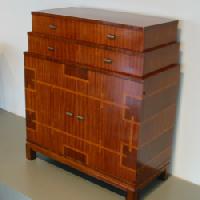 After the Art Instiute, Betsy showed me the new Millenium Park, featuring "the bean", a reflective statue. When I saw it, I knew I would have to add an entry to the Mirror Project. Of course, many people already had. Looking at other people's reflecto-bean photos, I noticed that Millenium Park is much more crowded when it's not wintertime. Betsy told me about Bill's trips to China and about listening to the music of the two-stringed erfu. After dinner, we had to power-walk to the train station so that Betsy could barely catch her train. We walked over an icy river, past a plaza featuring a Calderesque statue that looked like a rabbit beginning a headstand.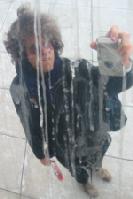 People call Chicago "The Windy City". It's been pointed out that Chicago isn't windier than other cities. Someone told me that San Francisco gets more wind than Chicago. But maybe I found out why Chicago is "The Windy City". When the wind blows in San Francisco, you might not notice. But when the wind blows in Chicago in the wintertime and the air finds the parts of your face that aren't protected by a scarf--you are very aware of it. You try to anticipate the next windburst, you concentrate on the wind.
I'm from a warm place that doesn't get ice on the water. So when I see it, I snap photos. I can't help myself.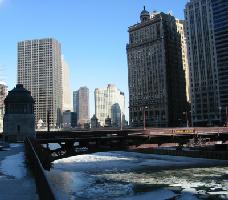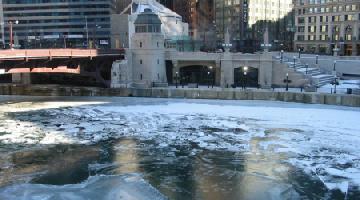 The International Museum of Surgical Science is also a hall of fame. That's perhaps too bad. The stories of great surgeons tend to blend together in my head--perfected the such-and-such technique, traveled to foreign lands to spread the knowledge. But there was some history that stood out. For example, no-one's really sure about the origin of spectacles. But the Emperor Nero is said to have watched gladitorial combat through a polished emerald. A "quizzer" or "quizzing glass" was a sort of handheld monocle. In the 13th century, the Chinese wore sunglasses--thin pieces of tinted crystal in frames made of tortoiseshell, sandalwood, or horn. In 1845, people knew that light that passed through blue glass could magnetize a compass needle. (Now that I'm home, I've tried looking around for other references to this but haven't found any. This was the time at which Faraday was studying how magnetism can affect other things.) Ancient folks used ant mandibles as surgical staples. Convince an ant to bite your patient, then rip the ant's body off--the mandibles continue to bite. The Aztecs had a way to fix broken bones called "marrow pinning." They'd put a pin of fir into the center of the bone on each side of the break, use it to connect the two pieces.
I visited the main Chicago Library. On the floor devoted to the Social Sciences, two cannon pointed out the window, ready to blow holes in the building across the street to the north. Here, people have a good idea of the real forces behind the social sciences. The library had an Authors Room, but it contained no authors, but was instead a small room for giving readings. There was also a "Winter Garden". When I heard "Winter Garden", I thought of some enclosed courtyard lush with plants. Instead, it was a reception room with a skylight, four trees in planters, and some ivy growing the walls in a few places. It didn't seem like much to me, fresh from California where the cherry blossoms were blooming. But later it occurred to me that that was the most greenery I saw in one place during my stay.
I visited the Fields Museum of Natural History. I learned that the Marshall Islands greeting is "Yokwe".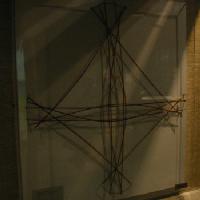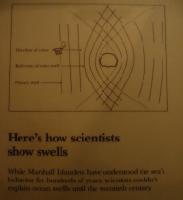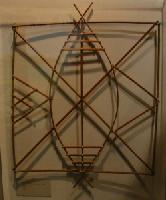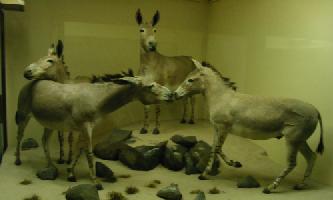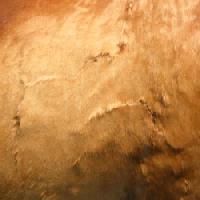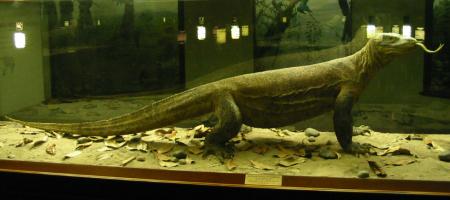 One evening in Chicago I ate a whole stuffed pizza. It wasn't as good as Zachary's. But it was still pretty good. On my last morning in Chicago I had pancakes at a restaurant called yolk. They came with apples and cinnamon. They were really good. If I'd tried this place sooner I think I would have breakfasted there every day.