DC 2016: Wednesday April 27th
My plan for Wednesday was: Play the Ravenchase Washington DC self-guided puzzlehunt. That plan didn't last long. I played a while; I didn't have fun; I ragequit. A few days later, I gave it another chance, then stopped again. A week later, when I was home again, I did some internet research trying to figure out how one puzzle could have been broken in the particular way it was. This here travelog is mostly chronological, but it didn't make sense to write about my experience with that hunt chronologically, so here's a separate page about it:

☞ The Ravenchase Washington DC Hunt.
Other than that debacle, how was my day? Pretty good.
I'd flown in the day before and the travel had been pretty easy. I'd had a tasty dinner at Ethiopian restaurant Piassa. It was drizzling; the locals weren't thrilled, but I was coming from drought-stricken California and drizzle felt pretty good.
I started my morning with coffee. The Peet's Coffee chain had made its way from Berkeley to DC, and I was pretty glad. I loaded up a plate at the hotel breakfast with eggs, toast, and banana. It was a good morning. Then I frustrated myself playing The Ravenchase Washington DC Hunt. I was spitting mad. What to do?
I walked off the anger, headed North from the mall with a goal in mind. Riding the metro would have been more efficient, but walking brought out the endorphins, and my anger was dissipating.
Fantom Comics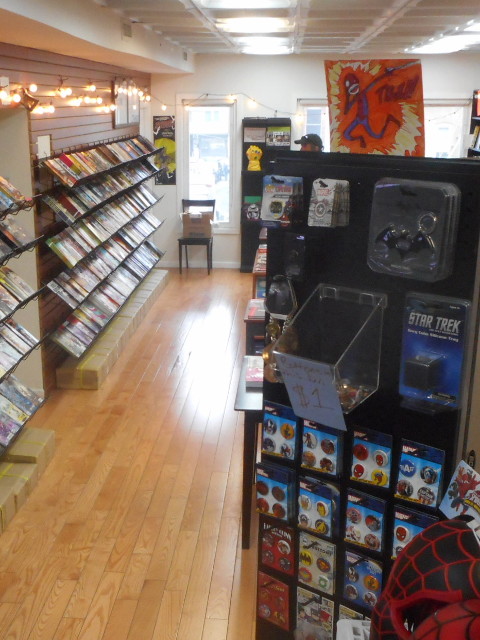 It was Wednesday, the day of the week when new comic books show up at the stores. If I didn't want to miss new issues before they sold out, I'd shop for them today, not wait until I was back home. The night before, I'd Googled [best comic shop DC], and thus I now approached Fantom Comics: I made my way to DuPont Circle, figured out that the stairs led not only to a sandwich shop but also to my destination, and breezed in.
Folks were friendly. I got new comics. I got a semi-new comic which had sold out before I'd bought it the week before.
Things were looking up. I exited the shop with a spring in my step, ready to enjoy being a tourist again.
Library of Congress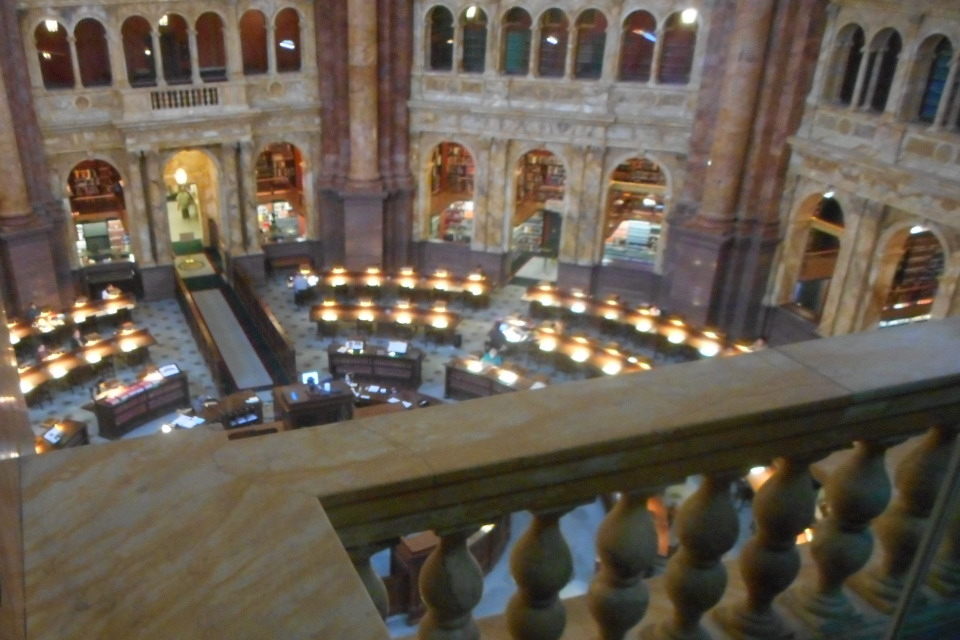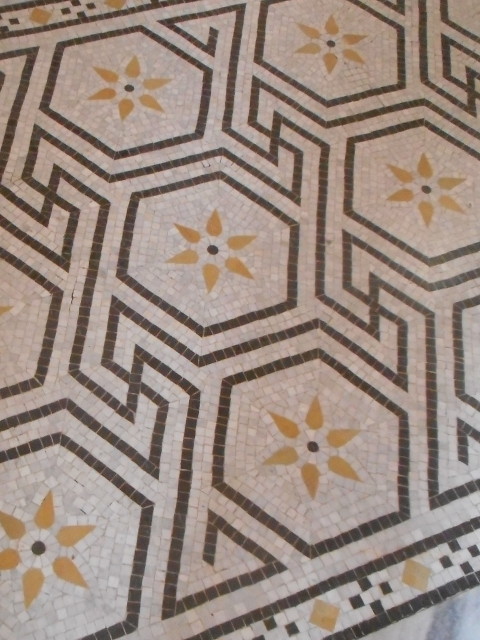 I wanted to visit the Library of Congress because libraries are fun and because I'd never been. When I saw the reading room, it seemed familiar. Had my parents brought me on a previous visit and I just hadn't written it down? Maybe. Or maybe a lot of the old reading rooms look alike?
Upstairs, the library's entry room was decorated with bright tile mosaic celebrating the arts and sciences. Authors' names adorned the ceiling. Anyone who didn't want to take the time to read a book could just read a few authors' names and congratulate themselves for standing in a space decorated with references to so much education.
In the basement, there were exhibits on comics, Gershwin musicals, and Bob Hope. It felt like someone had chosen the topics in 1940 and nobody had updated them since (but there were newer comics, including the first appearance of Spider-Man (if I understand correctly? when I google [first appearance spider man], it looks more like a comic book cover rather than a marked up interior page like they showed? anyhow)).
National Museum of American History
It had interesting things…
Anagrammer's delight: A Soul Train Scramble Board:

An exhibit of Santa Cruz-Watsonville railroad equipment used to haul produce to canneries which reminded me of Robert Bowdidge's model railroad-centered blog

Yep, there were interesting things. Plenty more was stored out of sight; about ⅓ of the building was closed off to prepare new exhibits. Some stuff that was on display confused me. Why was a model of Babbage's Difference Engine in this American history museum? Or this Roche 454 picotiter testing plate—isn't Roche Swiss?
Why no proximity fuse in the World War II exhibit? Hadn't it (and other radar) won that war? Then again, this WWII exhibit was meant to show the war from a soldier's perspective. No doubt, a soldier would remind me that soldiers had won that war; radar had merely helped.
An exhibit "The Norie Marine Atlas and the Guano Trade" was fun, but my photos of things under glass didn't turn out nearly as well as what you'll see if you search the internet for better ones. Another exhibit that didn't display well under glass was one of handheld electronic devices: smartphones, pre-smartphone PDAs, and such. I contemplated the scope of my life's accomplishments so far: gadgets worthy of display at The Computer History Museum, but not sufficiently big-time for display at The Smithsonian. Good enough? Good enough.
National Mall
Though I'd been to DC a couple of times before, I hadn't walked the mall looking at memorials and such. But thanks to folks' photos from The Famine Game, I knew that the Mall had some interesting things to see.
I'd planned to let the Ravenchase Washington DC Hunt serve as a walking tour of the Mall. Having ragequit out of that, I still wanted to see the sights. And so I had a pleasant stroll. Sorry, did you want photos? Other folks have taken excellent photos of everything there; I didn't bother to snap any.
West of the Lincoln Memorial, the mall ends. Instead, there's a bridge over the Potomac to Arlington Cemetary. As I approached the bridge, cars with flashing lights rushed at the bridge. Helicopters whooshed past overhead. What was going on? Alien Invasion? Ninja Spies? Motorcade with air support? I walked the bridge most of the way across the river until I could see the hubbub's cause: a fender-bender little accident on the bridge. The accident blocked one lane of traffic; the three different police organizations responding to the accident blocked two more. At least three. At least three that I saw. And I wasn't even looking that hard.
More walking; more memorials; no anecdotes.
I'd figured out that my hotel wasn't in a neighborhood with good restaurants. But there were good restaurants between the Mall and my hotel. And so when I was tired of walking, I nevertheless kept walking, directing my steps north. And thus, I could stop off for an early dinner at a branch of District Taco, which Foursquare said had DC's best Tacos. Its Mission-style burrito was pretty good for a non-San-Francisco place; I would have to walk half a mile from my apartment to find a better burrito in San Francisco.
Thursday: National Cryptologic Museum, National Electronics Museum