Some weeks back, I set up a dashboard of San Francisco COVID-19 data. It showed data that was already available elsewhere, but zoomed in near the low end of the graph. I wanted a graph that I could glance at to see if rates were low enough for me to do non-essential things inside with other people. The charts at plague.wtf and the SF Chronicle Corona Virus Tracker had charts, but zoomed out far enough such that you had to squint and/or do math to figure out whether it was worth the risk to eat inside a restaurant.
So I set up a dashboard with a zoomed-in chart; the chart has a line in the middle with some safe-ish numbers. The chart shows values up to 2x the safe levels. Today, it hit an interesting milestone.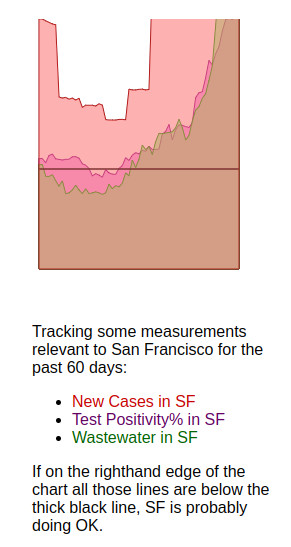 Today, all the numbers the dashboard tracks are off the charts, over 2x safe levels. Silver lining: now I can track these numbers at plague.wtf or SF Chronicle without squinting.
(People who are good at reading charts might wonder: Those numbers were off the chart as of a few days ago; why only blog about it now? It takes a few days between the time those numbers are measured and then make it to state agencies and then to public online places my program can read. So…the numbers have been off the charts for a while, but I only got to see it this morning.)
2022-12-05T16:59:58.064365