APOLOGIZE TO THE RICE RIGHT NOW
A few months back, an ice cream manufacturer rolled out a big advertising campaign in San Francisco: a bunch of big posters saying "San Francisco Deserves a Better Treat Than Rice". If they'd said "Rice-a-Roni," I might have agreed with them. But they didn't say that. They said "rice." Why would they disrespect rice like that? If I had to choose to give up rice or ice cream for the rest of my life, I wouldn't hesitate: that ice cream would be out the door so fast.
If they really wanted to market to me as a San Franciscan, they would have at least chosen mint chocolate chip flavor for their stupid ice cream treat. But they didn't even do that. They didn't study my culture at all.
As one does when disrespected, I walked past these ads thinking "Why I oughtta..." I oughtta design some stickers saying to respect the rice. And I oughtta print those stickers. And I oughtta stick those stickers on these stupid posters. And as one does when thinking "Why I oughtta..." I never got around to it.
That was months ago.
But now, closing the door after the horses are long gone, I got around to making a sticker design. Because I am a man of a certain age, when I think about respecting rice, my mind goes back to an old movie called A Better Tomorrow Part II in which a young Chow Yun Fat demands that a mobster apologize to the rice right now.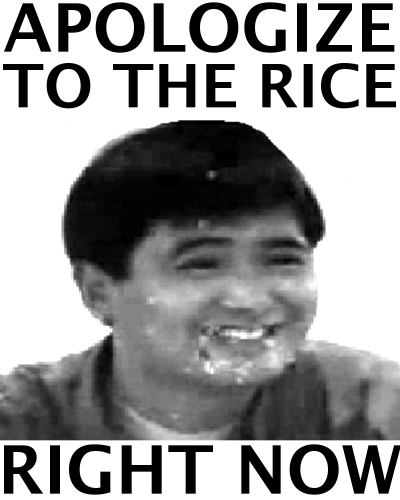 The next time some lame advertising posters demonstrate a lack of respect for this staple food, I'll be ready. Well, I'll be readier than I was a few months ago. I haven't printed out stickers. And I'd have to work up the nerve to stick them onto posters. Anyhow. Progress.
Labels: cuisine